The man who's become synonymous with the revenge porn system, Hunter Moore, who previously ran the infamous IsAnyoneUp.com website, has been arrested after being charged with paying for a hacker to break into the email accounts of young men and women, stealing any nude images stored there and then send them on to him – at which point he would post them on his site along with their name and location. If convicted, he faces a potential jail term of up to five years.
While Moore wasn't the first to come up with the revenge porn idea – posting nude pictures of your exes to get back at them – he did help bring it to mainstream attention, with his near psychopathic, guiltless comments about those affected by his site, whom he would hold hostage, by forcing them to pay up if they wanted the pictures removed.
It was previously thought that all images were sent in voluntarily by exes of the women featured, however that turns out not to be the case.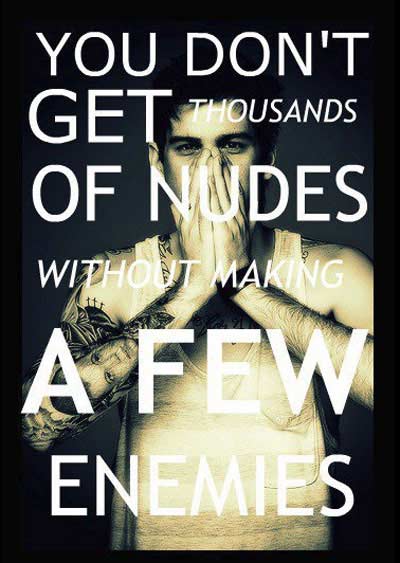 Or without hacking, apparently. Source: PupFresh
According to the charges, Moore paid upwards of $200 a week to fellow defendant Charles Evens, who would break into email accounts, often pretending to be victim's friends in order to gain access. Using social engineering, gaining answers to secret questions and common password guesses led him and ultimately Moore to pictures of hundreds of women taken unlawfully from email accounts – the illegality of which Moore was well aware of.
The pair now stand accused of conspiracy, seven counts of unauthorized access to a protected computer, and seven counts of aggravated identity theft. Considering the weight the charges against him, there's no doubt Moore will use some of that $10,000 a month he was making from online ads to pay for a decent legal defence – or potentially face years behind bars.
KitGuru Says: The hard part with what Moore's done, is that apart from the hacking, there's not a lot of laws getting in his way. While it might seem like an easy thing to say "you can't post nude pictures of someone on the internet without their permission," that gets very difficult to enforce, as well as creating problems with things like, what is nudity? Or what constitutes online? Can I put it on a private profile? 
Any legal experts want to take a swing at some legalise that might work out in favour of those victimised by sites like Moore's, without infringing on free speech?
[Thanks
Ars
]