If you've ever lamented the fact that your friends on Facebook or some other social platform don't seem particularly interested in discussing Edward Snowden and the revelations he made last year that opened everyone's eyes to the reach of government intelligence agencies, it might just be that they prefer to talk about it somewhere where they aren't being recorded.
According to a report by the PewResearch Internet Project, it was discovered that while 86 per cent of Americans were happy to discuss Edward Snowden and his revelations in person, only 42 per cent were happy to do so over Facebook and Twitter. For those that were unwilling to discuss Snowden altogether, they didn't think that social networking was a good platform for talks on it at all.
However, all respondents said they were more willing to discuss the situation if they felt that their audience – be it offline or on – agreed with their point of view.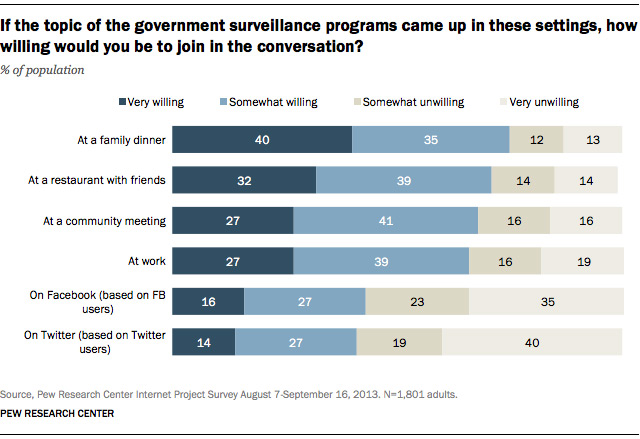 For PewInternet, the most eye opening part of the research was the diminished role social networking played in allowing open discussion on the subject. While both Facebook and Twitter were instrumental in discussing government surveillance during the Arab Spring and other anti-government protests, when it comes to the leering eyes of Western governments, people see those avenues as far less secure. That's not surprising of course, since both sites were forced to hand over data to the government without telling anyone due to secret court proceedings which they were both banned from discussing.
Discuss on our Facebook page, HERE.
KitGuru Says: It's a real shame that governments like ours and the USA's, which champion freedoms of speech and expression, especially when condemning the actions of groups overseas, would feel the need to trample those principles when it comes to their own people.