When Steve Ballmer's tenure as Microsoft CEO ended, it closed out a twenty year plus stint at the software giant. What do you do when you've spent over a decade as head of one of the world's biggest companies and over twenty years in total working there? You buy a professional basketball team apparently, for $2 billion (£1.2 billion).
According to the BBC sources "familiar with negotiations," Ballmer outbid several others in his buyout attempts, one of whom was reportedly Oprah Winfrey, but his bid was eventually accepted by the wife of current Clippers owner, Donald Sterling. Sterling was recently banned from the NBA for life and fined $2 million for making racist remarks in his private life that ended up being recorded and outed publicly.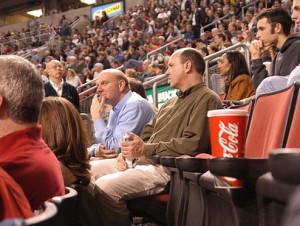 Ballmer is a big basketball fan, seen here at at a Seattle Sonics game in 2005
As the official current owner, despite his lifetime ban, Sterling may choose to try and fight the acquisition, in which case the sale would have to be approved by three quarters of the 30 other team owners for it to go ahead.
Rumours currently circulating suggest that if given final approval to purchase the team, Ballmer may attempt to move the Clippers from its native LA to his home of Seattle.
Discuss on our Facebook page, HERE.
KitGuru Says: Not exactly the move I think anyone expected Ballmer to make after stepping down as CEO. Apparently this isn't the first time he's tried to buy a team though, so maybe it's not so out of the blue.
Image Source: Andrew Hitchcock