Youtube has been quietly working away on its expected live-TV service for some time now and has finally unveiled it to journalists. With a set subscription price per month that seems expensive compared to Netflix or Amazon but could take the fight to traditional cable providers, Youtube hopes its mass of partners and its recordable streams will help draw in viewers from across the U.S..
While Netflix and similar streaming services offer a decent amount of content for a few dollars a month, Youtube TV is coming in at $35, for up to six accounts for a single family. There's no contract required and Youtube has partnered with a lot of companies to bring a wide variety of content.
Partner providers include: ABC, Fox, NBC, ESPN, Fox Sports One, Fox Sports Two, FX, Fox News, CNBC, FXM, Chiller, YoutubeRed, Disney Junior, Free Form, USA, Bravo and more, with Showtime and Fox's soccer coverage available for an additional fee. Noticeable absences include HBO and Viacom content, but the spread of support is impressive for a launch line up.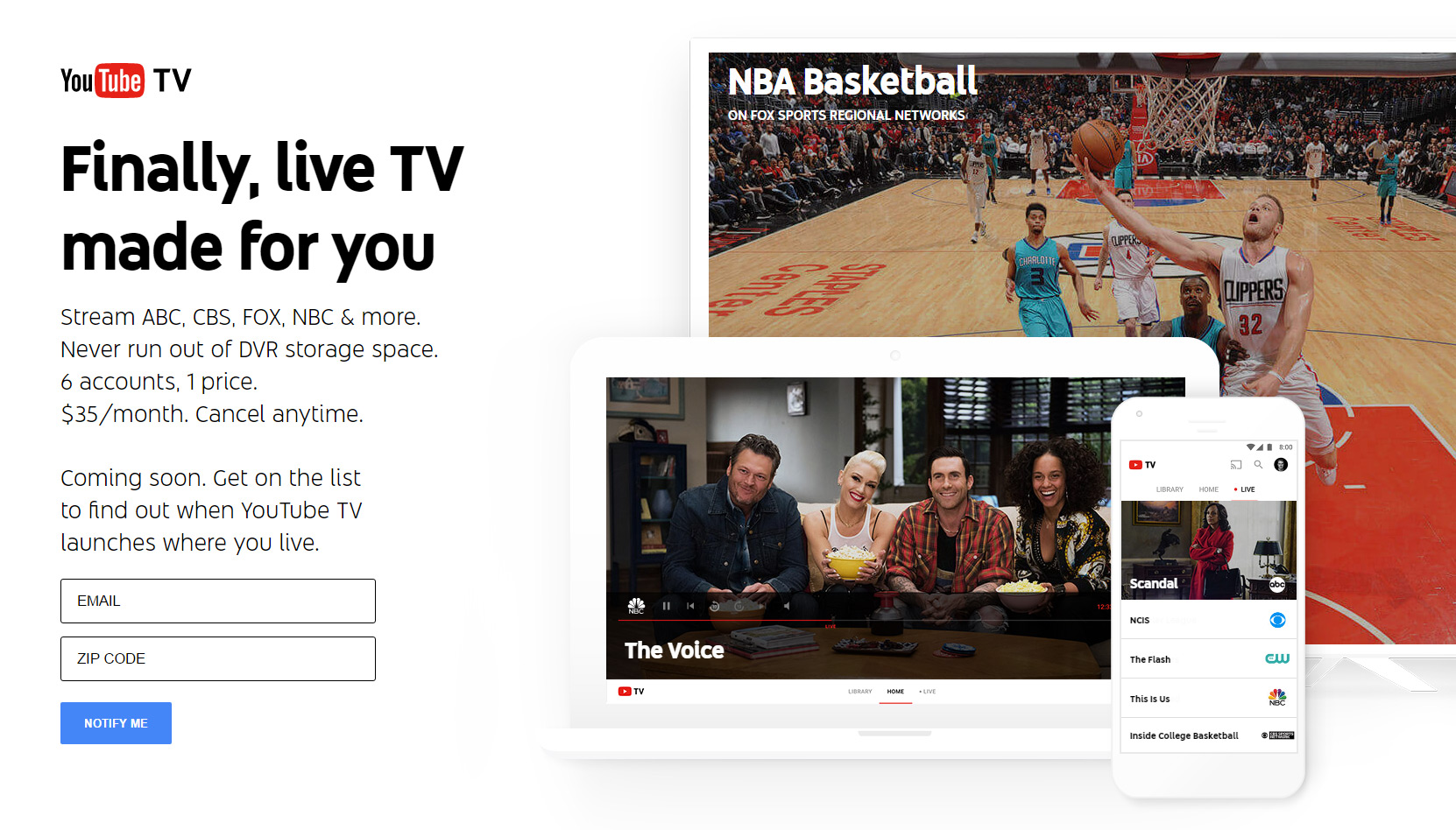 Youtube TV will be looking to offer everything from movies to TV shows and live sports, the latter of which is particularly important considering it's one of the few types of content that on-demand streaming services haven't offered much of an option for.
"It's a testament to the way that YouTube works with partners of all sizes that we're able to offer up the lineup that we have today," said YouTube Chief Product Officer Neal Mohan (via TechCrunch). "We feel we're in a great position to reinvent the way TV works. No other company in the world has more experience serving high-quality video over the internet, high-def streaming, apps that don't crash and seamless integration with mobile and web."
With Youtube TV, the Google-owned company is looking to take on traditional cable providers in the U.S., offering a much more affordable way to access content, a variety of streams/channels and an "unlimited DVR" function where content can be saved and watched later online. There will be a search function for certain shows and the ability to rerun content you might have missed.
There's also a community tab, with the ability to socialise with friends and other users together while watching live shows. There will be adverts, but they'll be entirely Youtube controlled, so are expected to be far shorter than traditional ad-breaks on TV.
While Youtube TV sounds like an interesting service for U.S. cable customers used to much higher fees and poor support, the market for third-party providers is becoming crowded and many would argue that in a world of on-demand content, there is little need for a live-TV service.
Youtube TV is set to launch on U.S. PCs, mobiles and tablets in the next month or so.
KitGuru Says: While Youtube TV isn't targeting UK users just yet, what do you guys think of this service? It sounds good, but if you barely watch live-TV anymore, is it much use?