The intrepid pair of exploratory spacecraft, Rosetta and Philae, made history last year when they enabled the first landing on a comet. Although it was a somewhat bumpy touchdown and we haven't heard much from Philae lately, it turns out we did learn a lot about the comet in the process; some of which we would never have found out if it wasn't for the fact that Philae bounced upon initial contact.
The data released by the European Space Agency was published in the Science journal over several papers, discussing things like the comet's topsoil, which was found to be "soft like snow," said Jens Biele, a geophysicist with the Philae team (via PopularMechanics). That dusty surface is thought to be about eight inches deep.
However, that top-layer doesn't cover everything on the comet. In the region where Philae came to rest – on its side – the hammer-like tool used to extract samples wasn't able to penetrate the soil, suggesting that it was "at least as hard as pumice." Though without further experimentation narrowing that down to a more specific resistance will be difficult.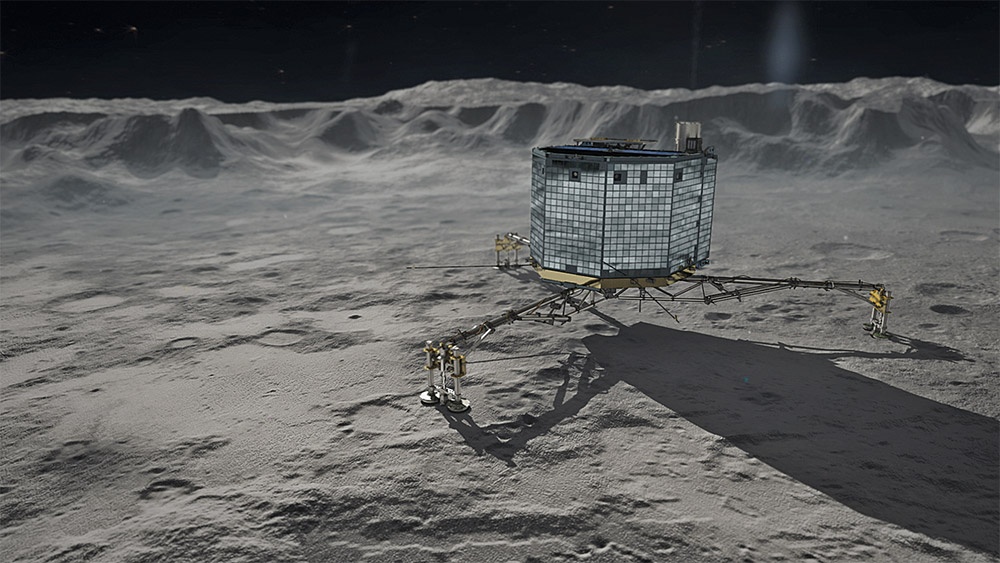 Several (carbon containing) organic molecules have also been found, several of which were a complete surprise. Although 12 organic compounds were known to exist on comets, methyl isocyanate, acetone, propionaldehyde, and acetamide were brand new discoveries on 67P. This will likely excite those that believe comets not only seeded a young Earth with water, but possibly the building blocks for life too.
As unique and intriguing as all of this information is though, scientists involved in the mission still hold out hope that at some point Philae will be able to drill into the comet's surface and analyse a sample of its interior. As it stands, Philae came back into contact with its parent Rosetta craft, but ongoing communication is proving difficult. Although Philae doesn't appear to be in danger of overheating as was once feared, without regular contact with Rosetta, there isn't much hope that it can complete its task.
When 67P has passed its closest point to the sun, Rosetta may be able to move closer to the surface, to make establishing communication with the lander easier. At that point, the ESA has its best chance of completing that final task before the comet moves too far from the sun for the lander to receive enough power to operate.
Discuss on our Facebook page, HERE.
KitGuru Says: The fact that we even landed on the comet is an amazing achievement in itself. It's just a shame it will take so many years to take another stab at it.
Image source: Wikimedia