If there's one thing we know about the universe at large, it's that it can always surprise us. Even close to home in-fact, as Mars, one of our solar system companions has been puzzling scientists for years, having protruded something from its atmosphere back in 2012 and nobody is quite sure what it was.
The plume of cloud, or haze – whatever it is – first appeared in 2012 and is said to be projected up to 200 kilometres from the planet's surface, giving a very distinct impression on images. However, it only seems to occur along the morning terminator and since showing up over a period of days three years ago, hasn't been seen since.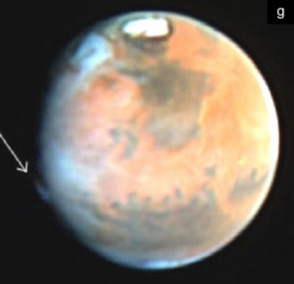 Now as fun as a sentence as that was to write, it doesn't – unfortunately – have anything to do with time travelling cybernetic organisms, instead, that translates to the arc that the sun is rising in. It doesn't appear as the sun goes down though, suggesting some sort of cyclic behaviour, according to the Nature journal entry. This prompts some to suggest that the 'haze' could be a cloud of ice crystal or CO2. Another suggestion however is that it's an aurora of some kind, over 1,000 times brighter than our own and concentrated over a region of intense magnetic anomaly.
However nobody is particularly keen to accept either of these theories, as it would suggest that the current understanding of the Martian atmosphere is wrong, as the plume extends far higher than any know aspect of Mars' atmosphere and there is no understood reason why an aurora would be so bright and visible. Scientists studying it hope that by publishing a paper containing all of the data they have on the plume at this time, it will allow some others with scientific minds to figure out what it could be – otherwise it's back to the drawing board and a wait for the protuberance to appear again.
Discuss on our Facebook page, HERE.
KitGuru Says: Perhaps some of our KitGuru reader scientists can figure this one out?