Yesterday Space X once again sent up a Falcon 9 rocket to deliver a payload into Near Earth Orbit. That all went to plan, but on attempting to recover its fourth first-stage booster rocket in a row, a problem during the landing caused a rapid unscheduled disassembly (RUD), which in layman terms means it exploded in quite impressive fashion.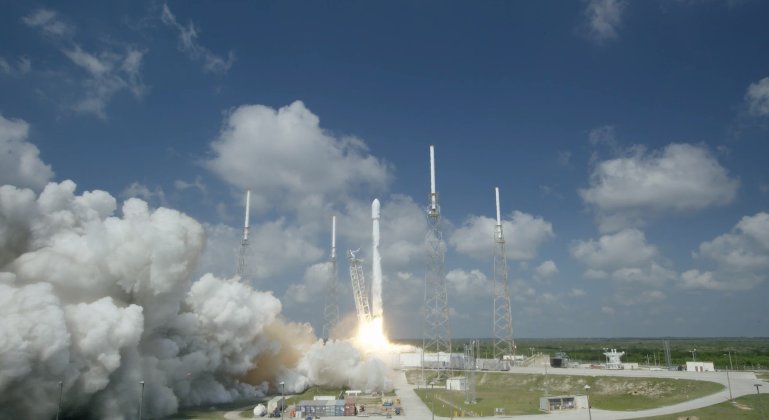 Source: SpaceX
We don't have video of the event just yet – that's coming soon. However what we do have is confirmation of the RUD from Space X CEO Elon Musk himself, who explained that a problem with one of the three landing engines caused low thrust, which meant that the rocket simply came in too fast and not at the correct angle.
Ascent phase & satellites look good, but booster rocket had a RUD on droneship

— Elon Musk (@elonmusk) June 15, 2016
It purportedly hit the droneship hard too. Harder than any previous explosive landings we're told, but the droneship itself remains unharmed. She's a sturdy girl.
Moving forward Musk says that Space X is working on a new system whereby in the event something like this happens again, the other engines can compensate. He expects that particular Falcon 9 upgrade to be in place by the end of the year. .
Landing video will be posted when we gain access to cameras on the droneship later today. Maybe hardest impact to date. Droneship still ok.

— Elon Musk (@elonmusk) June 15, 2016
In the mean time though, while the booster recovery operation didn't quite go to plan, the real aim of the mission – to put the EUTELSAT 117 West B and ABS-2A satellites into orbit – went perfectly. Space X even released a short video of the second satellite being released into its new geostationary orbit and it looks like something right out of a movie.
Second of two satellites being deployed into proper orbit with today's launch https://t.co/XcHFBPEyfk

— SpaceX (@SpaceX) June 15, 2016
Discuss on our Facebook page, HERE.
KitGuru Says: Look at that lens flare in that clip. Abrams would be proud. Shame about the booster landing not sticking, but considering Space X hoped to have an 80 percent landing rate by the end of the year, it's not that far off with just one failure so far in 2016.