Toshiba Corp. on Wednesday announced its all-new HG6 family solid-state drives that are designed to offer increased performance over predecessors. The new drives come in a variety of form-factors and are suitable for a wide range of applications from ultra-thin notebooks to data center servers.
Toshiba's new HG6 series SSDs are based on Toshiba's multi-level-cell (MLC) NAND flash memory with toggle 2.0 interface as well as Toshiba's own controller and firmware. The drives rely on SATA-6Gb/s interface, are available in various form-factors (including 2.5" (7mm/9.5mm heights), mSATA and M.2 (single-sided, dual-sided)), and in capacities up to 512GB. The new SSDs are tailored for low power consumption and will be perfect for notebooks.
Performance of the HG6 series SSDs in on par with mainstream SATA-6Gb/s drives: up to 534MB/s sequential read speed as well as up to 482MB/s sequential write speed.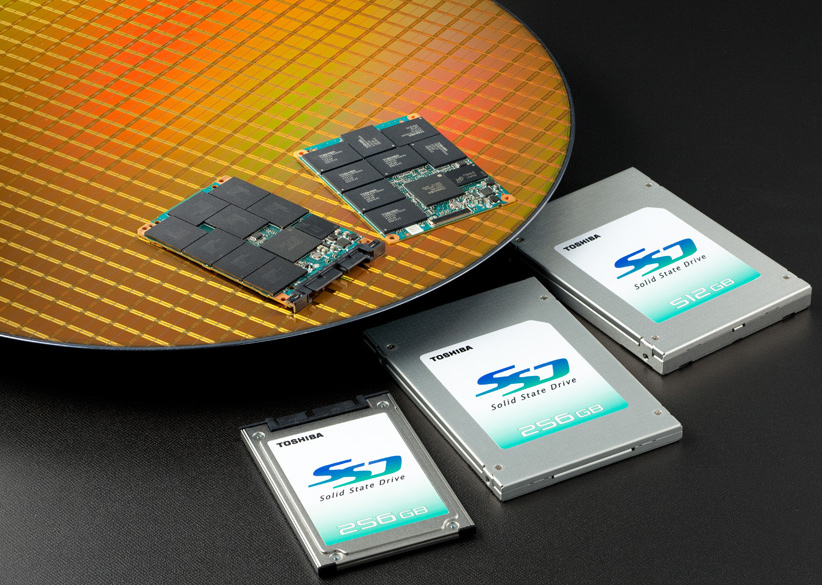 "With the HG6 series, customers can trust they are using a storage solution with high performance and power efficiency that is ideal for a wide range of applications," said Don Jeanette, senior director of marketing at Toshiba storage products business unit.
Engineered with enterprise class technology for data integrity, the HG6 series incorporates Toshiba's proprietary QSBC (Quadruple Swing-By Code) error-correction technology, a highly efficient error correction code (ECC), which helps protect customer data from corruption caused by NAND wear, thus improving the reliability of and extending the usable life of the SSD.
The familyalso includes end-to-end data path protection and a self-encrypting feature option that is compliant with Trusted Computing Group (TCG) Opal 2.0, the TCG specification for self-encrypting drive function.
"As inventors of NAND technology, we leverage our NAND expertise to optimize the performance and data integrity of this series, and truly give customers the power of choice with a broad selection of capacities and form factors," said Mr. Jeanette.
The first products from the HG6 series will begin shipping in March 2014.
KitGuru Says: Despite of the fact that Toshiba utilised MLC NAND with toggle 2.0 interface with the HG6 series SSDs, performance of the units is not any faster than that of mainstream solid-state drives. Moreover, for some reasons, the company also limited interface speed to 6Gb/s even in case of M.2 form-factor which supports PCI Express bus and can enable much higher performance.