Thanks to increasing shipments of discrete graphics processing units (GPUs), the market of graphics adapters grew sequentially in the fourth quarter of 2013, according to Jon Peddie Research (JPR), a leading market tracker. However, despite of good climate on the market, Advanced Micro Devices lost market share in Q4 2013 while Intel Corp. and Nvidia Corp. gained it.
According to JPR, the overall PC market increased 1.8 per cent quarter-to-quarter in Q4 2013, but declined 8.5 per cent year-to-year (or by about 1.6 million units). The attach rate of GPUs to PCs for the quarter was 137 per cent and 34 per cent of PCs had discrete GPUs, which means that 66 per cent of the PCs relied in integrated graphics adapters, such as those found inside consumer-grade AMD accelerated processing units (APUs) as well as Intel Core, Celeron or Pentium processors.
Shipments of discrete GPUs (desktop and notebook) were up 1.5 per cent from the previous quarter and down 2.4 per cent from Q4 2012 due to the same problems plaguing the overall PC industry. In general, the trend for discrete GPUs is roughly flat/negative with a CAGR [compound annual growth rate] from 2013 to 2017 of -1.3 per cent. As integrated graphics adapters get better, they replace lower-end discrete GPUs.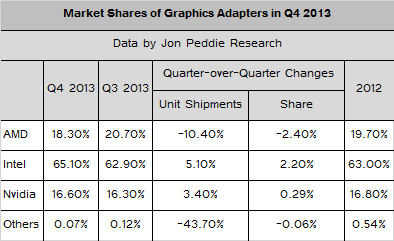 In Q4 2013 AMD's overall unit shipments decreased 10.4 per cent sequentially, Intel's total shipments increased 5.1 per cent from the third quarter, and Nvidia's sales increased 3.4 per cent compared to the Q3 2013, the report from Jon Peddie Research has found. Year-to-year, AMD's overall PC graphics shipments declined 5.4 per cent compared to Q4 2012, Intel's GPU sales increased 5.4 per cent, Nvidia GeForce shipments grew 0.9 per cent.
AMD faced a number of problems in the last quarter of 2014. While the company's shipments of desktop APUs jumped 15 per cent from the previous quarter, sales of APUs for notebooks contracted by whopping 26.7 per cent sequentially. Sales of AMD Radeon discrete desktop graphics cards increased 1.8 per cent in Q4 2013, but notebook discrete shipments declined by 6.7 per cent quarter-over-quarter.
By contrast, Nvidia's desktop discrete shipments were up 3.6 per cent from last quarter and its notebook GPU sales grew 3.2 per cent sequentially.
In Q4 2013 shipments of Intel integrated graphics adapters for desktops and notebooks were up 3.6 per cent and 3.2 per cent, respectively, quarter-over-quarter as a result of generally high demand for Intel's chips.
In total, around 446 million of graphics adapters for PCs (discrete and integrated) were shipped in 2013. As low-end standalone GPUs extinguish, sales of GPUs will decline to 422 million in 2017.
KitGuru Says: One good thing about the GPU market in Q4 2013 is evident: sales of discrete graphics cards for desktop PCs increased during the quarter, which means the expansion of gaming PCs. Unfortunately, the growth of GPU sales was pretty slow despite of launches of high-profile video games, including Assassin's Creed: Black Flag, Battlefield 4, Call of Duty Ghosts, Need for Speed Rivals and a number of other.