Xilinx, a leading maker of programmable gate arrays as well as special-purpose system-on-chip solutions, this week said that it had made the first customer shipment of its Zynq UltraScale+ processing solution. The chip is made using Taiwan Semiconductor Manufacturing Co.'s second-generation 16nm FinFET process technology (CLN16FF+) with increased performance and lowered power consumption.
The Xilinx Zynq UltraScale+ all-programmable multi-processor system-on-chip (AP MPSoC) integrates four ARM Cortex-A53 general-purpose cores, two ARM Cortex-R5 real time processing units, and an ARM Mali-400 graphics processor. The MPSoC also includes integrated peripherals, safety and security engines, and advanced power management. The system-on-chip also sports UltraScale programmable logic fabric as well as the new UltraRAM on-chip memory technology. Production of the chip using TSMC's 16nm FinFET+ fabrication process helped Xilinx to improve its complexity and performance while ensuring low power consumption.
The Zynq UltraScale+ chips were shipped to an undisclosed customer about a quarter ahead of schedule, according to the developer. The company does not reveal details about the volumes, but it looks like Xilinx sold the very first A0 revision chips it got back from the fab to a client after verifying that they are fully-functional and meet performance targets. The ability to sell the A0 revision of a chip indicates perfect design of the Xilinx Zynq UltraScale+ and lack of problems with TSMC's CLN16FF+.
TSMC's 16nm FinFET production cycle for a batch of chips is about 90 days. The second batch will be ready around three months after Xilinx places an appropriate order. If Xilinx places an order now, it will get its chips sometimes in Q1 2016.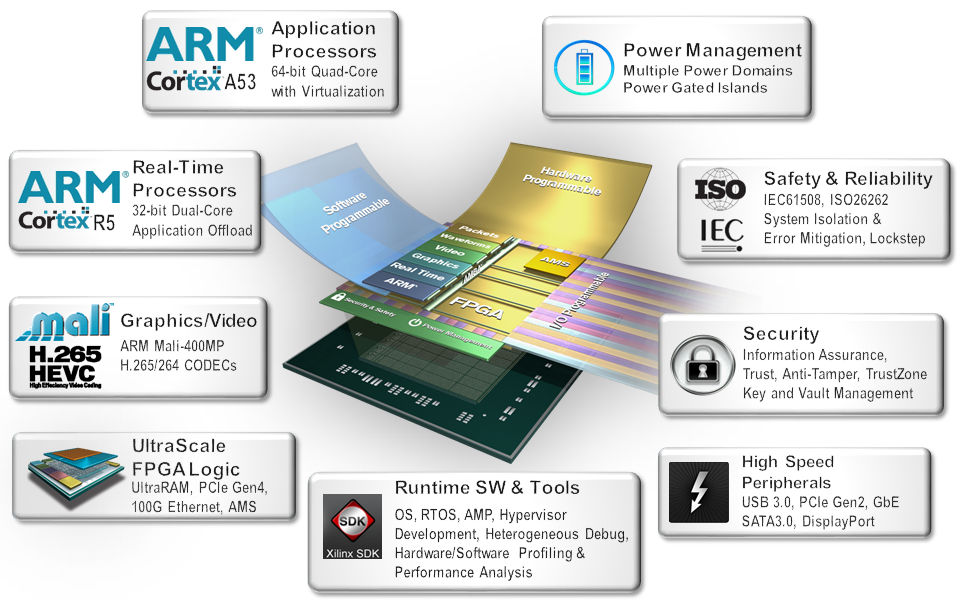 "TSMC's ongoing collaboration with Xilinx has resulted in the early shipment of a world class 16nm FinFET multiprocessing SoC," said BJ Woo, vice president of business development at TSMC. "Xilinx and TSMC have clearly demonstrated and delivered industry-leading silicon performance with the lowest power consumption, and highest level of systems integration and intelligence among all programmable logic products to date."
The Zynq UltraScale+ can be used for a wide variety of applications, including computerized vision systems, such as advanced driver assistance systems (ADAS), surveillance, 5G base stations and other. Thanks to the fact that the MPSoC features general-purpose and highly-parallel graphics processing cores, the Zynq UltraScale+ can process and analyze data as well as make decisions and initiate actuator commands. Xilinx claims that the MPSoC offers a scalable and highly customizable programmable platform that will enable future-proof customer designs.
"The early delivery of our Zynq UltraScale+ MPSoC 16nm device extends our outstanding track record for total execution and absolute quality. We call this a "Three-Peat" – being first to market with leadership products at 28nm, 20nm, and now at 16nm," said Victor Peng, executive vice president and general manager of the programmable products group at Xilinx.
Discuss on our Facebook page, HERE.
KitGuru Says: This is not the first time when Xilinx begins to ship chips made using TSMC's leading-edge process technology ahead of all rivals, including Altera. If the company really managed to get a 16nm FinFET design right from the very first revision, this clearly indicates that the company has one of the best engineers in the industry.