It has been just over a year since we first saw a demo of Cooler Master's 'Aimpad' technology, and today we finally have our hands on a keyboard that features the new tech. Aimpad takes 8 keys on the mechanical MK850 keyboard and, using infrared lighting, it allows them to be pressure sensitive. The analog control is similar to that of a console controller, allowing gamers to make slight adjustments to speed or direction.
This all sounds very exciting as the MK850 could be the start of the next evolution of gaming keyboards. But does it actually give an advantage or is it just a gimmick? And do the other features justify the hefty £200 asking price? 
Watch via our Vimeo channel (below) or over on YouTube at 2160p HERE
Gallery: 
Specifications: 
Form factor: Standard Full Size
Colour: Gunmetal Black
Key Switches: Cherry® MX Low Red
Connectivity: Wired, USB C
Cable Type: Removable & Braided
USB Pass-through: 2 x USB 3.0 type A
Keyboard Backlighting: RGB
Wrist Rest: Included, detachable
Media Controls: Yes, Dedicated & FN
Keyboard Rollover: Full N-Key (NKRO), 6-Key
Onboard Memory: Yes, 4 profiles
Software: Coolermaster Portal
Weight: 1.03kg
Dimensions: 15.4cm x 47.5cm
Keyboard Warranty: Two Years
Design and build quality: 
The MK850 from Cooler Master is a full size mechanical keyboard. With the removable wrist rest it has quite a large footprint sat on my desk. The wrist rest itself attaches to the keyboard via a set of reasonably strong magnets that do a good job of holding it in place. It's made of mostly plastic but is quite attractive to look at with the faux leather surface and the hexagonal Cooler Master logo embossed into the centre. It was very comfortable to use as the entire surface works like a padded cushion, and I think it is a really nice addition to this keyboard.
The front of the keyboard does look rather premium with its brushed aluminium faceplate that creates a nice contrast against the matte black keycaps. You also get the option of some additional eye catching keycaps – a whole bunch of them in fact! There's 18 of them to kit out the WASD, QERF, M1, M2, M3, M4, M5, ESC and arrow keys in Cooler Master purple.
The overall design of the MK850 is very sleek and the neutral colour scheme means it should look at home with any set up. Each of the corners are squared off in a way that is very reminiscent of the Cooler Master logo and the entire chassis is quite thin and low profile as the keys are raised off the body, floating keycap style. This allows the backlight to shine out and create a nice reflection off that brushed aluminium.
The body in general doesn't feel quite as solid as I was expecting probably because there is quite a bit of plastic but it still maintains a premium aesthetic and it feels sturdy to type on with little flex to the body.
Functionality and features:
Across the top of the keyboard you have a little bit of extra functionality with 2 scroll wheels on this keyboard. By default, one works as volume control, the other changes the RGB backlight brightness. To the right of the wheels you find a set of dedicated media keys and a button that immediately shuts off the RGB backlighting for a more stealthy approach. I was disappointed that these dedicated keys don't light up like the rest of the keyboard. Not just for aesthetics, but it also makes them a little harder to find quickly in low light.
You'll also find 2 USB ports which is super handy for plugging in a USB stick or other peripherals. I was surprised to find that this keyboard only has the 1 USB connector which is beneficial for not clogging up the USB ports on the back of your PC, and even better is that the cable is not only braided but also removable and it uses a USB C connector! Thank you to Cooler Master for finally being one of the first to move away from Micro USB.
Flipping the keyboard over, the back is mostly made out of plastic but I really like the different cable routing options on this keyboard. There are 3 different slots that allow for different cable management solutions depending on your desired desk layout. Changing the height of the MK850 is easily achieved with the two large flip out feet. I really welcome their chunky form factor as they feel very stable with no risk of sliding around or flipping down suddenly in the heat of battle.
I don't think it will be going away any time soon so of course the MK850 comes with fully customisable RGB lighting. It comes through at a decent brightness that shows up even in direct sunlight and you also get a little bonus RGB strip along the bottom of the keyboard. Although, unfortunately, this strip does get covered if you opt to use the wrist rest. The RGB lighting has multiple lighting modes and effects with loads of possibilities. It can all be adjusted using the Cooler Master Portal software or the onboard on-the-fly system.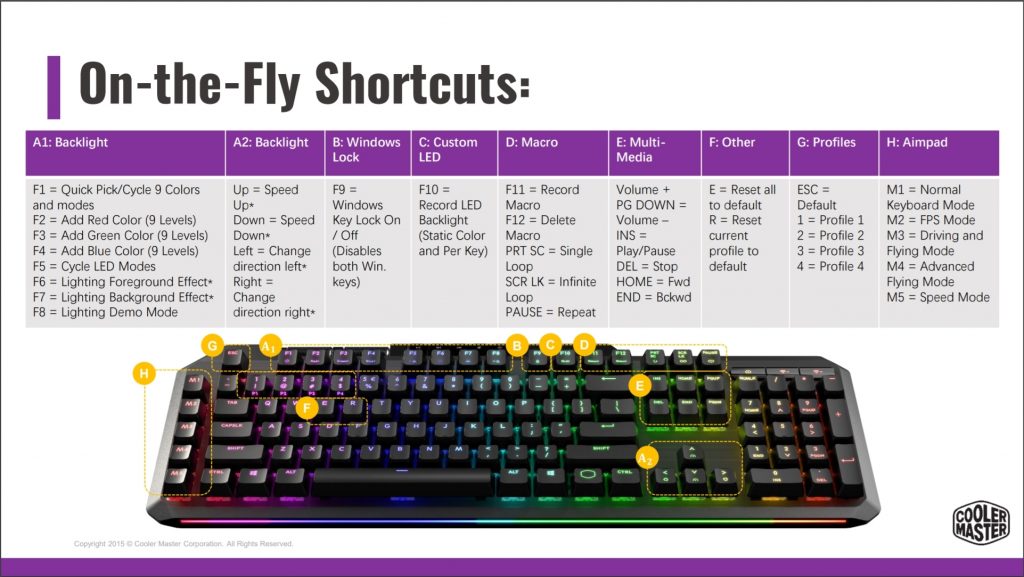 I think this keyboard has more onboard functionality that I have ever seen on a keyboard before. It's almost to the point of being a bit over complicated but it's great for those of you that really hate downloading software as with the FN key you can literally do everything. It does definitely take some learning but you can switch & reset profiles, record macros, lock the windows key, switch Aimpad profiles, and not just scroll through RGB effects but create and edit them in detail.
What does slightly bug me though is that the software and keyboard seem to work independently. Any macros recorded don't show up in the software and the same goes for any RGB lighting changes. Switching between different Aimpad profiles or changing the sensitivity doesn't seem to have much effect either. I would prefer if the keyboard and software worked together in harmony.
The mechanical switches used are Cherry MX Red switches. To me this makes sense as they are very popular and great for gaming. Part of this decision is also due to the Aimpad technology, which is not able to work with a tactile switch and the Cherry MX Reds are of course linear.
The keys are raised off the body of the keyboard but I didn't find them to have much wobble and the spacing and layout is pretty standard. The font on each keycap is clear and easy to read but keycaps themselves are pretty basic. This isn't normally an issue but considering the high price point I would like to see Cooler Master supply their flagship keyboard with superior PBT keycaps.