If you liked the look of Corsair's Micro ATX 280X case that was released last year, but were a little disappointed it didn't come in a larger form-factor, then you are in luck! Corsair has today released the 680X, a very similar – but larger – case with plenty of breathing room for a whole host of tasty RGB hardware. With a dual chamber design making it easier to hide away cables, plenty of tempered glass, included RGB fans and the option to vertically mount your GPU, there is certainly an emphasis on aesthetics.
You'll also find room for a variety of radiators and fans to keep the components cool, while a number of tool-free drive mounts provide space for up to 7 drives. With a retail price of around £220 this case doesn't come cheap, so is it worth buying? 
Watch via our Vimeo channel (below) or over on YouTube at 2160p HERE
Specifications:
Name: Corsair Crystal Series 680X RGB
Size: ATX Mid Tower
Colour: Black or Black
Materials: Steel / Plastic / Tempered Glass
Motherboard Compatibility: Micro ATX / ATX / Mini ITX / E-ATX
Internal 3.5″ Drive Bays: 3
Internal 2.5″ Drive Bays: 4
PCIe Slots: 8 + 2 Vertical
Front Ports: 1 x USB 3.1 Type-C / 2 x USB 3.0 / Audio
Max GPU Length Allowance: 330 mm
Max CPU Cooler Height Allowance: 180 mm
Dimensions (H x W x D): 504.95 mm x 343.92 mm x 422.91 mm
Weight: 11.58 kg
Fan Options:
Front: 3 x 120mm, 2 x 140mm fan (3 x 120mm fan included)
Top: 2 x 120mm, 2 x 140mm fan
Bottom: 2 x 120mm / 2 x 140mm fan
Rear: 1 x 120mm / 1 x 140mm fan (120mm fan included)
Radiator Options:
Bottom – Up to 280mm
Front – Up to 360mm
Rear – Up to 120mm
Top – Up to 280mm
Test Build Components:
AMD Ryzen 5 1600X
Corsair H100i RGB Platinum SE AIO Cooler
MSI X470 Gaming M7 AC Motherboard
KFA2 GTX 1070Ti EX-SNPR White Graphics card
32GB Corsair Vengeance RGB Pro 2666MHz DDR4 Memory
Corsair RM750x Power supply
Samsung 850 EVO 250GB
Corsair White LL120 RGB Fans
Corsair Premium PCIe 3.0 x16 300mm extension cable
Corsair Pro PSU Cable Kit
Cooling Performance: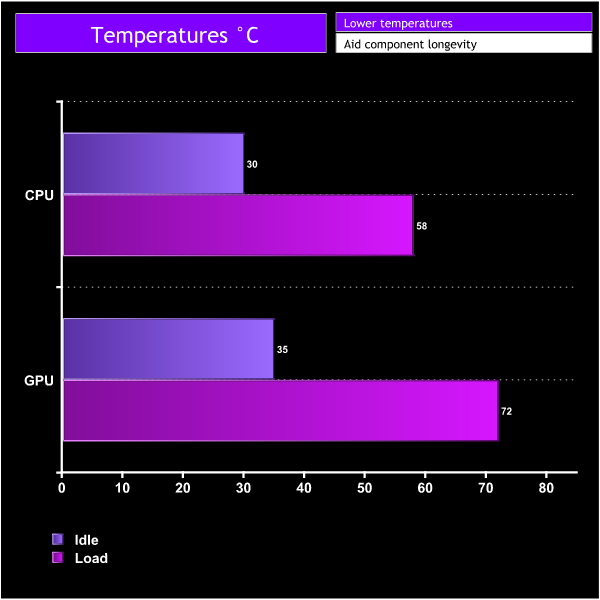 Front panel on (above)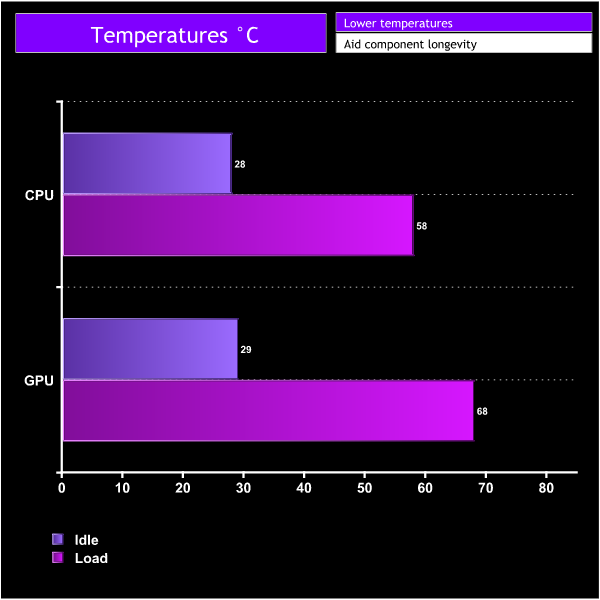 Front panel off (above)
Idle temperatures are about 10C to 15C above ambient, with our figures showing 30C for the CPU and 35C for the GPU. This is pretty much as expected.
Because of the design of this case, we also removed the front panel to test the difference in temperatures. As expected the tempered glass does reduce airflow and the CPU runs 2C cooler, and the GPU 6C cooler, while idling.
After spending some time gaming, and after stress testing the system using AIDA 64 for 10 minutes, the temperatures maxed out at 58C for the CPU and for the 72C for the GPU. Removing the front panel didn't have much effect on the CPU as it stayed at 58C, however the GPU did run 4C cooler while under load.
The temperatures in general are pretty good with this case. Even though the GPU is mounted vertically it stayed cool and the CPU didn't even break a sweat while connected to the AIO cooler. There is definitely some airflow restriction from the tempered glass panel, but the difference isn't hugely significant unless you are someone who is looking for the best airflow possible.
Acoustic Performance: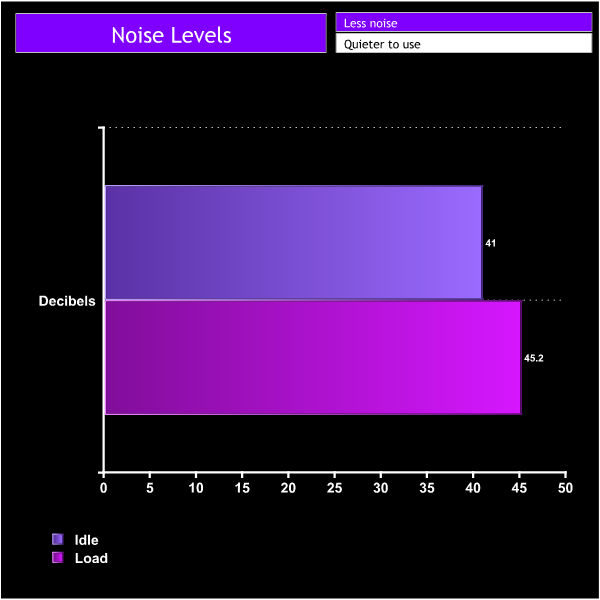 When idle, the fan noise coming from the 680X is audible but not too loud. While under heavy load there is a noticeable increase in noise to 45.2 decibels. The LL120 fans aren't the quietest and the amount of tempered glass, with open slots into the case, does little to dampen the noise. If you are after a silent case the 680X is not for you – but even at 45 decibels it is not going to annoy the majority of people.

You can buy the Corsair 680X from OCUK for £219.95 HERE
Pros: 
Attractive aesthetics.
Good build quality.
Plenty of cooling options.
Dual chambered design makes it easier to cable manage.
Comes with 3 RGB fans and controller.
Plenty of dust filters that can be cleaned in situ.
Easy to cable manage.
Easy to build in.
Cons: 
Expensive.
Big footprint which requires more desk space.
Large amount of plastic makes it feel less premium.
Front panel is difficult to remove.
Tempered glass restricts airflow slightly.
Black exhaust fan is ugly.
KitGuru says: If you like the aesthetics of this case then you won't be disappointed as it's easy to build in and performs well. However, at £220 you can great cases for a lot less. 
Be sure to check out our sponsors store EKWB here