Testing a case consists of finding out how the chassis deals with heat generated by the installed components, and how much noise it produces while doing so.
To create excess heat, I ran Prime95 26.6 and 3DMark Fire Strike simultaneously to stress both the CPU and GPU. After 15 minutes, I recorded the maximum temperature for each component to report here.
To test the P7-C0, I installed the following components:

AMD Ryzen 7 1700
Gigabyte Aourus X370-Gaming 5
16GB PNY Anarachy 2800MHz DDR4
GTX 1060 reference graphics card
Deepcool Captain 240EX AIO
Seasonic Prime Platinum 650W PSU
Sandisk SSD PLUS 120GB
Thermal dynamics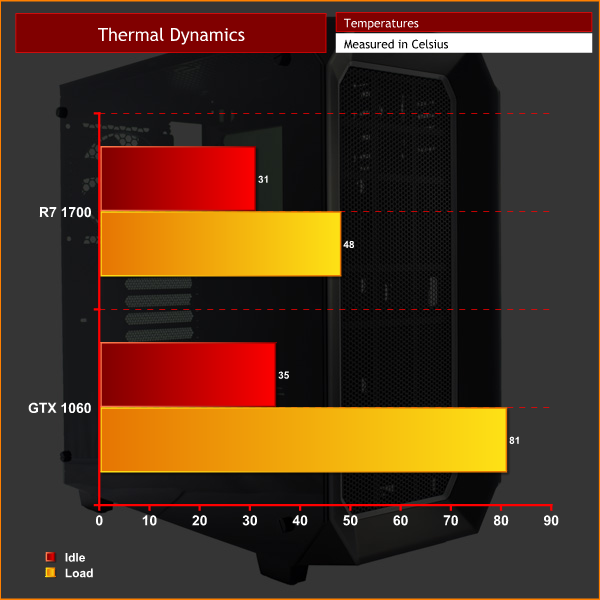 Thermals are fine overall – the Ryzen 7 1700 benefits from being used with a very capable liquid cooler while it runs quite cool anyway.
The GPU does show the effect of Aerocool skimping on case fans, though, as its peak of 81 degrees is definitely on the warmer side. It doesn't help matters that any radiator bigger than 140mm has to go at the front, as this means air that is being pulled into the chassis has already been through the radiator and is thus warmed up, resulting in a hotter internal chassis.
Acoustics
Given the P7-C0 only ships with a single rear fan, I can't say I noticed it over the two radiator fans that I installed. That 120mm spinner is not PWM, so it may be harder for some consumers to control than if it were a 4-pin, but I left it on the standard fan curve and it was not noticeable over the other case fans I installed.