Today at Computex, Cryorig has unveiled its Taku chassis, an innovative ultra-small case catering to those who want a no-compromise system with a tiny footprint. Launching on Kickstarter, the Taku is currently available for $250 as an early-bird special, though the regular price is a bit higher at $299.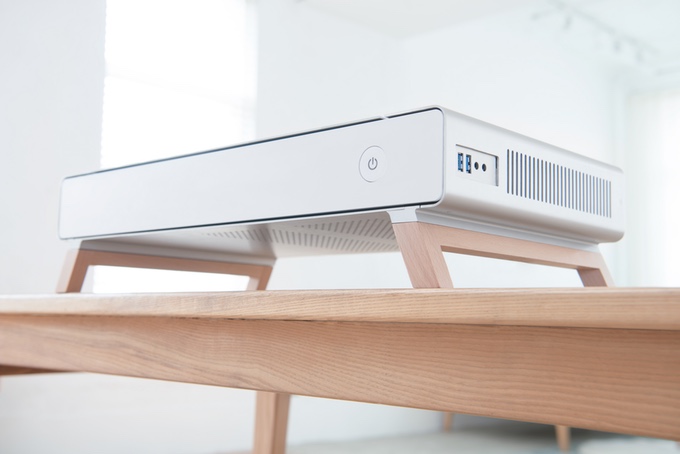 Given Cryorig are not known for manufacturing cases, the company has actually partnered with Lian Li to work on the Taku. The project has been in the works for two years, and Lian Li have been developing the Taku for 6 months.
One key feature of the Taku is its space-saving design. Cryorig has created the Taku to operate as both a small form-factor case and a monitor stand, so you can rest monitors up to 15kg on-top of the case. Furthermore, the Taku's width, coupled with its raised feet, allows users to store a full-size keyboard underneath the case itself. All of this means you can save a lot of desk space by going for the Taku when compared to a more standard tower desktop.
Most people will use it primarily as a case, though, and you will be glad to hear that the Taku can fit graphics cards up to 280mm in-length, which is all but the biggest of cards currently available. It can also house SFX or SFX-L power supplies, while your storage is handled by the 1x 3.5″ and 2x 2.5″ drive bays.
For those who are interested, here are the full specs of the case:
Case Dimensions (H x W x D):142 x 570 x 310 mm
Weight: 5,3 kg
Motherboard support: Mini-ITX
Power Supply support: SFX, SFX-L
Drives: 1 x 3.5" HDD and 2 x 2.5″ HDD/SSD
Front ports: 2 x USB 3.0 (internal 20pin plug) and 3.5mm Audio in/out ports.
Power button: Premium-grade button
Material: 2 mm aluminum, anodized sandblasted exterior
Colors: Anodized black or silver exterior, matte black painted
Included in Box: Internal Lian-Li PCI-E 3.0 x16 compatible Riser Card, PSU- 24pin and 8pin extension cable included, 92mm System Fan included
CPU Coolers Note: Max. height 48mm
Graphics Card Max. Width: From bottom of PCI-E slot to top: 134mm, Max. Height: 40mm (Dual Slot PCI-E), Max. Length: 280mm
Motherboard: Mini-ITX
Power Supply: SFX and SFX-L
Memory Max. Height: 52 mm
KitGuru says: It is always interesting when companies branch out into new areas, and the Taku looks like a very exciting case from Cryorig. Would any of you guys be interested in something like this?