On this page, we present some images of a system built using the Paean, as well as a discussion of the pros and cons of building with this chassis.
I will first address what many of you are probably thinking – why did I use a low-profile air cooler in a case that is obviously meant to house some pretty meaty watercooling gear. I did want to use the EKWB Predator 280 all-in-one cooler, but I found the radiator mounts on the right are positioned too far from the motherboard area, and so the tubing would not reach. In a nutshell, an AIO will not work with the Paean at all.

I can understand the Paean is designed for a custom waterloop, but even so, it feels silly to design a chassis that does not work with an AIO liquid cooler. To compound the situation, there is a height limit of 140mm for an air cooler, meaning I had to use the be quiet! Shadow Rock LP.
On the plus side, though, it is very easy to build a tidy system with the Paean thanks to multiple cut-outs. The two largest cut-outs are positioned right next to the motherboard and are covered by large rubber grommets. I found these grommets to be of top quality – even when roughly pulling cables through to the front, they held their shape very well.
There are also cut-outs for the 8-pin EPS connector and front I/O connectors, too.
Moving behind the motherboard tray, it is just as easy to keep the cables tidy here. This is partly because there is a lot of room to work with, but Raijintek also supply some adhesive cable tie-downs (above, on the right) which work really well. They also stick down very firmly – I actually had to prise one off with a flat-head screwdriver as I simply could not pull it off the aluminium frame with my hands.
SSD installation is also tool-free which I always like to see. To install an SSD, all you need to do is screw four thumbscrews to the rear of the drive, before positioning the SSD above the HDD/SSD rack. Then, simply slot the drive into place and slide it down to lock it in place.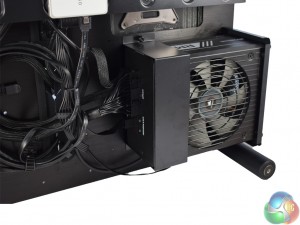 Another great feature is the inclusion of a PSU support bracket. Some PSUs can get pretty big and heavy, so a vertically-mounted PSU (as above) could have been an issue in some situations. However, the bracket simply provides extra support for the PSU, meaning it does not put too much pressure on the aluminium frame.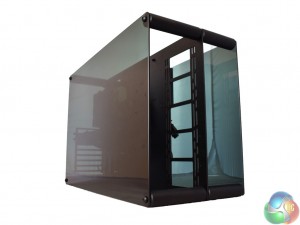 Lastly, above you can see the Paean with both side panels on. The glass is quite dark so it is hard to see the components through the windows – however, an LED strip or two would do a great job of showing off your system.