Testing a case consists of finding out how the chassis deals with heat generated by the installed components, and how much noise it produces while doing so.
To create excess heat, I ran Prime95 26.6 and 3DMark Fire Strike simultaneously to stress both the CPU and GPU. After 15 minutes, I recorded the maximum temperatures for each component to report here.
To test the Raijintek Paean, I installed the following components:
Intel i7-5820K
MSI X99A SLI Plus Motherboard
4x4GB Panram Ninja V 3000MHz DDR4 RAM
Nvidia GTX 760
be quiet! Shadow Rock LP CPU Cooler
Corsair RM750x Power Supply
OCZ Trion 150 SSD
Thermal dynamics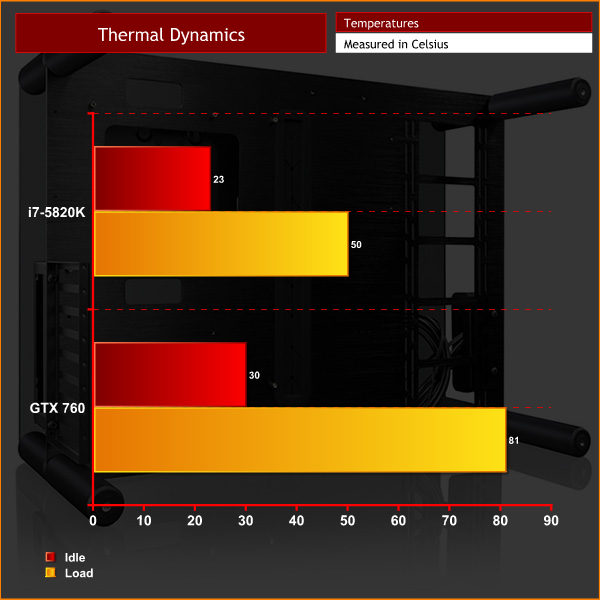 As the Paean includes no fans out-of-the-box, it is only as good as the cooling hardware you install. In this case, the low-profile CPU cooler and reference GTX 760 managed just fine – the open frame nature of the chassis means airflow is not restricted to the components, even if no fans are included.
Acoustics
The same can be said for acoustics – the Paean itself produces no noise as it has no cooling hardware pre-installed. Anything you do install will be a bit louder than in a conventional, closed chassis though – simply because the noise can escape freely from the Paean due to the open sides.
Be sure to check out our sponsors store EKWB here