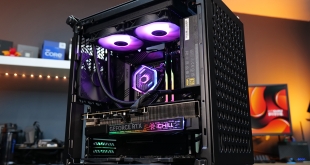 I'm one of those people who just loves to build things, whether it's a new engine for one of my cars, an RC model, a new studio or an extension on the house, I just love to get stuck in so my favourite part of PC ownership is the initial system build. Naturally, when I heard that Cooler Master had a new PC case that comes flat pack and the users build it themselves I couldn't wait to take a look. In this review, I get my hands on the new Cooler Master QUBE 500 Flat Pack PC case, piece it all together and find out just how good it is.
Timestamps:
00:00 Start
00:51 Some details
04:19 Unboxing the parts
07:40 Assembling the case for the first time
18:15 James thoughts so far
22:44 Build complete
23:54 Thermal testing / some concerns
26:14 CoolerMaster Statement
27:06 Closing Thoughts
Let's dive straight into the details, the Cooler Master QUBE 500 Flat Pack does exactly what is says on the tin (or box). It is a flat-pack PC case that can be configured to suit the user's style, with several layouts and orientations possible. It also provides the user with an ecosystem of custom accessories that can be 3D printed with designs available to download from printables.com so not only can you build the case yourself, but you can add personalisation to make it unique too.
The QUBE 500 Flat Pack is available in several versions with standard black and white editions priced at £69.99, which includes a non-RGB 120mm rear fan, handlebar and Gem mini accessory. A colourful Macaron Limited Edition is available for a short time after launch priced at £99.99 and includes a 120mm ARGB rear fan, two handlebars (one grey, one mint colour), one grey Gem mini, two accessory hooks and filter panels in mint, cream and pink for users to personalise the look of the case.
Cooler Master QUBE 500 Flat Pack Features:
A flat-pack case that is part of Cooler Masters' eco-friendly initiative, the design improves storage and shipping efficiency as well as requiring 45% less packaging compared regualr to a pre-assembled case.
Production costs remain the same as a regular pre-assembled case since increased material rigidity is used in manufacturing as the flat pack case panels require higher strength than pre-assembled case panels.
Next-level customisation is possible with swappable colours, a customisable system layout, plus a large accessory eco-system with 3D printable accessories available from printables.com.
Compact design with a total volume of 33 litres but there's space for up to 8 fans, three radiators, four 3.5-inch HDDs and three 2.5-inch SSDs plus 365mm space for graphics cards. Also, an E-ATX motherboard is compatible if you used it with an SFX power supply.
Specifications:
Case Type: Compact Mid-Tower
Dimensions: 416mm x 231mm x 415mm (L x W X H)
Colour: Black / White / 3x Set Mint, Pink, Cream
Material: Steel, Plastic, Tempered Glass
Motherboard Support: ATX / Micro-ATX / Mini-ITX / E-ATX (up to 296mm with SFX PSU / up to 273mm With ATX PSU)
Expansion Slots: 7
Storage: 3 x 2.5″ SSD max, 4 x 3.5″ HDD max
Max GPU Length: 365mm
Max CPU Cooler Height: 172mm max
Fan Support: 2 x 120/140mm (Front) 2 x 120/140mm (Top) 2 x 120/140mm (Left Side) 2 x 120/140mm (Bottom) up to 1 x 120mm (Rear)
Radiator Support: 280mm Max (Front w/PSU in Bottom) 120/140/240/280mm (Top, Bottom, Left Side) 120mm (Rear)
I/O Ports: 1 x Power Button, 2 x USB 3.2 Gen1 Type-A, 1 x USB 3.2 Gen2x2 Type-C, 1 x 3.5mm Combo Audio
Dust Filters: Top / Front / Bottom / Right
Thermal Performance Testing
To simulate thermal demand we run the Cinebench R23 multi-thread benchmark and 3DMark Speed Way stress test simultaneously in a loop for 60 minutes to fully load the system. This gives the CPU and GPU enough time to reach constant steady-state temperature. With this data, we can compare how the system handles the thermal demand and measure peak noise levels.
Thermal performance is measured with the case in various configurations, such as the default, with the tempered glass left-hand side panel removed and with the front panel removed to see how these configurations affect the CPU and GPU temperature. During testing, only stock case fans are used unless otherwise specified. All water pumps are set to maximum RPM and fans are set to a custom RPM curve by the Motherboard software/BIOS.
All temperature measurements are presented as Deltas – meaning the ambient temperature has been deducted from the CPU temperature giving us a Delta. Data shown in the charts represent the average component temperature over the length of the test as measured by HWiNFO and then the last 15 minutes of the data are calculated to get the average. The ambient temperature during thermal tests is between 19-21⁰C.
Test System Specification:
CPU – Intel Core i7-12700K
Motherboard – MSI MEG Z690 Unify
Graphics Card – INNO3D RTX 4080 iCHILL
Memory – 32GB ( 2 x 16GB Modules) GSKILL Trident Z5 DDR5-6400
Storage – 2TB WD_Black SN850 PCIe Gen4 M.2 NVMe SSD
CPU Cooler – Cooler Master MasterLiquid 240 Atmos
Power Supply – Cooler Master GX III 850 Gold
Case fans – Noctua NF-F12 PWM Chromax.Black.Swap
Chassis – Cooler Master QUBE 500 Flat Pack
Operating System – Windows 11
Thermal Performance/Noise Overview:
Thermal Performance:
Thermal performance is an interesting one with the QUBE 500 Flat Pack. Testing the case in its default configuration with all panels and filters installed, GPU temperature seems OK with an average delta of 43°C. But the CPU runs hot with a top-mounted AIO, the average delta was measured at 66°C which means the actual peak CPU temperature was in the mid-high 90s which isn't great for this CPU.
Removing the tempered glass side panel reduces CPU temperature, however, we found that removing all the dust filters from the case gave a significant drop in CPU temperature by almost 10°C which is quite alarming.
When you look closer at the dust filters you soon realise that the perforations in the filters are tiny at approximately 0.8 – 1mm which means the airflow is severely restricted and the fans struggle to push heat out of the top of the case or pull cool air in.
Closing Thoughts
As a concept, I love the idea of the Cooler Master QUBE 500 Flat Pack, starting the build process by assembling the case will really appeal to someone like me who loves building and modding their PC. The customisation aspect, choosing the configuration you want from your case and the ecosystem for accessories will be a bonus for the modding community. Cooler Master has done a great job with the process and building the case up requires little tools or knowledge as the assembly video series covers everything in detail.
Building the case is easy, and once built up the system inside looks very neat. Due to the compact size of the QUBE 500, building a regular system with an AIO or air cooler for the CPU will fill the case nicely, theres no gaping spaces in the hardware so the system doesn't look lost inside as it can do in some larger cases. Hardware support is generous with big graphics cards, tall air coolers and multiple radiators all supported. However, I would like to see 360mm radiators supported but hopefully Cooler Master can refine the design in future to accommodate this.
As expected there are some compromises due to the size of the chassis. If you want to install a front radiator/fans the power supply must be installed on the floor which means either a smaller graphics card will be needed or an SFX power supply, maybe even both. If you install the power supply on the floor then you lose space for bottom fans which are useful for GPU airflow. With the power supply installed at the front of the case, it can restrict top radiator installation too.
The included left-side radiator/fan bracket seems like a pointless accessory to be included with the standard black/white version of the case as any fans installed on the bracket would be slammed right up to a tempered glass side panel, which would completely block any airflow. Maybe on the Macaron Edition, the side bracket could be used along with a steel vented side panel so it's not completely useless, it just seems like an odd decision to include it with the standard case but no optional vented side panel is included.
But the main issue we found with the case is the airflow, or lack of it to be more specific. The filters attached to the top, front, and bottom panels of the case are just too restrictive. As we found in our thermal testing, removing all these dust filters improved CPU temperature by almost 10°C which is a significant drop in CPU temperature. You can remove the dust filters but you will have to clean your system more often and it also ruins the aesthetics of the case as you can see inner panels with the filters removed and it just looks a mess.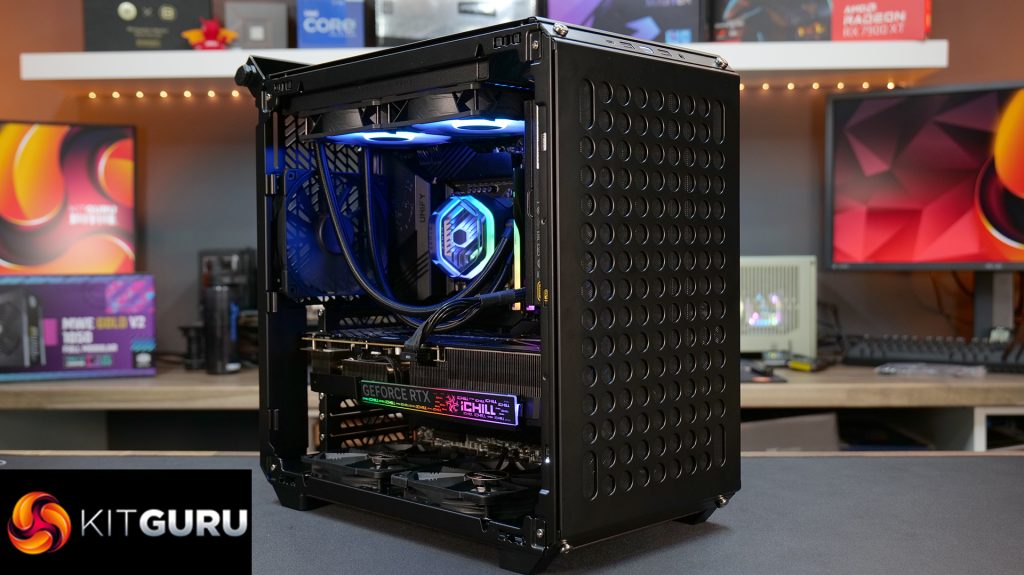 The reason that the filters are so restrictive is due to the size of the perforations in the steel filter element. The perforated holes are just 0.8 – 1.0mm in diameter maximum which is extremely restrictive. The perforations need to be small to filter dust but at this size they are so restrictive that the fans struggle to pull in cool air from outside of the case and exhaust heat out. We reached out to Cooler Master about this issue and they responded with the following statement:
"Thank you for bringing this point to our attention. We have done internal testing with different configurations. We didn't find as big of a difference in temperature as you experienced from this testing, but we will do more extensive testing trying to replicate your results. If we can verify the results with these testing, we can change the filter design as you have suggested."
This sounds like a positive response from Cooler Master so hopefully they will find the problem in their additional testing and make a revision to improve thermal performance.
I like the self-build case concept and hope that Cooler Master continues with this idea in future cases as it adds another dimension to the build process and I am sure there are others out there like myself that will enjoy assembling the case as part of the PC build. Even with the issues mentioned the QUBE 500 Flat Pack is a case I would consider using in the future as the cost of the case is relatively cheap but I would have to find a way to optimise airflow as the stock filter system is just too restrictive and could even affect CPU performance.
The Cooler Master QUBE 500 Flat Pack will be available to pre-order from OCUK (link is coming soon). The standard Black / White Edition is priced at £69.99 and the Macaron Limited Edition is £99.99.
Pros:
The interesting self-build concept adds another dimension to PC building.
Customizations will be a bonus for users who like to personalise and mod systems.
Several layout options including inverted builds.
Decent cooling options for a compact ATX case.
Good cable management features.
Cons:
Some flex in the chassis even with all panels and optional screws installed
Missed opportunity with airflow and filter restriction.
The power button sticks in sometimes.
Radiator/fan installation is compromised by the power supply.
The lack of 360mm radiator support is a problem for high-power CPUs.
KitGuru says: The flat pack PC case concept is an idea that I really like but Cooler Master needs to improve airflow for users who want to keep modern high-power CPUs cool using this case.
Be sure to check out our sponsors store EKWB here