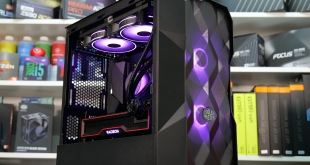 Since its launch a couple of years ago, the Cooler Master TD500 has proven a solid choice for enthusiasts wanting an affordable, high airflow and well-built PC chassis. But if you wanted something that shared the TD500's looks, but in a more compact package, you were out of luck… Until now, that is, because Cooler Master has just launched the baby brother of the popular TD series, with a new TD300 micro ATX case. Can this compact version live up to the high standards set by the TD500? Let's find out.
Timestamps:
00:00 Start
00:36 The TD300 Case
03:34 Radiator and GPU Support
04:34 James thoughts so far
05:23 Top of the case
05:30 Back and side panels
06:07 Inside analysis
07:50 3.5 inch drive install and filters
08:51 Its a weird market in 2022
09:13 Top I/O
09:40 A cool feature
11:09 Hardware for the build
12:31 Build Timelapse
19:11 James' closing thoughts
Cooler Master TD300 Features:
Available in black or white colour schemes with a full-length polygonal 3D FineMesh front panel for optimal airflow and combined dust filtration.
Two SickleFlow 120mm PWM ARGB fans included and pre-installed to the chassis front panel providing cool air intake.
An included fan hub featuring five ARGB ports and four PWM fan headers allows users to control the fan speed via a single connection to the motherboard and another for ARGB signal.
Exclusive TD300 removable top panel for easy access to top-mounted fans/radiators and other components.
The chassis structure is manufactured from a combination of steel, high-quality ABS moulded plastic and tempered glass.
Versatile cooling options allow for the installation of up to six 120mm fans in total and up to 280mm radiators in the front or top panels.
Support for high-end components such as graphics cards up to 34mm long, CPU coolers with a maximum height of 166mm and power supplies up to 325mm long (with the 3.5-inch HDD cage removed).
Ample storage capacity with mounting locations for up to four 2.5-inch SSD/HDD's and an adaptable/removable 3.5-inch HDD cage that will hold two drives.
Specification:
Motherboard support: Mini ITX, Micro ATX
Expansion Slots: 4
Front I/O Panel: 2X USB 3.2 GEN 1 Type-A, 1X 3.5mm Audio jack, 1X 3.5mm Mic jack
Pre-installed Fans: 2 x 120mm SickleFlow PWM ARGB (Top)
Fan support: 3x120mm/2x140mm (Front), 2x120mm/2x140mm (Top), 1x120mm (Rear)
Radiator support: up to 280mm (Front and top), 120mm (Rear)
GPU clearance: 344mm
CPU cooler Clearance: 166mm
PSU clearance: 325mm (front radiator and drive cage removed), 140mm (drive change and front radiator installed)
Dust filters: Front, top, bottom
Dimensions (L X W X H):5 X 210 X 410mm (Body size), 433 X 210 X 420.5MM (including protrusions)
Thermal/Noise Performance Testing
To simulate thermal demand we run the Cinebench R23 multi-thread benchmark and 3DMark Time Spy Extreme stress test simultaneously in a loop for 60 minutes to fully load the system. This gives the CPU and GPU enough time to reach constant steady-state temperature. With this data, we can compare how the system handles the thermal demand and measure peak noise levels.
Thermal performance is measured with the case in various configurations, such as the default, with the tempered glass left-hand side panel removed and with the front panel removed to see how these configurations affect the CPU and GPU temperature. During testing, only stock case fans are used unless otherwise specified. All water pumps are set to maximum RPM and fans are set to a custom RPM Curve by the Motherboard software/BIOS.
All temperature measurements are presented as Deltas – meaning the ambient temperature has been deducted from the CPU temperature giving us a Delta. Data shown in the charts represent the average component temperature over the length of the test as measured by HWiNFO and then calculated to get the average. Ambient temperature during thermal tests is between 18-20⁰C.
Noise levels are measured by placing a noise meter 300mm from the front of the chassis while the stress test is running and the peak noise level during the test is recorded. The noise floor (ambient noise level) in the room is 36dBA.
Test System:
Case – Cooler Master TD300
CPU – AMD Ryzen 7 5800X
Motherboard – Gigabyte B550M Aorus Pro
Memory – 32GB (4 x 8GB Modules) G.Skill Trident Z RGB DDR4-3600
Graphics Card – Reference Edition AMD Radeon RX 6900XT
1st M.2 SSD Drive – 1TB PNY XLR8 Gaming CS3040 PCIe Gen4 NVME M.2 SSD
CPU Cooler – Cooler Master MasterLiquid ML240 Illusion
Power Supply – Cooler Master MWE Gold 850 V2
Case Fans – 2 x Stock Cooler Master SickleFlow 120
Operating System – Windows 11
Thermal Performance/Noise Overview: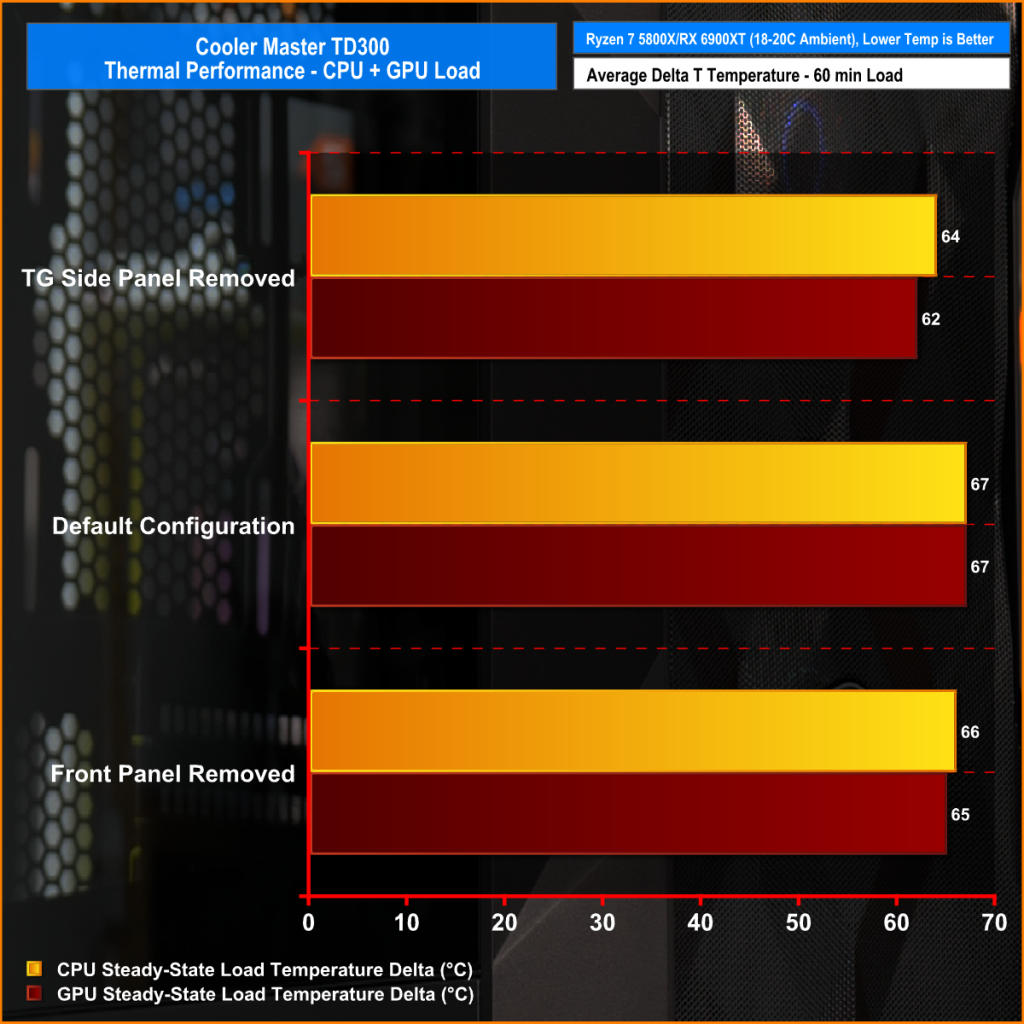 Removing the side panel improved average GPU temperature by around 5-6°C which is something we see regularly in case testing. However, removing the front panel only had a minor effect on the CPU and GPU temperature so it seems like Cooler Master has optimised the front well for airflow.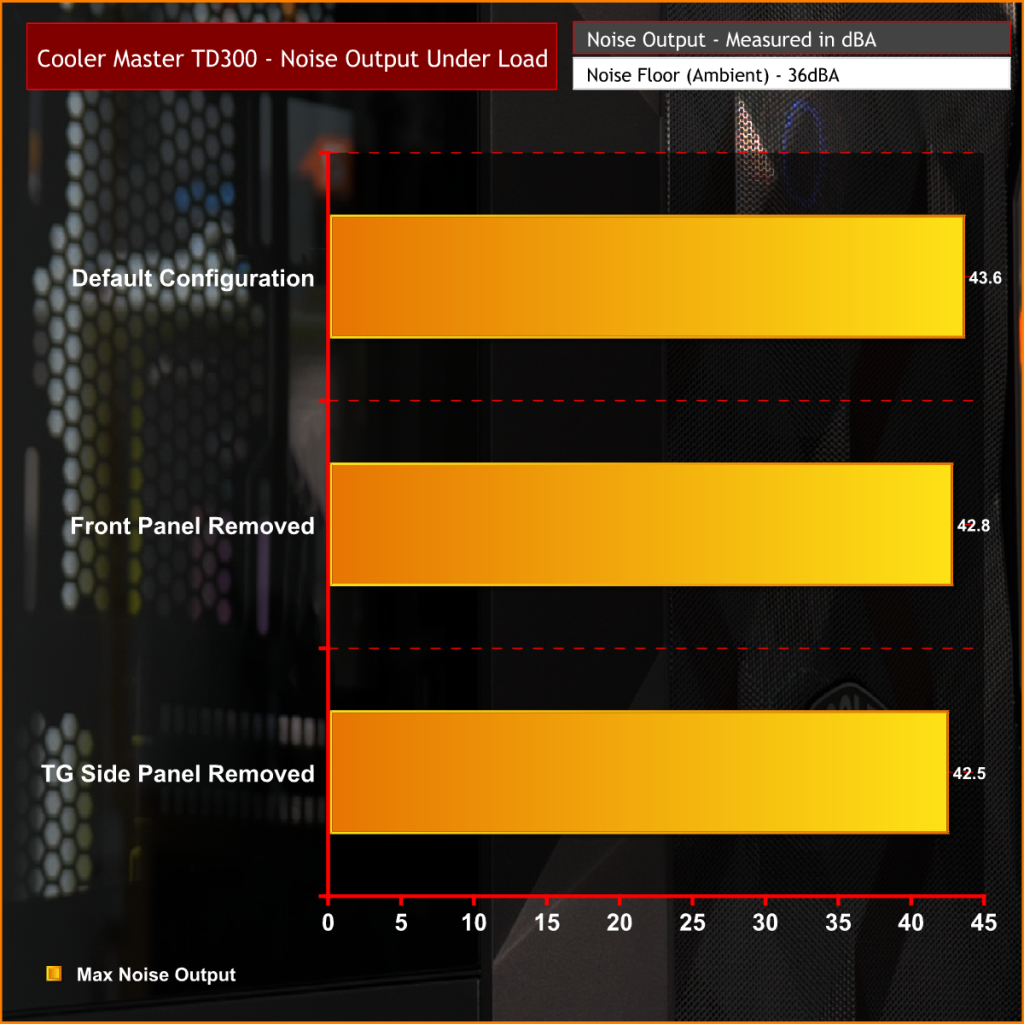 Since both the AMD Ryzen 7 5800X and Radeon RX 6900XT are difficult to cool so during our thermal tests the fans ramped up from their 800RPM base speed which increased noise output over the duration of the test. The Cooler Master TD300 has no sound dampening features so the case didn't do a great job of hiding noise but the noise wasn't too distracting.
Closing Thoughts
Priced at £84.99 MSRP in the UK, we would class the Cooler Master TD300 as a budget case in the current market. Just a few years ago this price may have put the case in the mid to higher range but with everything seemingly going up in price lately, this is definitely now in the lower-end of the market.
With that in mind, the Cooler Master TD300 isn't a bad choice if you are currently in the market for a micro ATX case. It may not be the favoured form factor with motherboard vendors of late but we still think micro ATX is a good size for gaming systems that need only one graphics card. M.2 storage may be compromised with micro ATX boards but the TD300 makes up for this with multiple SSD and HDD mounting locations.
Like its TD500 predecessor, the new TD300 features a FineMesh vented front panel for optimal airflow which worked as intended in our thermal tests. The great thing about the FineMesh is that it also doubles up as a front dust filter so there is no need to start removing case panels for system maintenance with the TD300, a quick wipe away of dust should suffice.
Looks are always subjective and something that appeals to one person may not to another, but I think Cooler Master has tried to remain as neutral as possible with the aesthetics of the TD300. Yes, the angular shape of the front panel and the polygonal 3D style mesh may not be everyone's cup of tea but it shouldn't look out of place in most environments, whether it's a bedroom gaming system or home office PC.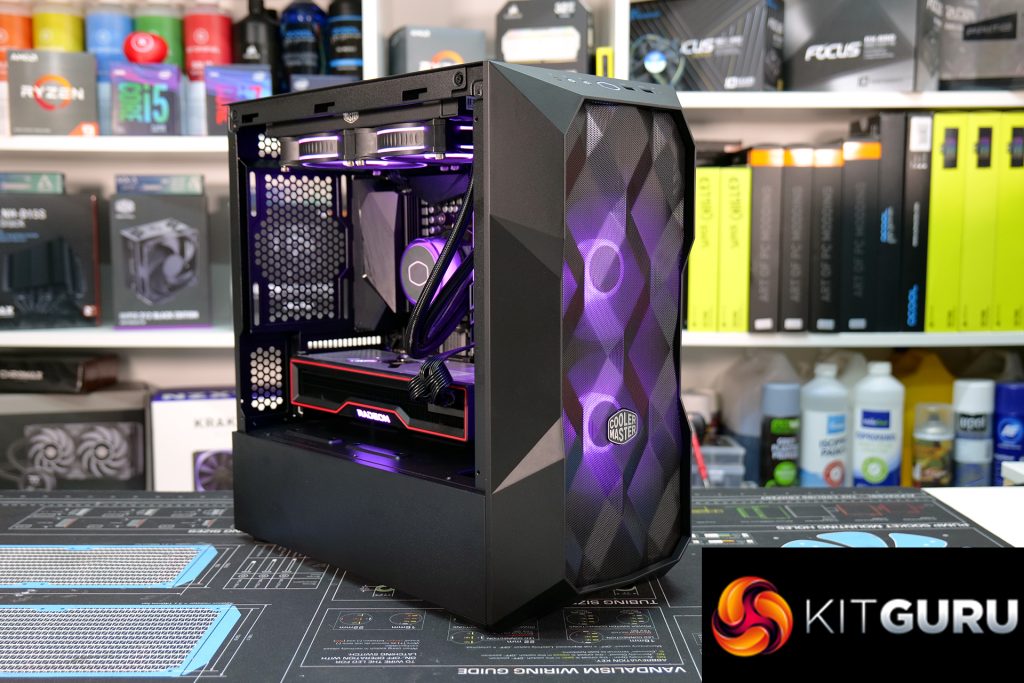 Build quality is also on point and the removable top panel comes in very handy for installing fans/radiators or other components at the top of the system. It can be a very valuable feature if you forget to plug in the EPS power cables at the correct point during your build, it saves users the hassle of having to remove parts to gain access to the top left corner of the motherboard in this situation.
The only small negatives with the Cooler Master TD300 are the lack of a USB Type-C port on the front panel I/O, which really should be a standard on all cases in 2022. The other minor points worth noting are the space under the PSU shroud and how close to the PSU shroud the graphics card fans can end up. With thick cards and certain motherboard layouts, this could cause a problem with airflow to the GPU. But taken as a whole, the TD300 is a decent micro ATX chassis.
The Cooler Master TD300 can be purchased in black or white now for £84.99 from AWD-IT HERE.
Discuss on our Facebook page HERE.
Pros:
Sturdy build quality.
Reasonably cheap price.
Removable top panel.
Good cooling support.
Excellent storage capacity.
Cons:
GPU fans can end up close to the PSU shroud.
Limited space under the PSU shroud for cables.
SickleFlow fans RGB lighting is not the best.
KitGuru says: Overall the Cooler Master TD300 is a decent looking and solid little micro ATX case, with good hardware support and cooling potential. If you are in the market for a wallet-friendly micro ATX case right now, it's worth checking out.
Be sure to check out our sponsors store EKWB here