Today marks the launch of a couple of interesting new PC cases. We have a review up of the new be quiet! Pure Base 500, meanwhile Corsair has launched a brand-new Mid-Tower ATX chassis- the iCUE 465X RGB Smart Case. Taking on a tempered glass front panel displaying three RGB fans, one could easily confuse it with the Crystal series. However, let's not judge a book by its cover too soon.
The 465X RGB features 4mm thick tempered glass on the front and side panels, which is great for showcasing your expensive hardware and RGB fans inside. Included are three Corsair LL120 RGB PWM Fans with 16 individual ARGB LEDs each. LL120's have the ability of running at up to 1500rpm, which should maintain air-flow inside the case and keep temperatures under control.
A Corsair Lighting Node CORE is included with the iCUE 465X RGB, which accepts up to six Corsair RGB fans for full customisation of lighting using the iCUE software, without the need for a separate fan hub. For users with more Corsair products, iCUE software allows full control and customisation of your entire setup.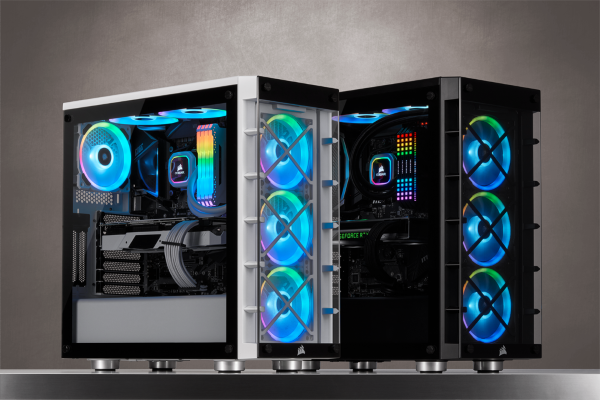 Other features include wide ventilation gaps in the front panel and space for up to six 120mm fans or radiators throughout the case, including room for a 360mm radiator in the front. A total of six storage devices are catered for in the 465X RGB with space for two 3.5" HDDs and four 2.5" drives.
An important feature in every PC case is cable management. With routing channels and eyelets to tie cables down, along with rubber grommets protecting the cable cut outs in the 465X, Corsair obviously agrees. Dust filtration is covered by removable filters in the front, roof and floor to keep your hardware clean and looking fresh.
The Corsair iCUE 465X RGB Smart Case is available from today, either through Corsair directly or on Amazon for £109.99
KitGuru says: We will have our very own full review up soon, so keep an eye out. In the meantime, what do you all think of the Corsair iCUE 465X RGB Smart Case?