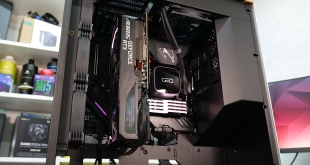 When reviewing stacks of cases as we do at KitGuru, throughout the year we tend to see a lot of the same design elements over and over again. Maybe the odd RGB fan is included here or the odd bit of tempered glass there, maybe even a new airflow front panel perhaps. But when something that genuinely looks new and interesting passes through the KitGuru office we get a little bit excited. Thankfully, today is one of those days when we get to look at a brand new PC case from a new company, but will it impress? Let's find out.
Watch the video via Vimeo (below) or over on YouTube at 2160p HERE
Timestamps:
00:00 Start
01:03 Introduction / materials (leather?!)
02:32 Pricing / sizing
02:51 Front panel
03:17 Side panel
03:38 Inside the case
04:05 Top of the case
04:28 It's not a traditional layout
05:05 Front panel I/O
05:26 Support / Cooling / Design
06:55 Power supply / cable management
07:51 Storage
08:35 Underside of case
09:45 The Rails / fitting thoughts
10:57 Build components
12:16 Time Lapse Build
18:34 James thoughts on the build
22:36 Thermal Testing
24:41 James Closing Thoughts
Geometric Future is a new name to the European PC building enthusiast market but it already has some interesting hardware on offer, it's worth checking out their website to learn more. The latest release from Geometric Future is the Model 8 chassis series which is available in various configurations. We chose the Model 8 CowBoy for this review; however, all of the model 8 series share the same chassis structure but with various external aesthetics to choose from.
The Geometric Future Model 8 CowBoy is available to purchase from Amazon UK, the case is priced at just under £170 in the UK but for that, all you get is a bare-bones case, there are no fans, fan controllers, no RGB to speak of or any additional accessories bundled with the case. So this must be factored in when budgeting for your build if you are thinking of using this case.
Geometric Future Model 8 CowBoy Features:
Constructed from a combination of brushed aluminium, genuine full-grain cattle hide and 4mm tempered glass for a unique, understated but premium and modern exterior appearance.
Ventilation on three sides for excellent heat dissipation plus support for water cooling radiators up to 420mm long (rear) and 360mm (floor). Up to seven 120mm or five 140mm fans are supported.
Compatible motherboards up to E-ATX (SSI-EEB) are supported which also includes ATX, Micro-ATX and Mini-ITX. Up to six 2.5-inch or 3.5-inch storage devices can be installed on the rear of the motherboard tray.
Motherboard orientation rotated 90° from the usual ATX mid-tower layout gives an alternative and fresh appearance to the system, the graphics card is mounted vertically and the rear I/O is connected in a concealed top compartment.
The maximum CPU cooler height is 170mm, maximum graphics card length is a huge 400mm, which is enough for any current-generation Nvidia RTX or AMD Radeon 6000 series cards. The maximum power supply length is 220mm with ample cable management features built into the chassis.
Generous front I/O connectivity including two USB 2.0 Type-A ports, two USB 3.0 Type-A ports a single USB 3.2 Gen2 10Gbps Type-C port, as well as individual 3.5mm jacks for audio and mic connections.
Ample cable routing space of 29mm gap between the motherboard tray and right-hand side panel. Multiple Velcro straps are provided to keep cables neat and tidy with various eyelets to strap cables down.
Specifications
Case Type: Mid Tower
Material: Steel T1.0, Tempered Glass T4.0
Product Dimension: 500×230×500mm (H x W x D )
Drive Bay Max: 6×3.5″/2.5″ tray
M/B Compatibility: E-ATX12″×13″, ATX, Micro-ATX, Mini-ITX
Power Supply: ATX 12V(Length < 220 mm)
Front I/O Ports: USB 3.0 x 2 , USB 2.0 x 2 , HD Audio(CTIA-SPK/MIC ) , Type – C USB3.1 Gen .2
Expansion Slots: PCI-E x 7, Length <400mm (No Cooling of bottom)/ Width <175mm, Lateral PCI-E x 3, Length <412mm(No Cooling of bottom) / Width <150mm
Thermal Solution: Top 120mm Fan/120mm Radiator, Rear 120/140mm Fan or 420mm Radiator, Bottom 120/140mm Fan or 360/280mm Radiator
Max CPU Heatsink Height: <170mm
Thermal/Noise Performance Testing
To simulate thermal demand we run the Cinebench R23 multi-thread benchmark and 3DMark Time Spy Extreme stress test simultaneously in a loop for 60 minutes to fully load the system. This gives the CPU and GPU enough time to reach constant steady-state temperature. With this data, we can compare how the system handles the thermal demand and measure peak noise levels.
Thermal performance is measured with the case in various configurations, such as the default, with the tempered glass left-hand side panel removed and with the front panel removed to see how these configurations affect the CPU and GPU temperature. During testing, only stock case fans are used unless otherwise specified. All water pumps are set to maximum RPM and fans are set to a custom RPM curve by the Motherboard software/BIOS.
All temperature measurements are presented as Deltas – meaning the ambient temperature has been deducted from the CPU temperature giving us a Delta. Data shown in the charts represent the average component temperature over the length of the test as measured by HWiNFO and then the last 15 minutes of the data are calculated to get the average. The ambient temperature during thermal tests is between 18-20⁰C.
Noise levels are measured by placing a noise meter 300mm from the front of the chassis while the stress test is running and the peak noise level during the test is recorded. The noise floor (ambient noise level) in the room is 36dBA.
Test System:
CPU – AMD Ryzen 9 5900X
Motherboard – X570 Aorus Xtreme
Memory – 32 GB (4 x 8GB Modules) G.Skill Trident Z RGB DDR4-3600 C16
Graphics Card – RTX 3080 Aorus Master
Storage – 1TB PNY XLR8 Gaming CS3040 PCIe Gen4 NVME M.2 SSD
Power Supply – Seasonic Prime TX-850 850W 80+ Titanium
Operating System – Windows 11
Thermal Performance/Noise Overview: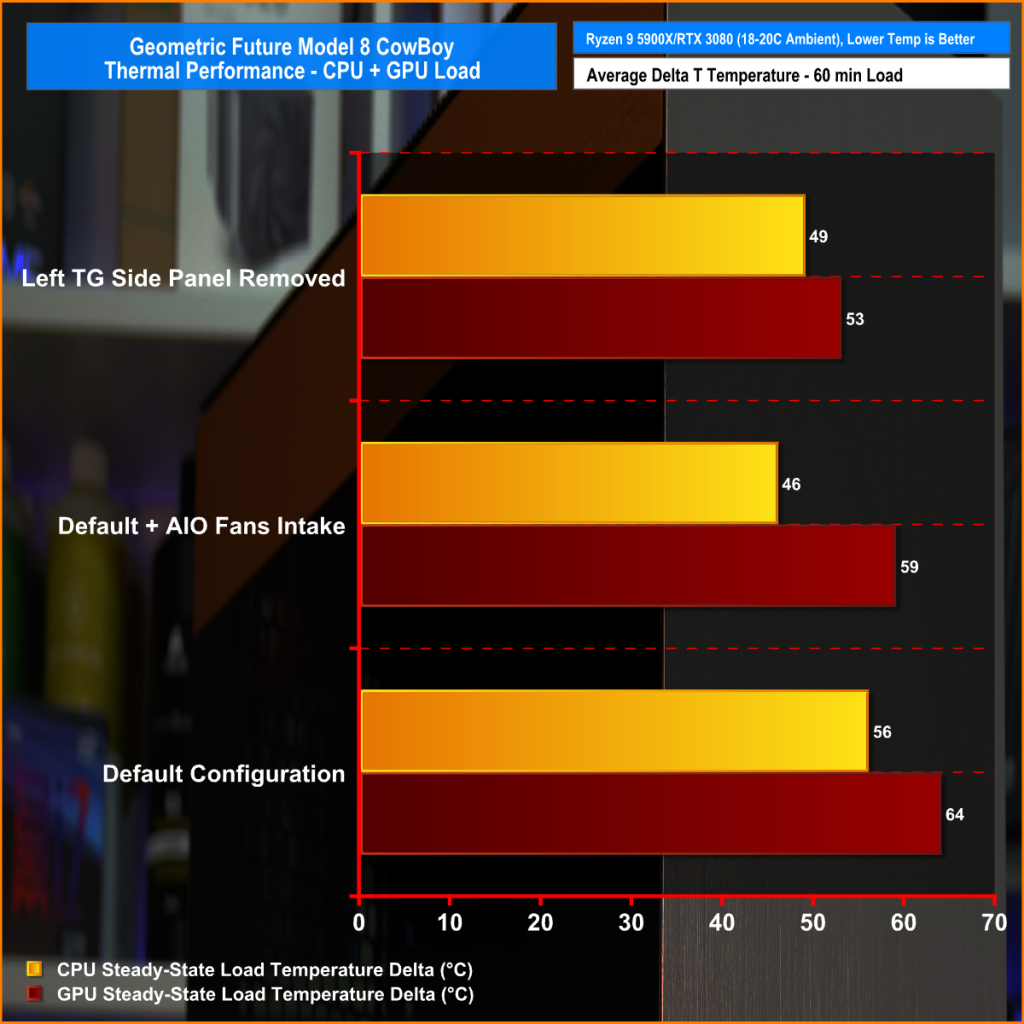 During the build, I was concerned that the AIO and GPU would conflict in terms of airflow since the fans were pulling in opposite directions. This concern was a valid one as the optimal cooling configuration is to have the AIO fans flipped around, pulling air into the case from the rear and blowing towards the GPU.
With this configuration, the GPU temperature dropped by approximately 5°C on average compared to testing with the AIO fans exhausting air out of the rear of the case, effectively starving air to the GPU fans a little. In either configuration CPU temperature was excellent, but there was a considerable reduction in CPU temperature with the AIO fans pulling in clean air from the rear too.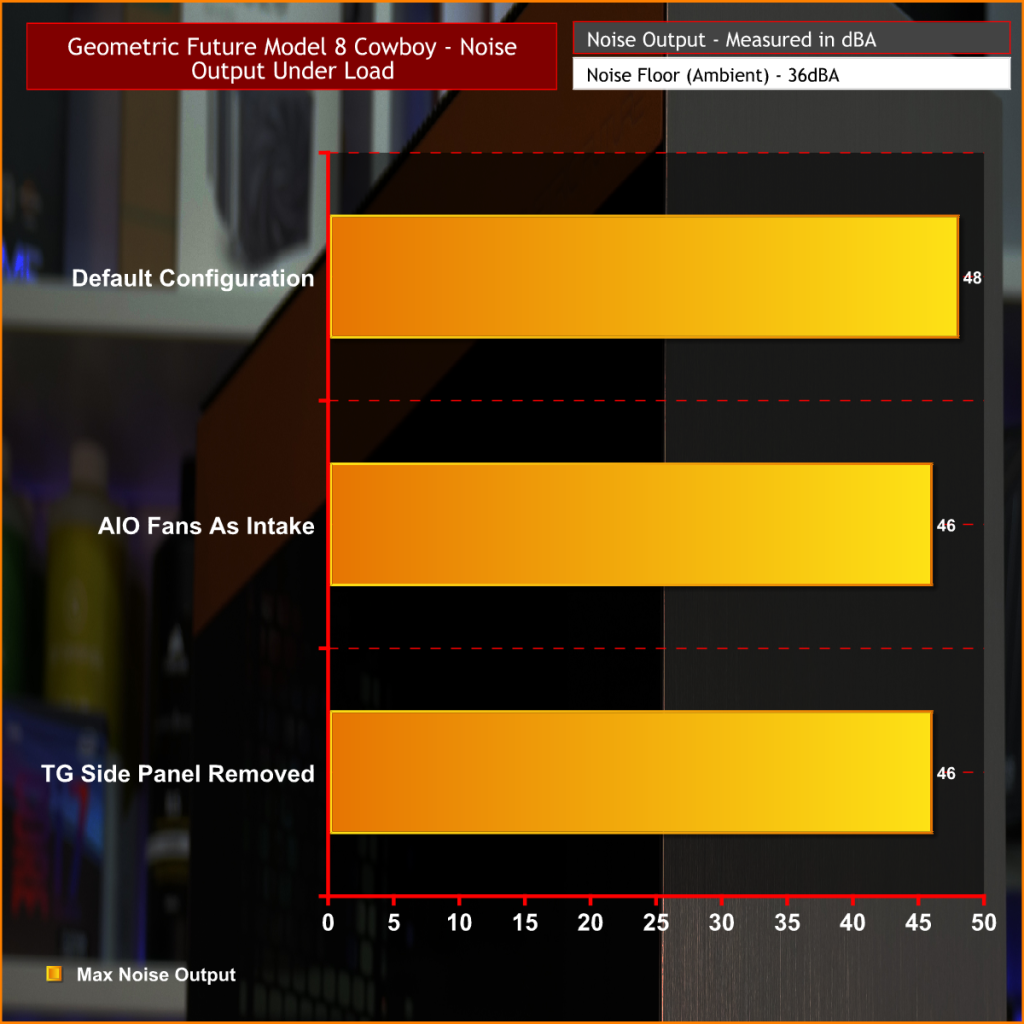 In either configuration, noise levels were respectable at under 50dBA during a full system load. However, as we usually see, removing the tempered glass panel improves cooling and therefore slightly lowers noise output as the graphics card fans don't have to ramp up the RPM as much to keep GPU temperature under control.
Closing Thoughts
Geometric Future's Model 8 series is a very solid attempt by a company that is new to the enthusiast market. It brings a fresh new look and interesting take on the mid-tower ATX format. Even though we have seen other cases in the past that use this 90° rotated motherboard layout, I think Geometric Future has grabbed the idea and brought it up to date with a clean, understated modern exterior paired with good build quality and support for all the usual hardware specifications we expect to see in a mid-tower in 2022.
The use of leather is an interesting choice and not something I can recall seeing before coming as a stock feature. From new, the leather is quite bright in colour, almost orange looking but according to Geometric Future, as time goes by and the leather ages, it darkens in colour turning brown. Does this mean that we finally have a case made to compliment the colour of traditional Noctua fans? I hope so.
I have one or two minor gripes with the case but these could be resolved quite easily. One is the lack of cable cut out grommets on the openings directly below the motherboard tray. There are two sets of large cutouts there without grommets, lot of cables pass through here so it can start to look quite untidy especially since the case has two glass outer panels that you can see right through.
The other minor issue is the rear air intake/vent and lack of a supplied dust filter. As we found during our thermal testing, with a thick graphics card such as the RTX 3080 Aorus Master, running the AIO at the rear with the fans pulling air in from the rear and across to the graphics card fans was optimal for both CPU and GPU temperature. The lack of a filter here means that the radiator could clog up quickly with dust, so regular system maintenance will be critical.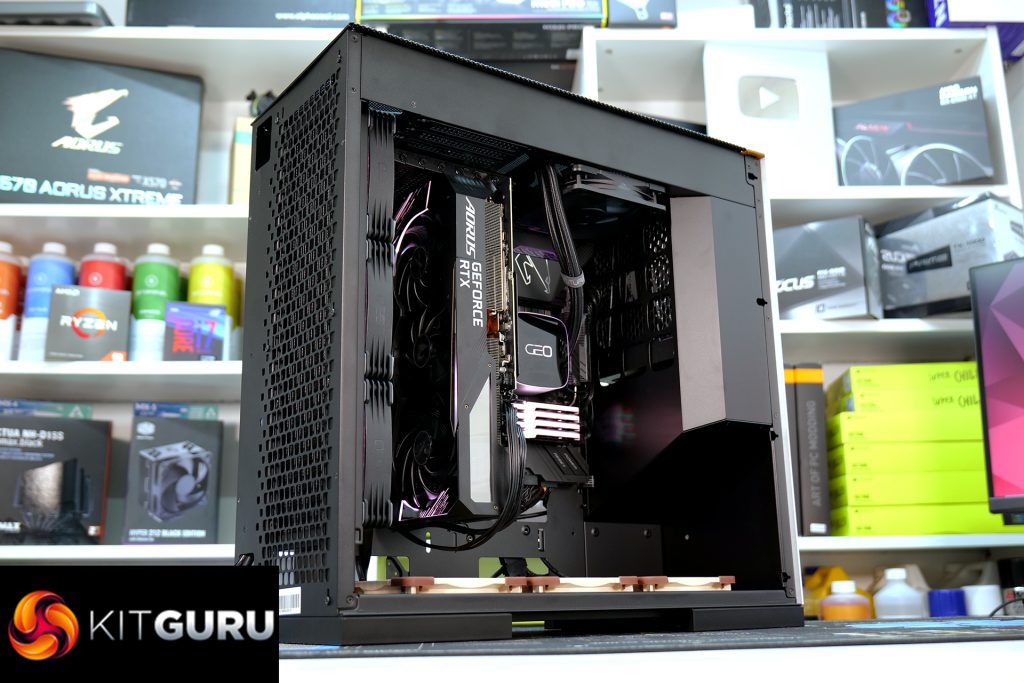 Other than these minor problems, once you get your head around the fact that everything is rotated by 90° and cables/connections are in different places compared with a traditional layout, building a system inside this case is no more difficult than it is in any other ATX case and, in our opinion, the finished product looks great, it's different than usual which we think is good, but it may not be to everyone's taste.
In terms of build quality, we have no major concerns with the materials used, the case seems to be constructed well and it feels very sturdy to build a system in. Alignment of PCIe slots, motherboard standoffs etc are fine, nothing needed to be forced into position during installation. The tempered glass panels are quite heavily tinted but being the same on both sides of the case gives it a clean and symmetrical look from both angles.
So, overall we like the Geometric Future Model 8 series, it's a good case. It is also worth mentioning that in our test system the Geometric Future Eskimo Junior 36 360mm AIO liquid cooler performed well, the load temperature of the Ryzen 9 5900X was impressive. So, if you do decide to pick up the Model 8, it might be worth taking a look at the Geometric Future AIOs too!
The Geometric Future Model 8 Series is available to purchase from Amazon UK, prices start from £154.90 HERE.
Discuss on our Facebook page HERE.
Pros:
Built using premium materials.
Available in various styles.
Interesting layout.
Good cable management features.
Support for multiple big radiators.
Unique aesthetics.
Cons:
No fans Included.
Missing grommets for cable cutouts.
Rear AIO fans may strangle airflow to thick graphics cards.
KitGuru says: The Geometric Future model 8 series is a solid early attempt by a new company to the enthusiast scene. With its rotated layout, exotic materials and sleek looks we like it a lot, what do you guys think?
Be sure to check out our sponsors store EKWB here