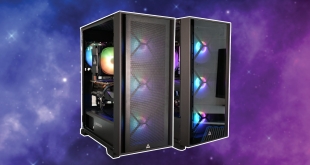 Montech may not be a familiar name to everyone, the company burst onto the enthusiast PC scene a few years ago and has quickly become known for its great value products. The company has a good selection of cases, coolers and power supplies, as well as a few peripherals in its arsenal. Today we are checking out the AIR 1000 Premium, offering a choice of glass or mesh front panels, for less than £70.
Watch via our Vimeo channel (below) or over on YouTube at 2160p HERE
I first encountered Montech a couple of years ago while working with the KitGuru news team. My initial thought was that this could be just another budget case manufacturer offering nothing but cheap quality rubbish. But, in fact, I couldn't have been more wrong. Leo got his hands on the Montech AIR 100 micro ATX chassis not that long ago and gave it a glaringly positive review, it scored 9 out of 10 and won the KitGuru Must Have award for its exceptional value and high build quality.
So, when the AIR 1000 Premium landed in the KitGuru office, I was more than happy to take a look and see if Montech could follow up on the impressive AIR 100 with another win. After a quick peek at the Montech AIR 1000 Premium, I can safely say that my initial opinion on this case is very good, it looks again like Montech is providing amazing value for money, with premium features packed into a case that is said to cost just £67.99/$89.99 USD when it hits the shelves in the coming weeks.
What you are getting for your money with the Montech AIR 1000 Premium frankly puts other PC case manufacturers to shame in terms of value. Features of the AIR 1000 Premium include a hinged tempered glass side window panel, four ARGB fans with a control hub and front panel LED button and motherboard synchronisation, complete dust filtration, support for high-end hardware and interchangeable front panels so the user can swap between stylish tempered glass or high airflow mesh.
On top of all that, the Montech AIR 1000 Premium is available in black or white and feels well built, this isn't one of those cases with wafer-thin steel that feels like it will buckle if you look at it the wrong way. The build quality feels just as good as a budget case from the likes of Corsair, be quiet!, Phanteks etc. As far as I can see, the only thing that isn't premium about this case is the price. But before we give it the full KitGuru seal of approval, let's build a system inside it to see just how good it is.
Montech AIR 1000 Premium Features:
Supports high-end components including up to full ATX form factor motherboards (ATX, Micro-ATX, Mini-ITX) graphics cards up to 340mm long, CPU coolers up to 165mm tall, power supplies up to 180mm long (with 3.5" HDD caddy fitted) and up to four 2.5" or two 3.5" storage drives.
Excellent cooling performance with a high airflow chassis design and space for up to 360mm radiators or three 120/140mm fans in the front of the chassis, up to 280mm radiators or two 120/140mm in the roof and 120mm radiators or fan in the rear panel.
Interchangeable front panel design with included tempered glass and high airflow mesh panels. Users can quickly switch between contemporary tempered glass or mesh for maximum cooling potential.
The left-hand side tempered glass window panel is mounted on a hinge for easy access to components and a mild tint provides a perfect view of the system's interior.
Three 140mm (front intake) and one 120mm (rear exhaust) addressable RGB fans are included with the AIR 1000 premium for unbeatable cooling performance.
An included ARGB fan hub comes as standard. The ARGB lighting of the four included fans can be controlled by a front panel LED button or synchronised via motherboard ARGB software at the flick of a switch.
The innovative Quick Slide Dust Filter is fitted to the front of the chassis for easy access and cleaning. Additional fine mesh dust filters are positioned at the top and bottom of the chassis for complete dust management.
Smart cable management in the right-hand side of the chassis with cable access via seven cut-outs equipped with rubber grommets. Three pre-installed Velcro straps and various eyelets allow for clean cable management.
Technical Specifications:
Dimensions (L X W X H) – 416mm x 220mm x 495mm
Weight – 7.25kg
Motherboard Support – ATX/Micro ATX/Mini ITX
Storage Bays – 2 x 3.5-inch, 4 x 2.5-inch
Front I/O – USB 2.0 x 1, USB 3.0 x 2, Audio x 1, mic x 1, LED Button
Fan Support – 120/140mm x 3 (front), 120mm x 1 (rear), 120.140mm x 2 (top)
Radiator Support – 360/280/240/140/120mm (front), 280/240/140/120mm (top), 120mm (rear)
Max CPU Cooler Height – 165mm
Max GPU Size – 340mm / 310mm (with front radiator installed)
Supported Power Supply – ATX, 1800mm / 200mm (HDD cage removed)
System installation
In terms of the system installation, Montech hasn't made mistakes that other higher priced case manufacturers have. Space inside the chassis is plentiful, high-end components can be installed inside the AIR 1000 Premium with ease. Our RTX 3080 Aorus Master, three slot 320mm plus card fit into the chassis effortlessly with just three fans installed in the front panel.
Alignment of all the cut-outs for rear I/O, PCIe slots and motherboard standoffs etc were all spot on, there was no need to put excessive force on any components to get them to line up. We test fitted a 280mm AIO CPU cooler in the roof of the chassis too, It was a tight squeeze but it did fit with the rear exhaust fan lowered in its elongated mounting screw holes.
On a whole, cable management is very good. There are plenty of cut-outs to pass cables through and almost all have rubber grommets. Around the right-hand side of the chassis the cable management channel works well, all the important cables could be routed here and the pre-installed Velcro straps made cable management a breeze. A couple more eyelets could have been added to the right side of the motherboard tray (for EPS) but overall cable management went well.
However, there is one glaringly obvious design fault with a couple of the cable cut-outs on top of the power supply shroud. Once the power supply is installed, one cut-out is completely blocked by the PSU and another is partially blocked. This meant that the front panel audio cable could not pass through the cut-out near the motherboard header, so it looked untidy routing it further back.
This isn't the end of the world, but it seems like a silly design error and I am really surprised that the issue wasn't picked up on and changed before the case went into production. Another minor niggle is the Montech logo on the PSU shroud, it looks a little out of place, also the RGB hub could have more spare ARGB headers to connect extra Montech ARGB components to, such as the CPU cooler we used in the build. But other than those minor issues, the build went really well overall.
System Specification
RGB Gallery
The ARGB lighting effects of the Montech AIR 1000 Premium can be controlled using the LED button on the front panel. Repeatedly pressing the button cycles through the pre-set RGB colours and patterns. A long press of the LED button switches the mode to motherboard synchronisation and allows the user to configure the RGB effects via compatible motherboard software.
Thermal/Noise Performance Testing
To simulate thermal demand, we run the Cinebench R23 multi-thread benchmark and Heaven Benchmark simultaneously in a loop for 30 minutes to fully load the system. This should give the CPU and GPU enough time to reach constant steady-state temperature. With this data, we can compare how the system handles the thermal demand and measure peak noise levels.
We first measure the thermal performance with the case in its default configuration, so all exterior panels are installed and fans in the default locations. The system is then left to fully cool down before changing configurations to measure how the change affects thermal performance and noise output.
During testing, only stock case fans are used unless otherwise specified. All water pumps (where used) are set to maximum RPM, CPU cooler and system fans are set to a fixed RPM by the Motherboard software/BIOS.
All temperature measurements are presented as Deltas – meaning the ambient temperature has been deducted from the CPU temperature giving us a Delta. Data shown in the charts represent the average component temperature over the length of the test as measured by HWiNFO and then calculated to get the average. Ambient temperature during thermal tests is between 20-22⁰C.
Noise levels are measured by placing a noise meter 300mm from the front of the chassis while the stress test is running and the peak noise level during the test is recorded. The noise floor (ambient noise level) in the room is 36dBA.
Thermal Performance Overview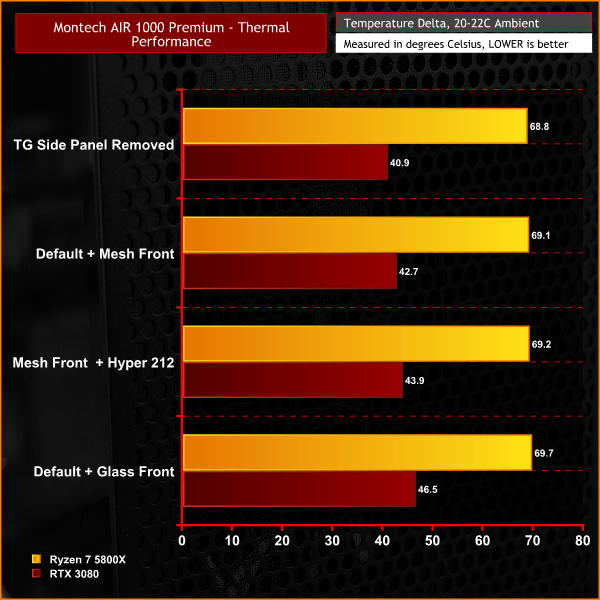 Initially, I had some concerns over the relatively high average CPU temperature during thermal testing. However, I was assured by Luke our AMD CPU expert that the 90⁰C (68⁰C Delta) CPU temperature I saw was perfectly normal for this CPU under heavy load using a single tower air cooler. Just to be sure that the Montech Air Cooler 210 wasn't underperforming, I temporarily fitted the Cooler Master Hyper 212 (a similar size cooler) and the results were virtually identical.
With this in mind, we can see from the chart above that using the case in any configuration (high airflow mesh or with the tempered glass front installed) CPU and GPU temperature can be kept under control. If a bigger air cooler or AIO is used, we expect thermal performance to be very good in this chassis. But even using a smaller air cooler, a high-performance CPU such as the AMD Ryzen 7 5800X runs within spec temperature.
Noise levels Under Load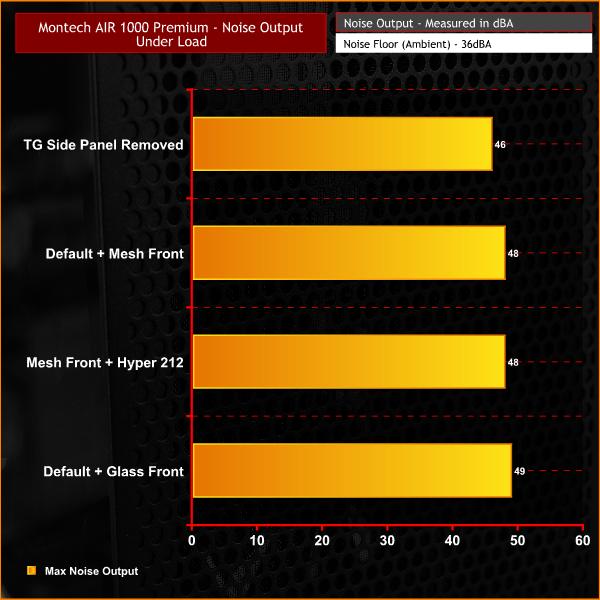 It is a similar theme when it comes to noise output too. In either configuration, the noise output of the system remains pretty constant at around 48dBA under load, which isn't too distracting. It is also worth mentioning that when the fans are set to a profile or curve and the RPM drops at idle, the stock case fans run very quiet.
Closing Thoughts
Taken as a whole, the Montech AIR 1000 Premium offers exceptional value for money, as long as we can actually purchase it for the stated price of £67.99. If it does become available at this price to the UK market, then it will definitely be the case to buy if you are looking for a premium chassis packed with features on a budget. There isn't much else on the market at this price with the same amount of features.
The fact that the case comes with two front-panel configurations included is a huge bonus. With similar types of cases such as the Corsair 4000D, the user has to choose between high airflow or a solid front panel when purchasing. If the user wants to swap front panel style later with these cases, they have to either buy a whole new case or at best buy a new front panel. Not with the Montech AIR 1000 Premium.
Nothing is perfect however, there are some minor issues with the Montech AIR 1000 Premium, some can be forgiven due to the cost but the blocked cable cutouts for me is a bit of a stupid one. How that passed quality control and made it into production is beyond me. Montech needs to check these trivial things before releasing a case in future.
There are one or two small areas that could also be improved on, such as the Montech logo on the PSU shroud. Once the power supply is installed and showing its own logo through the cutout window, the Montech logo looks out of place right next to it. I would suggest Montech either remove that logo from the PSU shroud or move it elsewhere, away from the cutout. Or alternatively, get rid of the PSU shroud cutout/window.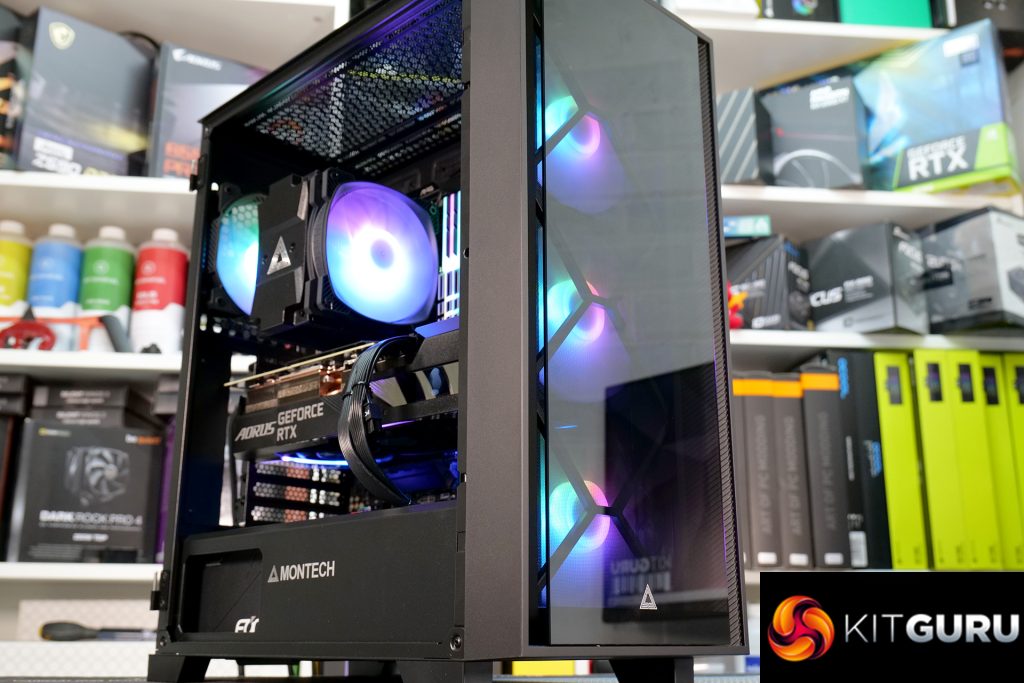 One other very minor thing is the RGB fan hub. The pre-installed fans come connected to the four outputs on the hub which is great. However, if you add another Montech ARGB product to your system, it would be ideal to connect it to the case RGB hub which is impossible as the other output headers are not soldered to the board and cannot be connected to.
This isn't a huge problem as you can connect extra RGB products directly to a motherboard header, but it would be better if you can connect additional Montech ARGB components to the hub so that the RGB effects can be controlled using the LED button on the AIR 1000 Premium front panel.
But overall installing the system inside the Montech AIR 1000 Premium went well. All the high-end components selected for the system fitted into the case with ease and lined up to their respective cutouts and standoffs perfectly. Other than the blocked cable cutouts, the rest of the cable management works a treat and you end up with a neat looking install. Build quality is solid, especially when you consider how little this case is expected to cost, I have no complaints in the department at all.
Hinged tempered glass side windows, interchangeable front panels, high-end hardware support, full dust filtration and good cable management options are all features that we usually expect of mid-high end cases usually costing in excess of £100. Montech has shown the industry that PC enthusiasts can have all this on a budget now too.
The Montech AIR 1000 Premium will be available by end of November 2021 to UK buyers via Amazon Germany priced at £67.99.
Update 25/11/21: Since the review was published, Montech has been in touch to clarify that for retail models the RGB hub will come with a full complement of six connections, unlike our review sample that only had four.
Discuss on our Facebook page HERE.
Pros:
Great value for money.
Good build quality.
Premium features.
Interchangeable front panels.
Cons:
Blocked cable management cutouts.
RGB hub would benefit from more outputs. See update above.
The Montech logo on the PSU shroud looks a bit out of place.
Be sure to check out our sponsors store EKWB here