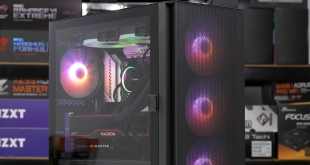 Montech Air 100 ARGB is a microATX case that comes with four 120mm ARGB fans, a tempered glass window and the promise of great cooling to earn that Air name. That sounds like a decent list of features, however the cherry on the cake is that Montech Air 100 ARGB is cheap. Really, REALLY cheap.
Watch the video via our VIMEO Channel (Below) or over on YouTube at 2160p HERE
Main features
Super Fine Mesh Face Plate
Excellent Thermal Performance
Simplistic Minimalist Design
Four ARGB Fans & Lighting Controller Included
Side Swivel Tempered Glass Side Panel
Fit Long Graphic Card
Specification:
Motherboard support: Micro-ATX, Mini-ITX.
Expansion slots: 4
Included fans: 3x 120mm ARGB front intake, 1x 120mm rear exhaust.
Fan mounts: 3x 120mm/2x 140mm front, 2x 120/140mm roof, 1x 120mm rear, 2x 120mm floor.
Radiator mounts: 240mm/280mm front, 240mm roof, 120mm rear.
5.25-inch optical drive bays: None.
Internal drive bays: 2x 3.5-inch/2.5-inch, 2×2.5-inch.
Front I/O panel: 2x USB 3.0 type-A, 1x USB 2.0, headset jacks.
Dimensions: 425mm H x 405mm D x 210mm W.
Testing
To put this case through its cooling paces we will be using a test system consisting of an Intel Core i5-11600K, Radeon RX 6800 XT and an SSD. This system allows us to produce a substantial amount of heat and effectively test the Montech Air 100 ARGB's cooling capabilities. For stress testing we use 3DMark Time Spy to create a workload that replicates game play.
Test System:
Processor: Intel Core i5-11600K (6 cores/12 threads
CPU cooler: Fractal Design Celsius+ S24 Prism
Motherboard: MSI MAG B560M Mortar WiFi
Memory: 32GB Corsair Vengeance LPX DDR4-3600MHz
Graphics card: Sapphire Radeon RX 6800XT 16GB
Power supply: Montech Century 850W Gold
SSD: 500GB Sabrent Rocket 4.0 M.2 NVMe
OS: Windows 10
Cooling Performance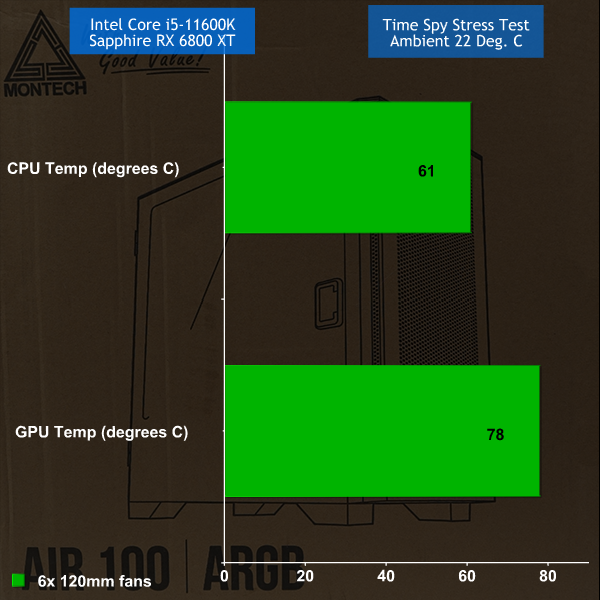 Cooling Performance Overview
The Montech Air 100 ARGB did a fine job in our Time Spy Stress Test while drawing 425W from the wall socket. The six 120mm fans were running at 1,200rpm and our test results were very acceptable.
Closing Thoughts
When Montech told us the prices of the various versions of the Air 100 ARGB we worked hard to keep our expectations in check. Once you allow for taxes, packaging and shipping you're working with a tiny sum of money that suggests the four ARGB fans cost about £2 each and the bare chassis is £20 or £25.
Our maths may be off but however you look at it the Montech Air 100 ARGB is very cheap and could be excused if it was a terrible piece of work. In fact it functions well and succeeds in pretty much every area. The list of problems we found with the Montech Air 100 ARGB is very short and doesn't contain any deal breakers.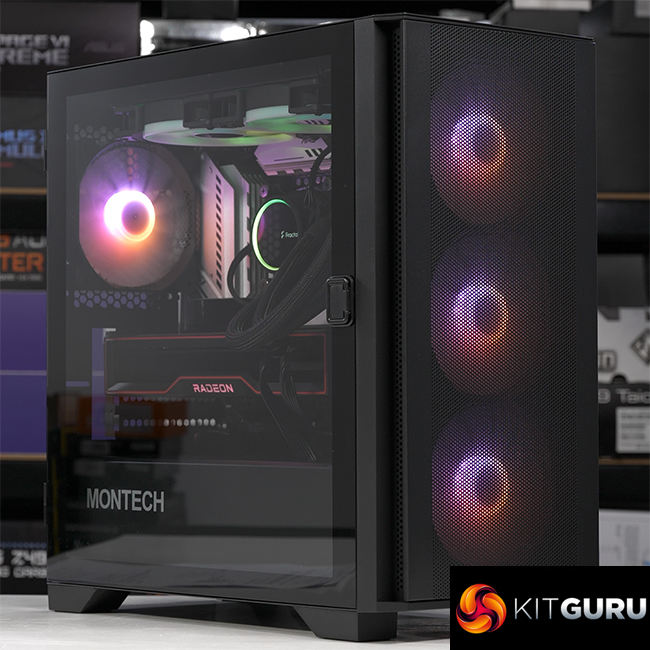 Perhaps the biggest problem with the Montech Air 100 ARGB is the form factor as microATX has never been all that popular in the UK. A microATX motherboard is a good way to save money but most high end motherboards are ATX or larger and we know full well those are the boards that appeal to the KitGuru audience.
If you are planning to build a PC that is capable, rather than super duper high-end, and you plump for a motherboard such as the MSI MAG B560M Mortar WiFi used here, or the ASUS TUF Gaming B550M-Plus (Wi-Fi) reviewed by Luke, you may well find the Montech Air 100 ARGB fulfils your requirements and saves you a decent amount of money at the same time.
We don't yet have a buy link but you will be able to buy the Montech Air 100 ARGB Black for £51.99.
Discuss on our Facebook page HERE.
Pros:
Four 120mm ARGB fans are included
Glass door and front filter are retained with magnets
Front I/O is on the main frame of the case
Plenty of options for adding storage
Tint on glass for the black case is very light
Cons:
User manual does not explain RGB control modes
Power supply dust filter is fiddly
Thumb screws are not captive
Hinge pins are equal length
KitGuru says: Montech Air 100 ARGB is surprisingly good and offers superb value for money.
Be sure to check out our sponsors store EKWB here