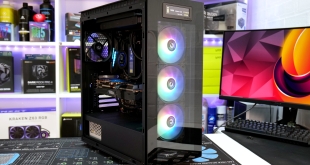 For the last few years, all in one CPU cooler vendors have been introducing new coolers with CPU block-mounted LCD screens capable of displaying system information, animated gifs and so on. Now, in 2022, it looks like that trend is being implemented into the PC chassis market. Just a couple of months ago we looked at the Cooler Master HAF 700 Evo, a huge super tower chassis that featured a multifunction front panel LCD display. Thermaltake is joining in on the action now with its own case equipped with an LCD display, in the form of the Divider 550 TG Ultra… but is it any good? Let's find out.
Timestamps:
00:00 Start
00:50 Introduction / pricing
01:39 The 550 TG Ultra – an overview
02:37 Front panel & side panels
03:22 Top LCD Display – TT missing a trick ?
04:52 Cooling capabilities
05:27 Front I/O
05:44 Case Dimensions, space and thoughts
06:22 Top radiator bracket and back panel
07:22 Panel at motherboard tray – additional cooling options
08:18 Back of case
09:47 Accessories
10:43 Right hand side of case
12:47 Base
13:15 Components for the build
17:09 Timelapse build
24:18 Thoughts on the case after the build
27:42 Thermaltake TT RGB Software
30:00 LCD Display thoughts
30:27 Thermal Performance
32:18 Closing Thoughts
Thermaltake Divider 550 TG Ultra Features:
Equipped with a 3.9-inch front panel mounted LCD display allowing the user to further personalise and customise their rig. The LCD screen can display system information in real-time or add preset and custom animated gifs or images.
Three 120mm 5V ARGB fans come pre-installed in the front of the chassis. RGB lighting can be controlled by re-purposing the reset button on the font I/O panel or alternatively via RGB control software from leading motherboard vendors.
Rear PCIe slots can be rotated to allow for vertical GPU mounting with the included PSU shroud mounted Riser cable bracket taking the weight off the PCIe slots.
3mm tempered glass panels are fitted to three sides of the chassis creating an unrestricted view into the system for users who want to display their rig and RGB as a showpiece.
Excellent dust filtration with two removable filters, one on the case floor and one on the right-hand side panel vent. Ventilation gaps around the tempered glass panels are also filtered to limit dust build up inside the system.
Excellent hardware support including motherboards up to ATX form factor, CPU coolers up to 170mmm tall, graphics cards up to 360mm long and power supplies with a maximum length of 220mm.
The Front I/O panel is equipped with power and reset buttons, as well as connectivity via two USB 3.0 Type-A ports, a single USB 3.2 Gen2 Type-C port and individual 3.5mm audio jacks for headphones and mic.
A total of eight 120mm fans can be installed inside the Divider 550 TG Ultra as well as radiators up to 360mm long in the front and up to 280mm in the roof.
Specification:
Motherboard support: Mini ITX, Micro ATX, ATX
Expansion Slots: 7 (Rotatable Patented Design)
Front I/O Panel: 2 X USB 3.0 Type-A, 1 x USB 3.2 Gen2 Type-C, 1 X 3.5mm Audio jack, 1 X 3.5mm Mic jack
Pre-installed Fans: 3 x 120mm ARGB Fans (Front), 1 x 120mm fan (Rear)
Fan support: 3 x 120mm/2 x 140mm (Front), 2 x 120mm/2 x 140mm (Top), 1 x 120mm (Rear)
Radiator support: up to 360mm (Front and top), 280mm (Top) and 120mm (Rear)
GPU clearance: 360mm (with radiator) 390mm (without radiator)
CPU cooler Clearance: 170mm
PSU clearance: 180mm (with HDD cage), 220mm (without HDD cage)
Dust filters: Front, top, bottom
Dimensions (L X W X H): 533 x 230 x 466 mm
Thermal/Noise Performance Testing
To simulate thermal demand we run the Cinebench R23 multi-thread benchmark and 3DMark Time Spy Extreme stress test simultaneously in a loop for 60 minutes to fully load the system. This gives the CPU and GPU enough time to reach constant steady-state temperature. With this data, we can compare how the system handles the thermal demand and measure peak noise levels.
Thermal performance is measured with the case in various configurations, such as the default, with the tempered glass left-hand side panel removed and with the front panel removed to see how these configurations affect the CPU and GPU temperature. During testing, only stock case fans are used unless otherwise specified. All water pumps are set to maximum RPM and fans are set to a custom RPM Curve by the Motherboard software/BIOS.
All temperature measurements are presented as Deltas – meaning the ambient temperature has been deducted from the CPU temperature giving us a Delta. Data shown in the charts represent the average component temperature over the length of the test as measured by HWiNFO and then the last 15 minutes of the data are calculated to get the average. The ambient temperature during thermal tests is between 18-20⁰C.
Noise levels are measured by placing a noise meter 300mm from the front of the chassis while the stress test is running and the peak noise level during the test is recorded. The noise floor (ambient noise level) in the room is 36dBA.
Test System:
CPU – AMD Ryzen 7 5800X
Motherboard – Asus ROG Crosshair Vii Hero Wi-Fi
Memory – 16GB (2 x 8GB modules) Thermaltake Toughram RC DDR4-3200
Graphics Card – Gigabyte Aorus Radeon RX 5700XT
CPU Cooler – Thermaltake Floe RC Ultra 240
Power Supply – Silverstone Nightjar NJ700 Fanless
Fans – Stock case fans, 2 x 120mm RGB, 1 X 120mm Black
Case – thermaltake Divider 550 TG Ultra
Operating System – Windows 11
Thermal Performance/Noise Overview: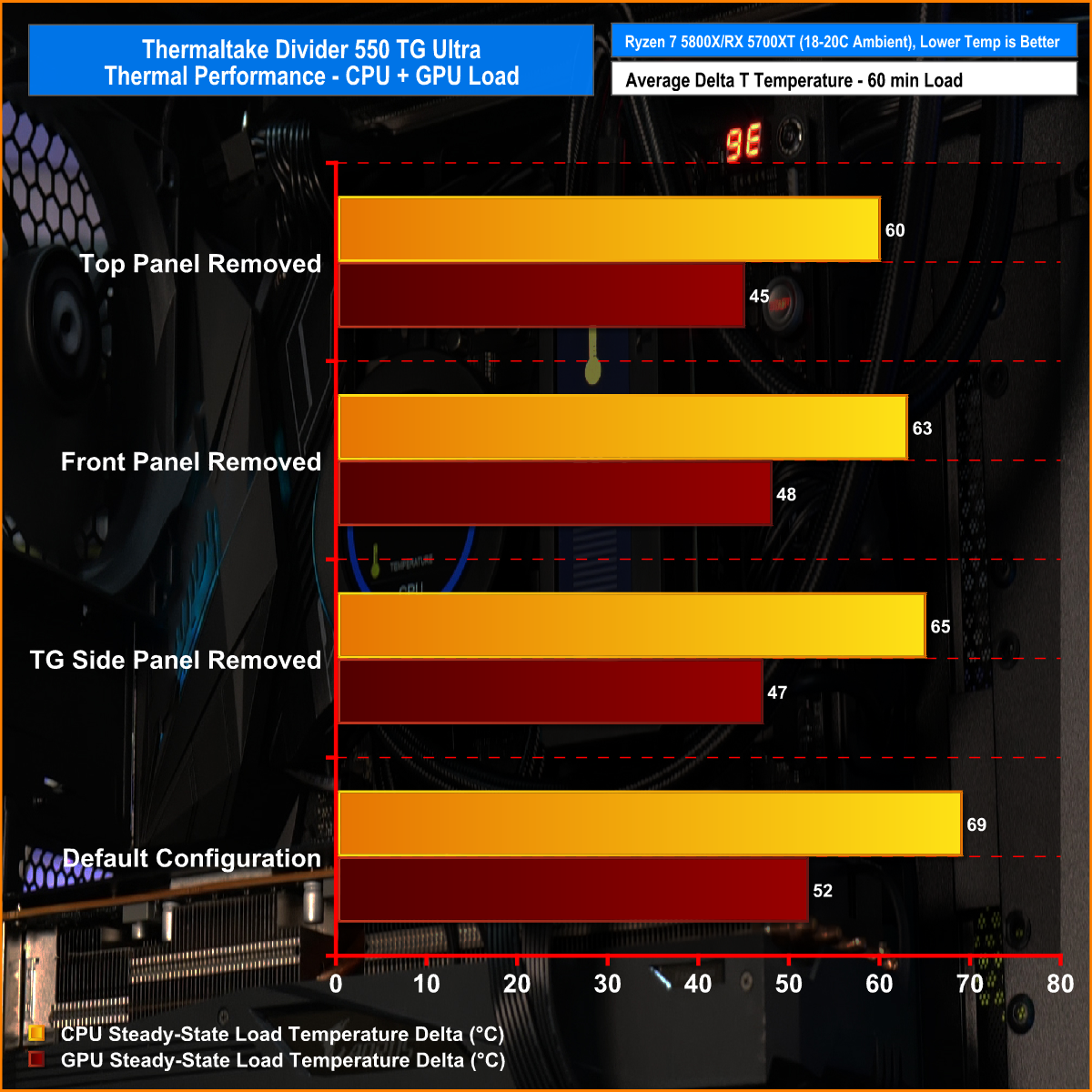 As we often see with closed front cases, the Thermaltake Divider 550 TG Ultra struggles to keep the component temperature under control while the system is under a heavy combined CPU and GPU load. During gaming scenarios, the system would be under less load so able to cope better, but its disappointing to see that in 2022 case manufacturers have not found a solution to this problem still.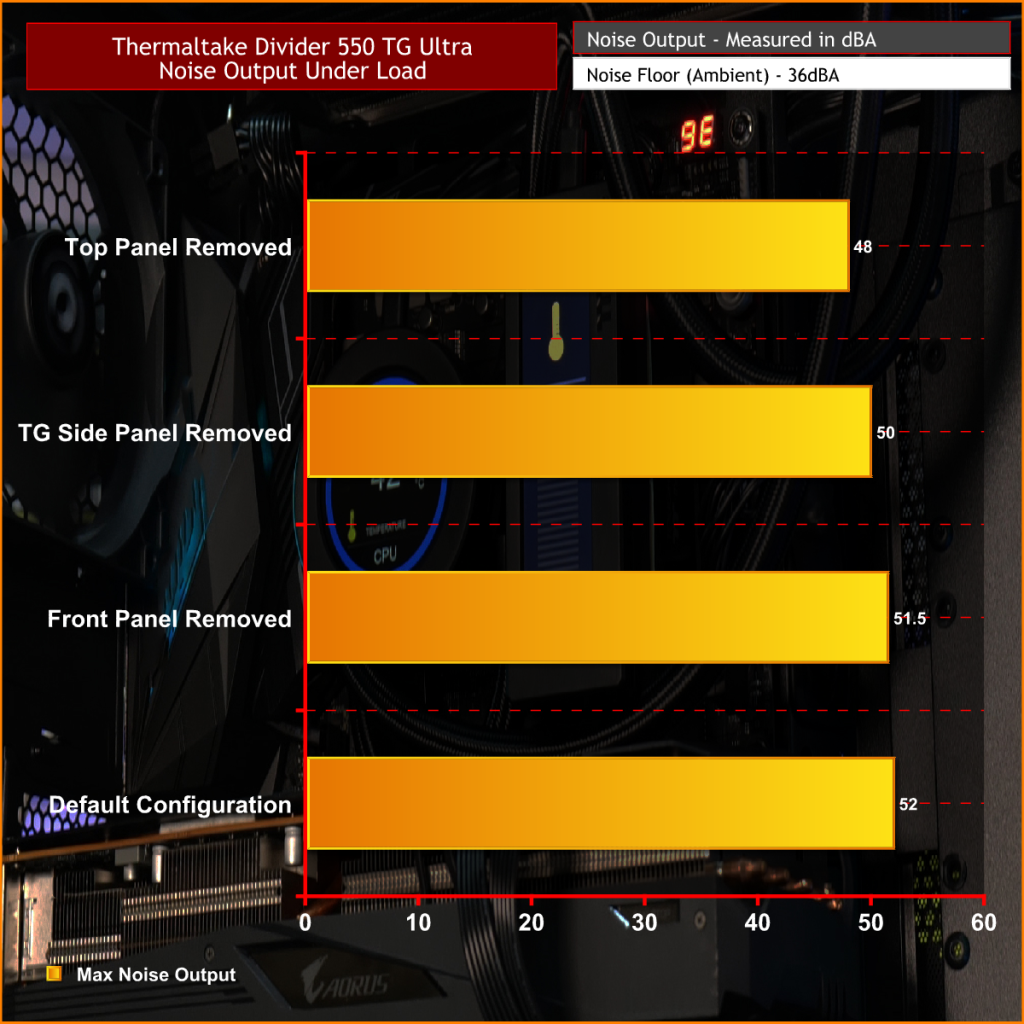 Removing panels from the case produced a significant drop in thermal performance, a reduction of 9°C was recorded when running the stress test with the top panel removed, which also reduced noise output from the system as the CPU cooler and GPU fans didn't need to ramp up as much.
Closing Thoughts
If all you care about is aesthetics when choosing a PC case then the Thermaltake Divider 550 TG Ultra may well be on your list. The combination of tempered glass with great clarity on three sides and the included ARGB fans looks great. All this glass gives you a perfect view inside the system and allows you to display your newly built rig for all to see. I'm not usually a fan of tempered glass cases but as far as this type of case goes, this is appealing.
The addition of a 3.9-inch LCD screen on the front panel will no doubt please some users. For those that place the PC on their desk, the LCD panel should be in perfect view, however, I think Thermaltake missed a trick with the LCD display. It would have been even more useful if the position of the display could have been moved around the case to suit the user, maybe having the option to swap the position of the LCD and the front panel I/O could be good for users who keep the PC on the floor?
Alternatively for those that place their system on a desk but angled to the side, an alternative LCD display mounting point would have been good possibly on the power supply shroud. Even better would be to have the option to remove the display from the case and place it on your desk, below your monitor perhaps. After all, the display is connected via USB so it could easily be plugged into the back of the PC.
Taking the LCD display out of the equation, the Divider 550 TG Ultra is basically an updated Divider 500, it shares the chassis structure and similar features such as the rotating PCIe slots to create a vertical GPU amount and the SSD mounting panel at the side of the motherboard tray that provides ample 2.5-inch storage options. Removing the SSD panel also opens up another place for mounting additional fans and/or radiators which is handy.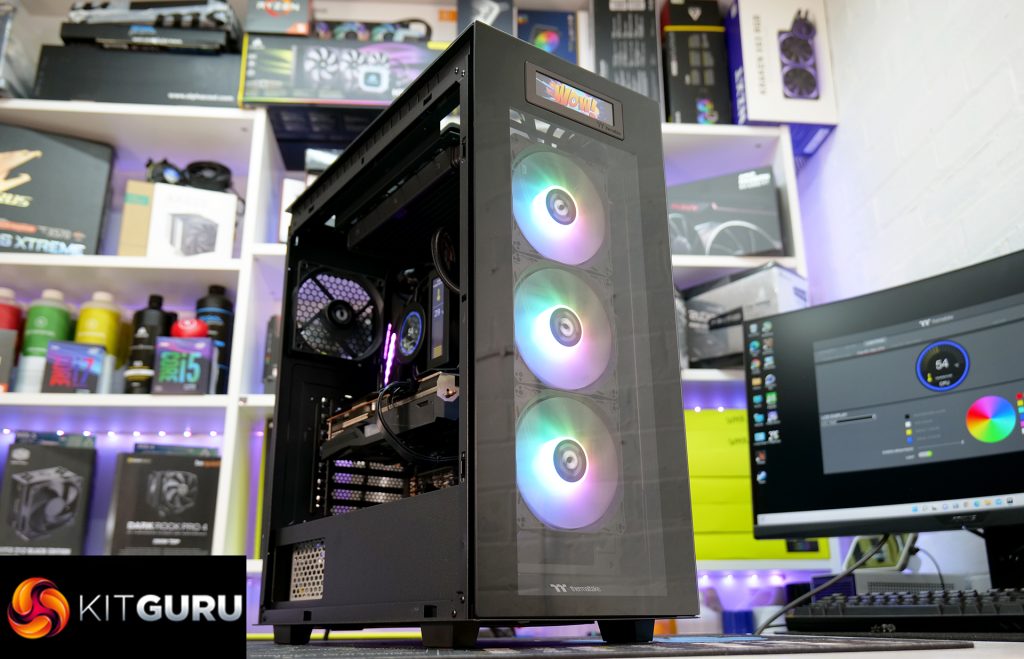 Taken as a whole the case is good. It has a solid build quality and we didn't run into any issues during our system installation, things like the motherboard standoffs and PCIe slot cutouts all lined up perfectly. The tempered glass has great clarity albeit with a mild tint and all the panels clip/screw in place with ease.
The main issue with the case is its disappointing thermal performance in its default configuration with all panels installed. During our thermal performance tests, the AMD Ryzen 7 5800X hit 90°C, which is getting a little toasty for our liking. Removing panels saw a drop in CPU temperature of up to 9°C which is significant. But, this is to be expected of a case with a close front and top panels, there is nowhere for the case to breathe.
We could have installed the AIO CPU cooler in the side mount position but with the type of cooler used it was difficult with all the tubing coming from the RAM cooler. The user is also restricted to 240mm radiators in this location, and with a long graphics card installed there might be interference between the card and the AIO radiator/fans in this position.
So if you are an enthusiast looking for a new chassis to provide good airflow and raw thermal performance, I would suggest waiting to see if Thermaltake launches an airflow version of this case before splashing out your cash, they did it with the Divider 500 TG Air so hopefully, they will do it again with the Divider 550 TG Ultra.
The Thermaltake Divider 550 TG Ultra will be available from the Thermaltake Premium website for €339.90 HERE.
Discuss on our Facebook page HERE.
Pros:
Great looking case.
Tempered glass lets you see everything.
Three RGB fans Included.
front LCD Display will be useful for some.
Integrated Vertical GPU mount is a good feature.
Cons:
More customisation of the LCD display location would be a benefit.
Tempered glass panels strangle airflow.
Poor thermals let down an otherwise good case.
KitGuru says:  A good case let down by its thermal performance, but for those that place aesthetic at the top of the list when choosing a new chassis, this could be the one for you.
Be sure to check out our sponsors store EKWB here