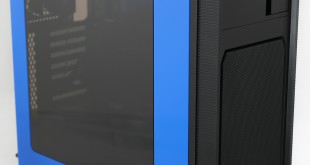 Aerocool has a history of delivering budget cases but the Aero-800 is far and away the cheapest case we have seen to date. It's a steel chassis with blue painted finish on the top and side panels – the window is smoked and the finishing touches are a plastic front panel and colour co-ordinated blue skids that act as supports. The Aero-800 is also available in grey, white or black. At only £40 inc vat is this the cheap yet effective case you need to be shortlisting for a new system build?

Watch via our VIMEO Channel (below) or over on YouTube at 1080p50 HERE.
It is tempting to approach a budget product with rose tinted glasses but we are made of sterner stuff at KitGuru. We want to find out whether the Aercool Aero-800 can play with the big boys that sell for a higher price or whether it has to be relegated to the junior leagues.
Specification:
Motherboard support: ATX, Micro-ATX, Mini-ITX.
Expansion slots: 7.
Included fans: 1x 120mm front intake, 1x 120mm rear exhaust.
Fan mounts: 2x 120/140mm front, 2x 120mm roof, 1x 120mm rear.
120mm radiator mounts: 120mm/240mm front, 120mm/240mm roof, 120mm rear.
140mm radiator mounts: 140mm/280mm front.
5.25″ drive bays: 2
Internal drive bays: 2x 3.5"/2.5″, 3x 2.5".
Dimensions: 472mm H x 430mm D x 200mm W.
It took a while for the penny to drop but the interior of the Aero-800 is vaguely familiar and bears more than a passing resemblance to the Phanteks Enthoo Pro M which launched at £60 and now costs £53. Enthoo Pro-M is a fine case so that is our benchmark for the Aero-800, as opposed to a nasty beige box from a store such as Maplin.
The specification is pretty good and the Aero-800 supports 2 x 3.5" HDD and 3 x 2.5" drives. There is space in the roof of the case for a liquid cooler up to 280mm in length or if you prefer you can install a 240mm liquid cooler in the front of the case, although we found the front panel required a firm pull. The Aero-800 can accommodate a graphics card up to 390mm in length, a CPU cooler up to 155mm tall (i.e. a tower with 120mm fan) and a PSU up to 180mm in length, so we're talking about proper gaming hardware.
On the front panel there are 2x USB 3.0 ports, 2x USB 2.0 and a pair of headset jacks. The details include a magnetic dust filter on the top of the case and a clip-in filter below the power supply. The 120mm fan at the front of the case is illuminated with blue LEDs which shine through the front panel quite distinctly. You can see the LEDs more clearly through the smoked window in the side panel but it is quite a discreet light and not the usual disco fever that you get with a clear window.
Building a high end gaming PC in this case was a pleasant experience and revealed very few of the snags you might expect from a budget chassis. For example there are plenty of cable management holes and while they do not have grommets the edge of the steelwork has been rolled and there are no nasty sharp edges. You also get a reasonable number of cable tie down points which is a common complaint with some other cases so this is very welcome.
It is clear the design of the Aero-800 has allowed the cost of construction to be kept to a minimum. There is no feeling of luxury and everything that is supplied is there for a reason.
As mentioned in our video there is only one obvious snag as the front panel cables are shorter than ideal and as a result they need to be routed straight across the motherboard.
Testing
To put this case through its cooling paces we will be using a test system consisting of an AMD FX-8370, Asus Sabertooth 990FX motherboard, GeForce GTX 980 graphics card and a SanDisk SSD. This system allows us to produce a substantial amount of heat and effectively test the Aerocool Aero-800's cooling capabilities.
For stress testing we use AIDA64 to stress the processor and create the maximum amount of load our GPU is ever likely to see.
Test System:
Processor: 4.0GHz/4.3GHz AMD FX-8370
Motherboard: Asus Sabertooth 990FX
CPU cooler: Deepcool Captain 240
Memory: 8GB Corsair Vengeance LP DDR3-1600MHz RAM
Graphics card: GeForce GTX 980 4GB
Power supply: Seasonic Platinum Fanless 520W
Storage drives: Samsung 840 SSD
OS: 64-bit Windows 10.
Cooling Performance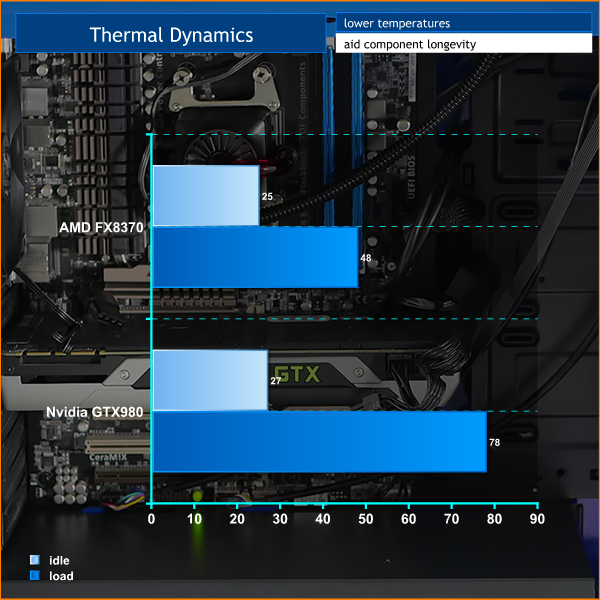 With 120mm fans at the front and rear of the case and a 240mm liquid cooler in the roof we had no problems keeping the FX-8370 nice and cool. The GTX 980 graphics card ran at 78 degrees under full load which is absolutely fine.
Acoustics Performance
We had the BIOS set to Silent mode and the cooling was pretty much inaudible. It helps that we were using a Seasonic Platinum Fanless 520W power supply (review HERE) as it is a silent unit, and the Deepcool Captain is nice and quiet but even so we were impressed just how quiet the Aero-800 managed to be.
Closing Thoughts
Aerocool has delivered a solid case in the Aero-800 and we like the blue painted finish of the sample we were sent. It is hard to argue that this case will appeal to hardcore enthusiasts as it is fairly basic and features such as the power supply cover look a little crude. On the other hand if you are building a PC for a member of your family the Aero-800 would be a fine choice as it costs so little yet delivers all of the essentials without getting carried away.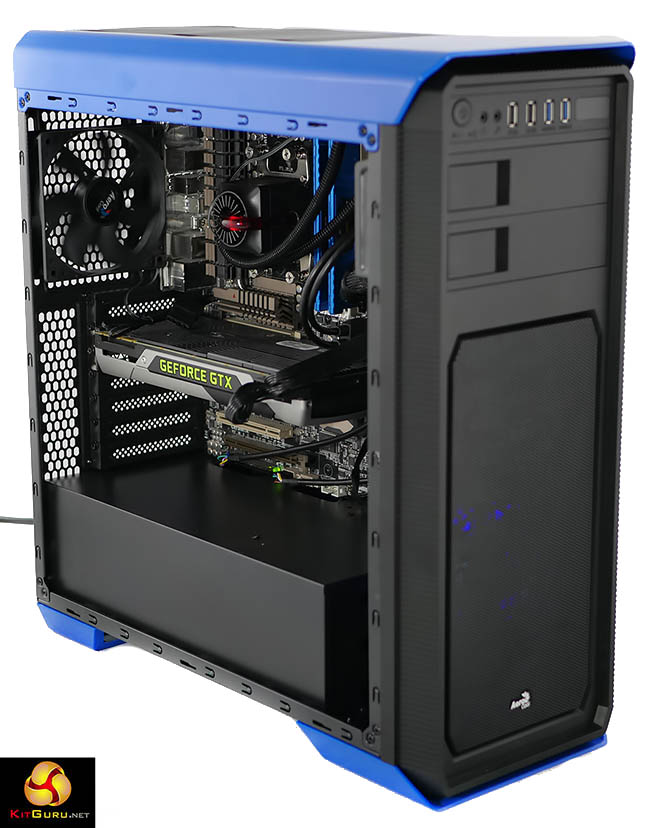 We are hugely appreciate of the quality of the steelwork as it is horrible when you slice a finger on sharp metal. Aerocool proves you can build a case down to a price whilst maintaining a sensible standard in terms of build quality.
The Aerocool Aero 800 Case is available from Aria for £40 inc vat HERE.
Discuss on our Facebook page, over HERE.
Pros:
Very low price.
Space for a liquid cooler in the roof or front of the case.
Good airflow keeps the case both cool and quiet.
Sensible number of drive bays.
Funky blue painted finish.
Good cable management.
Dust filters at the top and bottom.
Supplied with front and rear fans.
Smoked window in the side panel.
Cons:
Front panel cables need to be longer.
Power supply cover looks somewhat basic.
Front panel requires a hard pull to remove.
KitGuru says: Aero-800 is a basic case that is built to a price but it delivers in every department.