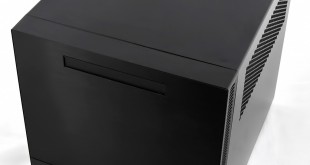 This is the review that almost failed to happen. When the Antec ISK 600M arrived it didn't raise a huge amount of excitement and was temporarily placed in the pile of hardware that may get a second look at some point in the future.
Happily for Antec, KitGuru and the readers we needed a chassis for the OCZ SSD test rig and the ISK 600M looked like a decent choice, mainly because it is Micro-ATX and therefore fairly compact, which is ideal for a PC that will set on the test bench, potentially for some months to come.
 Specification:
Motherboard support: Micro-ATX, Mini-ITX.
Expansion slots: 4.
Included fans: 1x 140mm front intake, 1x 120mm rear exhaust.
Fan mounts: 1x 80mm rear, option of 2x 120mm front.
5.25″ drive bays: 1 slimline
Internal drive bays: 3x 3.5, 4×2.5″.
Dimensions: 290mm H x 340mm D x 273mm W.
Test System:
Processor: Intel Pentium Anniversary G3258
Motherboard: Asus Z87-I Pro Mini-ITX
CPU cooler: Noctua NH-L12
Memory: Corsair DDR3 LP
Graphics card: Sapphire HD 7770
Power supply: Seasonic M12 II 520W
Storage drives: Intel 320 SSD
OS: Windows 7 Professional 64-bit.
The construction of the ISK 600M is fairly basic. It uses steel panels with a top cover that lifts off in one piece to expose the innards. Refitting the cover is fiddly as you have to align a handful of metal tabs before you run the three thumbscrews home.
As you will see in the video, the power supply, hard drives and two of the SSD bays live in the bottom of the chassis while the motherboard and graphics cards are accommodated above. At the top of the case there is a lift-out caddy that can hold two more 2.5-inch drives and the slimline optical drive.
Antec includes a 140mm case fan at front and 120mm fan at rear, and both fans have an integrated fan speed controller (sadly only two settings).
In the usual run of things I would say that four 2.5-inch drive bays is overkill but for our purposes (boot SSD plus five test SSD) this number was insufficient. Unfortunately the 3.5-inch drive bays cannot be used for 2.5-inch drives, and vice versa, so you can see two SSD installed on the floor of the case, two in the top drive caddy and the other two basically shoehorned in wherever they would go.
Probably the biggest failing with this case is way the power cables have to run from the lower compartment to the upper section via a small opening at the front of the case. This can make it awkward to connect your motherboard and graphics card, and in particular any drives in the upper caddy are a long way from the power supply.
Another (minor) annoyance is the way the expansion cards are retained as you have to work with six screws to remove a bracket before you can install or remove a graphics card.
Unusually, the Antec ISK 600M has not been through the usual KitGuru testing regime so it is impossible to make an assessment of the cooling and noise levels. Having said that the case is heavily perforated and well laid out for air flow across the motherboard and graphics card.
Closing Thoughts
The Antec ISK 600M is doing sterling service as our OCZ SSD test bench however it isn't an obvious choice for many other applications. Granted this Micro-ATX case is relatively small, however it doesn't offer three quarters of the features that you get with NZXT S340 or Enthoo Phanteks Pro, and that makes the £59 price tag look rather expensive.



Buy direct from Overclockers UK for £56.99 inc vat.
Pros:
Decent access to the innards once the cover is removed.
Support for gaming graphics cards.
Supplied with 140mm front fan and 120mm rear fan.
A good number of drive bays.
Cons:
Cable routing from the PSU to motherboard is awkward.
Construction is rudimentary, top cover slightly awkward to fit.
Installing expansion cards is a bit of a fiddle.
The optical drive covers some drive mounting screw holes.
Not many features for the price.
KitGuru says: Although the ISK 600M fails to excite, it does have merit and in this SSD test application is doing a fine job.