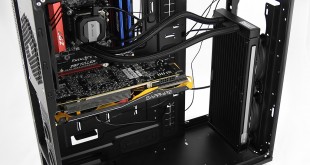 A year back we reviewed the Antec Nineteen Hundred which was big, bold and expensive. While the styling of the Nineteen Hundred was a success the fixed drive towers were a considerable problem and there was clearly scope for improvement. This is is the cue to introduce the P380 which is big, bold, stylish and – hurrah – has removable drive bays. The price is a touch under £160 so we have to hope that Antec is offering something pretty impressive to justify the price.
The headline features of P380 include support for the E-ATX form factor, nine expansion slots and eight 2.5/3.5-inch drive bays. From the styling point of view the top and front panels look weighty and impressive as they have been formed from 4mm aluminium sheet. To add extra character Antec has done without a 5.25-inch optical drive bay and has also hidden the Power and Reset buttons from sight.
Watch via our VIMEO Channel (Below) or over on YOUTUBE.
This is a neat trick as the buttons lurk out of sight behind the aluminium front panel, while the USB ports and headset jacks have been similarly hidden below the top panel. The side panel has a large window that shows off the interior of your PC.
While there is no denying the P380 is expensive, it clearly has a fair amount to recommend it and has all the makings of a case that is fit for an enthusiast.
Antec P380 Specification:
Case Type: Full-Tower
8 Drive bays: 1 x Slim optical drive bay
8 x 3.5"/2.5" tool-less HDD bays
Motherboards: SSI CEB, E-ATX, ATX, Micro ATX, Mini-ITX
Expansion Slots: 9 x Expansion Slots
Maximum graphics card size: 465mm
Maximum CPU cooler height: 180mm
Cooling System: 3 x 120mm/2 x 140mm top exhaust fan mount(2 x 140mm FDB fan pre-installed)
3 x 120mm/2 x 140mm front intake fan mount
1 x 120 mm rear exhaust fan mount(1 x 120mm FDB fan pre-installed)
Liquid Cooling Solution: 1 x 360mm radiator / 1 x 240mm radiator at front
1 x 360mm radiator /1 x 240mm radiator on the top
Front I/O Ports: 2 x USB3.0; 2 x USB2.0; Audio In/Out
Unit Dimensions: 555mm(H) x 223.6mm(W) x 557mm(D)
It is interesting to note that the downloaded PDF manual for the P380 (the included guide is short and near-useless) tells you about the options for installing extra case fans, however the specification for the P380 gives details about the liquid cooling you can install. If you strip the case down you can install one 240mm radiator and one 360 mm radiator. It is your choice which goes at the top and which is positioned at the front.
There are a number of problems with this approach. For one thing it is laborious to strip out the drive towers as they are secured in place with a total of 31 screws. Once you have gutted the case you can clearly see it is relatively flimsy and unimpressive, and furthermore you now have no drive bays as they have all been removed.
Far better to leave the drive bays in place, forget about working at the front of the case and instead replace the two 140mm TwoCool fans with a satisfyingly large radiator at the top of the case.
Testing
To put this case through its cooling paces we will be using a test system consisting of an Intel Core i7-4770K and Radeon R9 290. This system allows us to produce a substantial amount of heat and effectively test the Antec P380's cooling capabilities.
For stress testing we use a mixture of Prime95 and FurMark to create the maximum heat output.
Prime95′s 'Small FFTs' setting allows us to stress our CPU. FurMark's 'GPU Burn-in' mode creates the maximum amount of load our GPU is ever likely to see.
Test System:
Processor: 3.9GHz Intel Core i7-4770K
Motherboard: ASRock Z97 Killer
CPU cooler: Corsair H110i GT
Memory: Corsair Vengeance LP DDR3-1600MHz RAM
Graphics card: Sapphire Tri-X R9 290
Power supply: Seasonic Platinum II 1200W
Storage drives: SanDisk Extreme Pro SSD
OS: Windows 8.1 64-bit.
Cooling Performance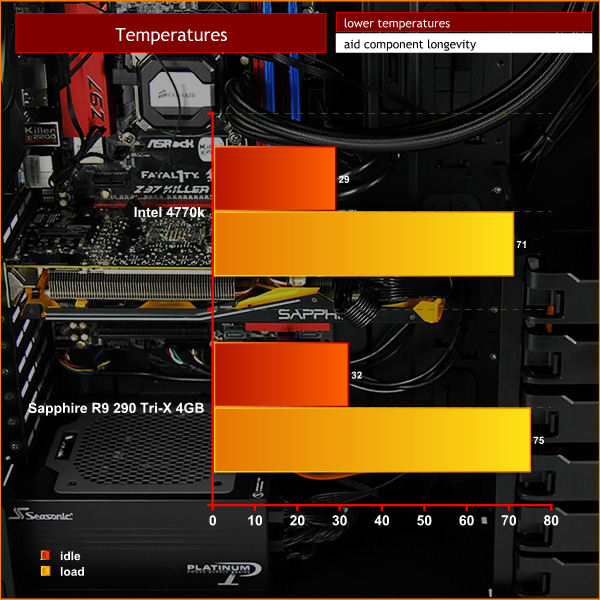 Cooling isn't as impressive as the large size and open spaces inside the P380 suggest. If you crank up the fan speeds you can certainly keep your components cool however it requires more airflow than you might expect.
Acoustics Performance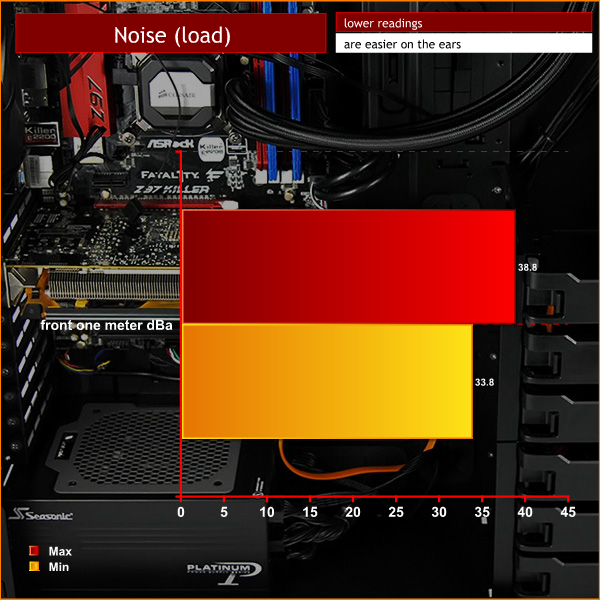 This is a noisy case. Keep the fan speeds low and it is nice and quiet but if you want to keep your CPU cool it requires airflow and as a consequence you get a fair degree of noise.
Closing Thoughts
While we like the appearance of the Antec P380 it simply doesn't offer the features you can reasonably expect when you are spending this sort of money. If you simply install a motherboard and graphics card along with an air cooler it is an easy PC to build.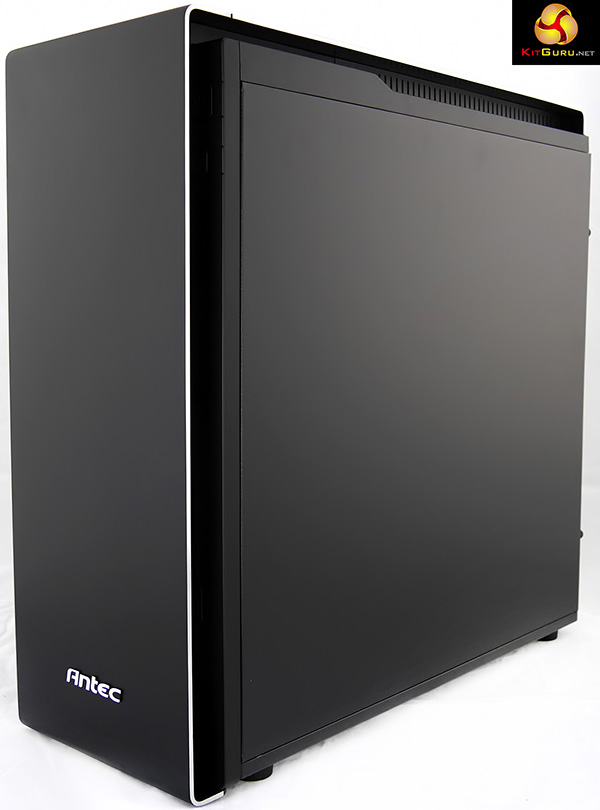 Installing a small liquid cooler in the roof of the case is also easy but once you move up to a large radiator (or two) you hit problems. In particular the drive towers are hard work to remove and the stripped down case is rather unsatisfactory.
Antec reply: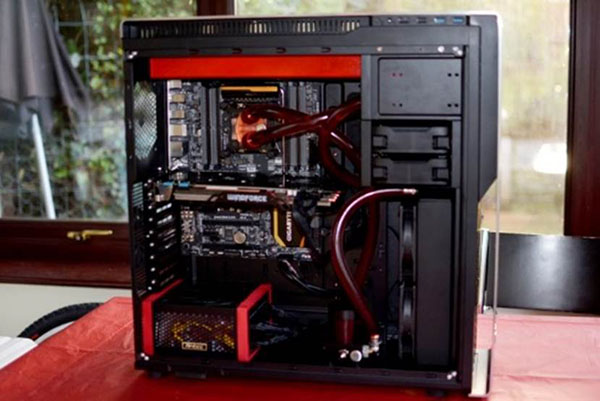 Lee Bryan from Antec wanted to ensure that our readers know you can indeed install a 360mm radiator at the top of the case and a 240mm radiator at the front. If you want to remove the drive bays you can actually fit two 360mm radiators in the case. The picture above is a system he built with a 360mm rad at the top and a 240mm rad at the front.



Buy Antec P380 direct from Overclockers UK for £159.99 inc vat.
Discuss on our Facebook page, over HERE.
Pros:
Smart styling with aluminium top and front panels.
Supplied with two top TwoCool 140mm fans and a rear 120mm TwoCool fan.
Air filters at the front and over the PSU intake.
Power and reset buttons are hidden from sight and available on both left and right sides of the chassis.
The top I/O panel with USB and headset jacks can be reversed so the ports point either to the left or the right.
Cons:
Removing the drive towers is a fiddly and time consuming process.
No SSD mounts on the rear of the motherboard tray.
The front air filter is removed from the bottom, which is most inconvenient..
Once the case is stripped bare you see the steel construction is flimsy and lightweight.
The two 5.25-inch bays have no external opening.
Installing an optical drive requires a slimline laptop drive in a holder behind the front panel.
The bag of screws are all mixed up and neither labelled nor separated.
Fan hub on the back of the motherboard tray powers the fans but doesn't have a PWM link to control any add-in case fans.
Expensive.
KitGuru says: Despite its impressive styling the P380 doesn't offer you much for the £160. Drop the price and it would be more viable.