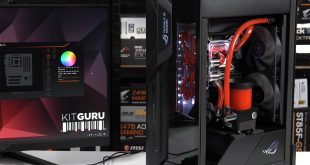 Asus ROG Z11 is pretty much the opposite of what you might expect. It supports Mini-ITX but is larger than a number of ATX cases and it can be stood upright or laid down so you are never quite sure which side is front, back, top or bottom. One thing is for certain, which is that your graphics card will be displayed behind the window at the front (or top) so you had better have some tasty hardware for the world to enjoy.
Watch the video via our VIMEO Channel (Below) or over on YouTube at 2160p HERE
Note: if the above images are not displaying properly, you may need to disable Ad Block as it is known to interfere with our display code
Full product details HERE
Main features
ROG Z11 Mini-ITX/-DTX gaming case features 4 mm tempered glass panels, patented 11° tilt design, optimised thermal performance, ATX PSU support, extensive connectivity, and Aura Sync
Premium aesthetics: 4 mm tempered glass panels with aluminium frame and integrated Aura Sync lighting create a sleek and stylish appearance
Patented 11° tilt design & optimised airflow: Delivers enhanced airflow and cooling around CPU, graphics card, and a back-mounted M.2 SSD
Compatibility with demanding hardware: Supports one ATX PSU, 3-slot graphics card without a riser cable, 240 mm radiator, water-cooling pump and reservoir, and up to five fans
Extensive connectivity: Built-in extension hub and advanced front panel I/O ports with one USB 3.2 Gen 2 Type-C, two USB 3.2 Gen 1 Type-A, and an ARGB control button provide broad connectivity options
Easy cable management and case maintenance: Extra cable routing space from the 11° tilt design, a multifunction cover and cable strips ensure effortless cable management, and removable dust filters provide simple cleaning and maintenance
Dual orientation: Provides the flexibility to choose orientation based on workspace availability, preferences, and component display
Specification:
Motherboard support: Mini ITX/Mini-DTX(up to 6.7"x 8")
Drive Bays: Up to 4x 2.5-inch SSD or 2x 2.5-inch SSD and 1x 3.5inch HDD
System Fan Support: Pre-installed Fans Top: 2 x 140 mm Bottom: 1 x 140 mm
Expansion Slots: PCIe x 2 (3 expansion slots space)
Fan Support:
Rear: 2x 120 mm
Top: 2x 120mm/140 mm
Bottom: 1x 120mm/140 mm
Clearances:
Maximum GPU Length: 320 mm
Maximum CPU Cooler Height: 130 mm
Radiator Support: 240mm Rear, 120mm Bottom
Front I/O Ports:
1 x USB 3.2 Gen 2 Type-C
2 x USB 3.2 Gen 1 Type A
2 x USB 2.0 Type A
1 x Headphone/Microphone Jack
Extension Hub: 6x PWM Fan, 3x ARGB LED Strip, 2x USB 2.0
Power Supply: ATX or SFX PSU, up to 160mm
Dimensions: 194mm (W) x 386mm (D) x 531mm (H)
Weight: 8.73 kg
Getting inside the ROG Z11 requires a certain amount of thought as the rear panel has a hidden thumbscrew and the panels lock together in such a way that you need to remove them in a particular order.
One you have that figured out you will find that building a PC in the ROG Z11 is slightly confusing as the motherboard is rotated 90 degrees with the rear I/O panel pointing upwards towards the two 140mm exhaust fans. We chose to use an SFX power supply to create as much space as possible in the floor of the case and this was tricky as the EPS cable would barely reach the connector.
The problem here is that SFX power supplies come with cables that are intended for use in a small ITX case, yet this particular ITX case is very large. After a bit of a struggle we had the cables connected but were unhappy with the cable routing behind the motherboard tray.
Another quirk of the build is that the graphics card hangs vertically at the front of the case which works perfectly well but looks unusual. Once the hardware was installed we were ready for some thermal testing.
Testing
To put this case through its cooling paces we will be using a test system consisting of an Intel Core i9-10900KF, Palit RTX 3080 graphics card and an SSD. This system allows us to produce a substantial amount of heat and effectively test the Asus ROG Z11's cooling capabilities.
Test System:
Processor: Intel Core i9-10900KF (10 cores/20 threads, 4.9GHz all cores)
Motherboard: Gigabyte Z490I Aorus Ultra
Memory: 32GB Corsair Vengeance LPX DDR4-3600MHz
Graphics card: Palit RTX 3080 Gaming Pro 10GB
Power supply: Corsair SF600 Gold
SSD: 1TB WD Blue M.2 NVMe
OS: Windows 10 Pro
Custom Loop Cooling
CPU Block: EK Quantum Magnitude
GPU Block: Alphacool Eisblock Aurora Plexi GPX-N
Radiator: EK CoolStream SE 240mm
Fans: 2x EK Vardar EVO RGB 120mm 2,200rpm
Pump/Reservoir: EK XRES 100 DDC MX 3.1 PWM
Fittings: EK 13/10mm Quantum Torque
Tubing: Corsair XT
Coolant: EK CryoFuel Solid Scarlet
Cooling Performance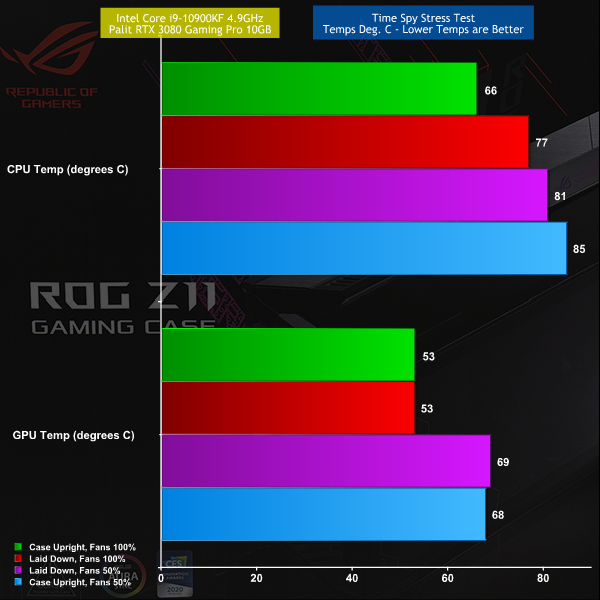 Cooling Performance Overview
With the fans running at full speed (and rather noisily) we saw temperatures that were quite acceptable but slowing the fans to 50 percent made a significant difference to the results. While we can see the ROG Z11 is configured like a chimney, we have to think the power supply shroud and other pieces of PC hardware obstruct the air flow to such an extent the ROG Z11 works rather poorly.
Closing Thoughts
We spent a fair amount of time working with the ROG Z11 yet it continues to cause us a fair amount of bafflement and confusion. It seems to us that during the development of ROG Z11 the main priorities were the novel form factor and aesthetics, and there is no denying the combination of aluminium, tempered glass and RGB works well.
We quite like the way the graphics card is suspended in the front window as our liquid cooled RTX 3080 looked superb however air cooled graphics cards may well be starved of cooling air. As we know, Asus manufactures some of the largest and thickest graphics cards on the market so it is quite possible that an Asus graphics card would be a poor choice for the ROG Z11.
Another curious point is the way the Asus design team decided to give the customer the option of flipping this tall ITX case into the horizontal laid down orientation. We are all in favour of choice but this orientation has a significant effect on temperatures inside the case and also means that Asus had to include a short adapter cable for the main power cord as well a plate to rotate the Asus ROG logo by 90 degrees.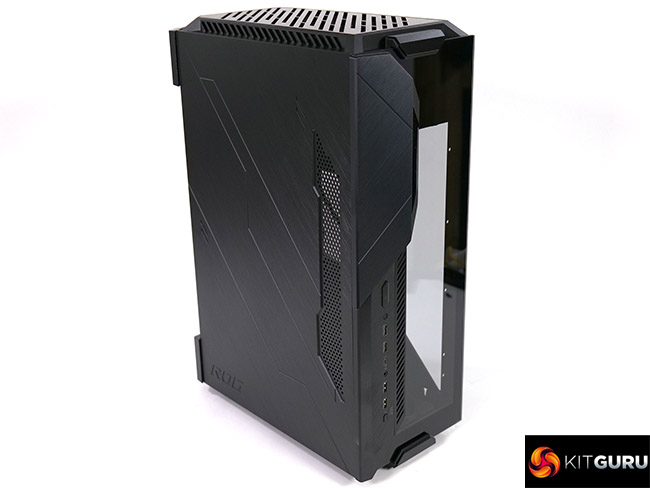 In a sense these are quibbles about details as we imagine a small part of the KitGuru audience will be wowed by the Asus ROG Z11 while the majority will have little interest in a big and tall Mini-ITX case that presents the owner with a number of problems.
While we are mildly amazed by the price tag of £240 we wouldn't be the least bit surprised if those potential customers quite like the high price as it will buy them exclusivity and they will be the only person in their circle that owns an Asus ROG Z11.
Well that's fair enough and we hope they enjoy the aluminium panels, glass and RGB as the Asus ROG Z11 has a certain amount of style but we can think of a great many cases on the market that do a better job at a lower price.

You can buy the Asus ROG Z11 for £239.99 from Overclockers UK HERE.
Discuss on our Facebook page HERE.
Pros:
Plenty of space for a full sized graphics card.
PWM fan hub is included.
Smart and unusual styling.
Cons:
Asus ROG Z11 is rather expensive.
This large case is limited to a Mini-ITX motherboard.
You need fast fans for decent cooling and that gets noisy.
SFX power supply cables are very tight.
Cable routing from rear I/O is awkward.
KitGuru says: Asus ROG Z11 is interesting but we can see no clear reason to buy this large and expensive ITX case.
Be sure to check out our sponsors store EKWB here