As the name suggests, this Cooler Master HAF 700 is based on the Cooler Master HAF 700 EVO that James reviewed, so do please take a look at what he said about the EVO and gasp in awe at the astonishing custom loop system he created. The HAF 700 I am looking at today is priced at £350 which means it is the budget version of the EVO, which itself comes in at £450. Ulp.
Timestamps
00:00 Start
00:45 Intro / Vertical GPU Holder Kit V3
01:38 Pricing
02:14 Leo Teardown
04:48 Fans and front I/O
05:20 Tool Free parts and rear fans
06:49 Mobius Fans – & fitting
08:18 Liquid cooling in roof
09:32 Storage
10:55 Hardware for the build / install
12:23 480mm Radiator install (!?)
13:43 Vertical GPU Mount issues
14:13 Final build and noise testing
15:22 Thermal testing
16:13 Leo's Closing Thoughts
Specification:
Motherboard support: SSI-EEB, ATX, Micro-ATX, Mini-ITX.
Power supply support: ATX.
Expansion slots: 8.
Included fans: 2x SickleFlow 200 ARGB PE 1,000rpm front intake, 2x SickleFlow 120 ARGB 1,800rpm rear exhaust, 1x SickleFlow 120 ARGB 1,800rpm floor.
Fan mounts: 2x 200mm front, 2x 200/3x 140mm/6x 120mm roof, side, 3x 140mm/4x 120mm 120mm/140mm floor, 2x 120mm rear.
Radiator mounts: 420mm front, 280mm/2x 360mm roof, 420mm/480mm side, 360mm/420mm floor, 240mm rear.
5.25-inch optical drive bays: None.
Internal drive bays: 9x 2.5-inch/3.5-inch.
Front I/O ports: 4x USB 3.2 Gen 1 Type-A, 1x USB 3.2 Gen 2 Type-C, audio.
Dimensions: 626mm H x 666mm D x 291mm W.
The stand-out feature of the Cooler Master HAF 700 is the pair of 200mm fans at the front of the case but perhaps the most noteworthy point is the pair of 120mm fans at the rear as that is truly unusual. The five supplied fans are connected to a PWM/ARGB control hub that helps you get the most from the cooling and attendant light show.
Testing
To put this case through its cooling paces we will be using a test system consisting of an Intel Core i9-12900K, RTX 3080 and an SSD. This system allows us to produce a substantial amount of heat and effectively test the Cooler Master HAF 700's cooling capabilities.
Test System:
Processor: Intel Core i9-12900K (16 cores/24 threads)
CPU Cooler: Corsair iCUE H170i Elite Capellix
Motherboard: MSI MEG Z690 Unify
Memory: 32GB Kingston Fury RGB DDR5-6000MT
Graphics card: Palit GeForce RTX 3080 Gaming Pro 10GB
Power supply: Seasonic Prime TX-1600
SSD: Sabrent Rocket 4.0 M.2 NVMe
OS: Windows 11
Cooling Performance
Cooling Performance Overview
The Cooler Master HAF 700 flows air very nicely and can support almost any cooling hardware you may wish to throw in its direction. Having said that, if you ramp up the fan speeds it can get noisy so we suggest you run the 120mm case fans at 1,200rpm or slower. We were surprised to find the enormous 200mm fans at the front were happy to run at their maximum 1,000rpm without being too intrusive. Nonetheless we think Cooler Master is offering good advice when they suggest you take it easy and only run them at '11' once in a while.
Closing Thoughts
At first glance, Cooler Master has thrown the kitchen sink at the HAF 700. It is very large and rather heavy with one of the biggest tempered glass windows in the business and it can accommodate a huge variety of cooling hardware and a stack of storage drives.
The problem is that we know the EVO is the case that earns the 'Comes With Everything' award while the Non-EVO has to do without the most interesting features we saw in the EVO.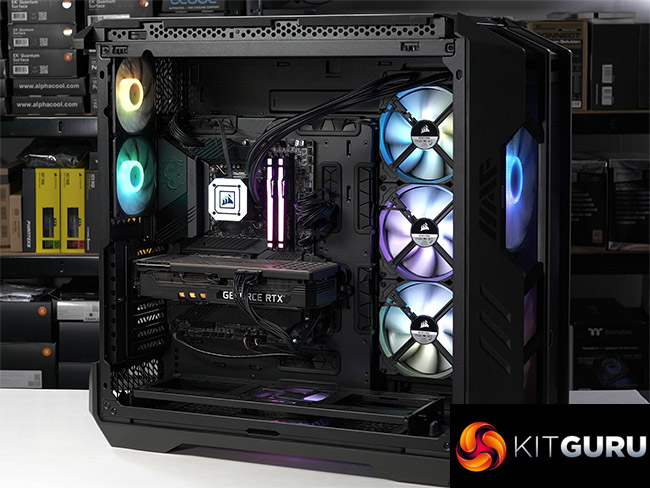 While we are happy to admire the clever touches you get in the HAF 700, such as the ability to install the power supply, storage drives and graphics card without touching a screwdriver, it doesn't change the fact that this is a very expensive case.
To our way of thinking, if you are interested in the HAF700 at £350 you ought to be seriously keen on the HAF 700 EVO at £450. The extra £100 buys you a front panel that is unlike anything we have seen before, complete with a fancy LCD display. By contrast the Mesh panel on this HAF 700 looks rather tame and ever so slightly boring.
We don't yet have a buy-link but the Cooler Master HAF 700 has an MSRP of £349.99.
Discuss on our Facebook page HERE.
Pros:
Tool-free removal and installation of hardware.
Huge array of options for cooling.
HAF 700 provides an impressive RGB show through the mesh and glass.
Cons:
Very large and rather heavy.
The HAF 700 looks daft unless you fill it with hardware.
At £350 it makes sense to ignore this case and plump for the £450 EVO.
Side radiator/fan rack is riveted in place.
KitGuru says: If you are keen on the Cooler Master HAF 700 you may as well go all-in and instead opt for the HAF 700 EVO.
Be sure to check out our sponsors store EKWB here