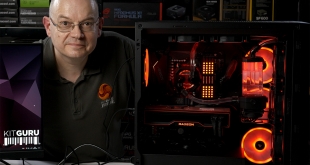 Corsair's new 5000D AirFlow bears a clear resemblance to the 4000D AirFlow we reviewed a few months ago, however it is quite a bit larger and is almost twice as expensive. Heading into this review our expectations are raised and we are looking for a case that performs well and that delivers value for money. Let's see whether Corsair has started 2021 on a high note.

Watch the video via our VIMEO Channel (Below) or over on YouTube at 4K HERE
Note: if the above images are not displaying properly, you may need to disable Ad Block as it is known to interfere with our display code
Features:
Clean and Cool: The 5000D makes a stunning, showpiece-worthy PC easy to build, and even easier to keep cool with the space and flexibility to mount multiple 360mm radiators.​
High-Airflow Front Panel: An optimized steel front panel delivers massive airflow to your system for maximum cooling.​
CORSAIR RapidRoute Cable Management System: Makes it simple and fast to route your major cables through a single hidden channel, with an easy-access hinged door and a roomy 25mm of space behind the motherboard for all of your cables.​
Two Included 120mm Fans: CORSAIR AirGuide fans utilize anti-vortex vanes to concentrate airflow and enhance cooling.​
Motherboard Tray with Customizable Fan Mounts: Side-mount up to 3x 120mm fans or up to a 360mm radiator, enabling new flexible cooling options.​
Maximum Cooling Potential: A spacious interior fits up to 10x 120mm or 4x 140mm cooling fans, along with multiple radiators including up to a 360mm in front or side and a 360mm push/pull in the roof.​
Modern Front Panel I/O: Puts your connections within easy reach, including a USB 3.1 Type-C Port, 2x USB 3.0 port, and a combination audio/microphone jack.​
All the Storage You Need: Fits up to 3x 2.5in SSDs and 2x 3.5in HDDs.​
Tool-Free Tempered Glass Side Panel: Show off your high-profile components and RGB lighting.​
Our video should have made it clear the exterior is stylish and understated with panels that snap off easily and filters on all sides. Once you get inside the case you are immediately faced with a conventional drive tower in the floor of the case, three SSD caddies on rear of the motherboard tray and a 6-way PWM fan hub. On the front of the chassis we have an I/O panel with two USB 3.1 type-A ports and one type-C. In other words all the major features have been covered and there are no obvious problems or errors.
As you dig further into the 5000D AirFlow and prepare to build your PC you will be faced with the choice of leaving the side ventilation closed or opening it to use for liquid or air cooling. As you will have seen, we went for a 360mm radiator in the front of the case with 3x 120mm fans in the side. The hardware went in easily enough however we had a mass of cables to deal with and also had to add a couple of Corsair Commander Pro units to handle the PWM and RGB wide of things. In fairness to the 5000D AirFlow there is a good deal of space to house the components but we strongly recommend you plan ahead to avoid problems.
Testing
Test system
Processor: AMD Ryzen 9 3900X (12 cores/24 threads)
Motherboard: Gigabyte X570 Aorus Elite
Memory: 32GB Corsair Dominator Platinum RGB DDR4-3200MHz
Graphics card: Sapphire Radeon RX 6800 XT 16GB
Power supply: Corsair AX1600i 1600W Titanium
SSD: Sabrent Rocket M.2 NVMe 4.0
OS: Windows 10
Custom Loop Cooling
Pump/Reservoir: Corsair XD5 RGB
CPU Block: Corsair XC7 RGB
Radiator: Corsair XR5 360
Fans: 9x Corsair LL120
Fan controllers: 2x Corsair Commander Pro
Fittings: Corsair XF
Soft Tube: Corsair XT
Coolant: Corsair XL5
Cooling Performance 
Cooling Performance Overview
The stand-out point from our testing is that ramping up fan speed makes very little difference to temperatures, and we could even disable three of the nine fans without causing problems. Our initial impression was that the 5000D AirFlow would live up to its name and flow air, and our testing proved that beyond any doubt.
Closing Thoughts
In the main we like the 5000D AirFlow however the details leave us slightly confused.
For example, Corsair has invested time in making the cable management work and has included a handful of velcro straps in the accessory pack to make life easy. Unfortunately the height of the case means your EPS cable has to travel in a straight line to make the connection without any chance of following the correct channels.
It is a similar story with that blanking plate over the side ventilation which involves a handful of screws and a few minutes work. You'll have to take it from us that what you saw in the video was not our first effort at working with the 5000D but more like the third or fourth and the user guide – we forgot to include this in the video – is absolutely tiny. The guide isn't bad but it seems ironic that a large case comes with a tiny multi-lingual book.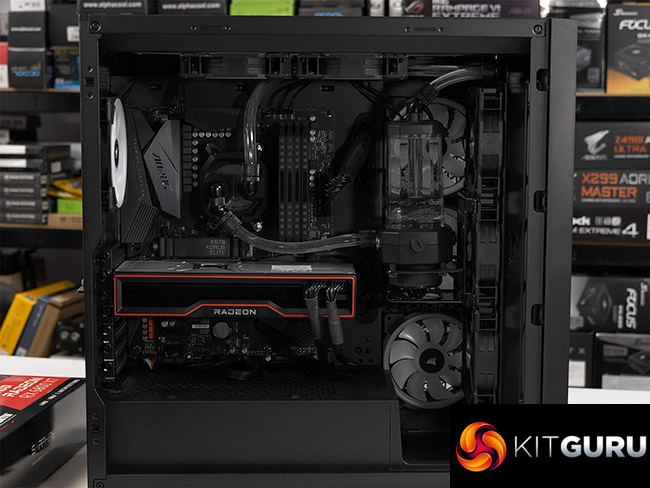 Our criticisms of the 5000D AirFlow are fairly minor points but we think we have the measure of the situation.
4000D is a mid-sized compact tower, 5000D is a bigger brother and we have to assume the next step is a 3000D mATX and perhaps a 2000D ITX. This would suit System Integrators down to the ground and would make perfect sense for Corsair but the same is not necessarily true for enthusiast DIY builders. We instead simply ask 'Is there any reason why you wouldn't just buy a Fractal Design Meshify 2?' and wonder if Corsair could have done more to answer that question.

You can buy the Corsair 5000D AirFlow for £139.99 from Overclockers UK HERE.
Discuss on our Facebook page HERE.
Pros
Loads of options for cooling hardware.
Front and top panels pop free to reveal dust filters.
Front I/O panel is bang up to date.
Plenty of space above the motherboard for installing hardware.
PWM fan hub is included.
Cons
Glass panel is heavily tinted.
Power supply cannot be installed from the rear.
Price is rather steep.
The value of the motherboard cooling location is open to question.
Some of the steel panels feel a bit flimsy.
KitGuru says: 5000D AirFlow feels like Corsair's difficult second album after the success of 4000D.

Be sure to check out our sponsors store EKWB here