Fractal Design has produced a long, long, LONG list of the changes they made to the Meshify S2 to create the Meshify 2, however we can save you a huge amount of time and trouble. The best way to understand Meshify 2 is to look at the superb Define 7 and then mentally add a Mesh front panel. It sounds simple and we have to say, the result is excellent.
Main features
Iconic angular mesh design with a bold, stealth-inspired aesthetic
Dual-layout design for more flexible configuration options and vastly increased storage capability
Spacious, adaptable interior accommodates ATX/E-ATX motherboards up to 285 mm in width
Includes 6 HDD/SSD trays, 2 SSD brackets, and one universal Multibracket for mounting up to 9 drives
Expandable to 11 trays and 4 SSD brackets with 3 Multibrackets installed in the top and bottom for a max of up to 18 drives in Storage Layout
Modular chassis design with removable top panel assembly opens up to fully expose the case interior on three sides
New front panel design with hinged removable mesh and tether-free bezel
Nylon front filter can be removed from the mesh to further increase airflow
Nine 120/140 mm fan mounts with three Dynamic X2 GP-14 fans supplied
Support for radiators up to 360 mm in front, 420 mm up top, or 280 mm in the base
Included Multibracket converts any unused fan position to an HDD, SSD, pump or reservoir mount
Ventilated PSU shroud with two-part removable cover and additional SSD/multi-bracket mounts
Bridgeless expansion slots ensure obstruction-free connections and allow for a more centred vertical GPU installation via the new Flex B-20 PCIe riser (sold separately)
Two vertical GPU slots for use with the Flex VRC PCIe riser (available separately)
Three front USB ports including one USB 3.1 Gen 2 Type-C
Ultra-slim Nexus+ 2 fan hub with three PWM and six 3-pin connections logically placed in-line with cable channels
Tool-less, top-latching side panels offer quick access. Optional screws (concealed beneath front bezel) secure TG panels for transit and/or deter unwanted removal
Easy-to-clean high airflow nylon filters on the front, top and base with full PSU coverage and convenient front access
Detachable PSU cable shield and integrated cable guides with Velcro straps simplify cable management
Specification:
Motherboard support: E-ATX (max 285mm), ATX, Micro-ATX, Mini-ITX.
Expansion slots: 7.
Included fans: 2x 140mm front intake, 1x 140mm rear exhaust.
Fan mounts: 3x 120mm/140mm front, 3x 120/140mm roof, 1x 120mm/140mm rear, 2x 120mm/140mm floor.
Radiator mounts: 280mm/360mm front, 360mm/420mm roof, 120mm rear, 240mm/280mm floor.
5.25-inch optical drive bays: None.
Internal drive bays: 11x 2.5-inch/3.5-inch (6 included), 4x 2.5-inch (2 included).
Dimensions: 474mm H x 542mm D x 240mm W.
We cover the features of this case in a fair amount of detail in our video but one aspect that took us by surprise is that our white sample is actually traditional Fractal Design black and white. The other thing that was unexpected came to light as we dug into Meshify 2.
The floor of the case is riveted in place and it is different to the floor of the Define 7. Add in the fact that the front I/O panel has also changed slightly and the result is that you cannot pull the front panel off the Define 7 and install the panel from the Meshify 2. That might be a minor pain for owners of the Define 7 who fancy a change to Mesh but it is a larger pain for reviewers who imagined they could swap panels around and do some back-to-back comparisons.
Testing
To put this case through its cooling paces we will be using a test system consisting of an AMD Ryzen 9 3900X, Gigabyte RTX 2080 Super and an SSD. This system allows us to produce a substantial amount of heat and effectively test the Fractal Design Meshify 2's cooling capabilities.
Test System:
Processor: AMD Ryzen 9 3900X (12 cores/24 threads, 4.0GHz all cores)
CPU Cooler: Fractal Design Celsius S36
Motherboard: ASRock B550 Extreme4
Memory: 32GB Corsair Vengeance LPX DDR4-3600MHz
Graphics card: Gigabyte RTX 2080 Super Gaming OC 8GB
Power supply: Seasonic Focus PX850W Platinum
SSD: 240GB Toshiba RC100 M.2 NVMe
OS: Windows 10
Cooling Performance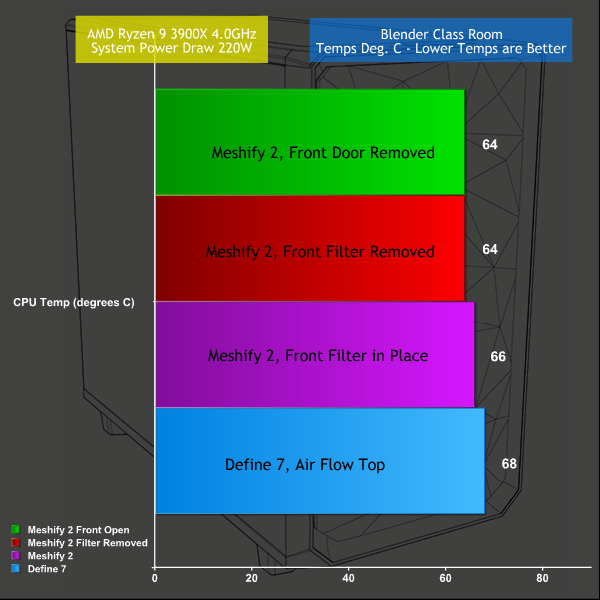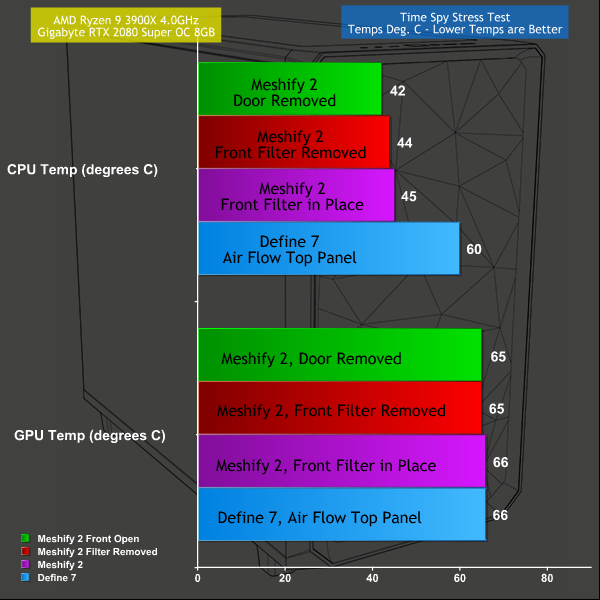 Cooling Performance Overview
Fractal Design Define 7 does a perfectly decent job of cooling, however it is always clear the emphasis is on low noise levels, a clean aesthetic and a reasonable level of air flow. By contrast the Meshify 2 is all about cooling and air flow, and the results speak for themselves. When the case interior is set to the Open mode you have clean, unobstructed paths that will deliver results for gamers with high-end PCs. No doubt it would be a different story with the Meshify 2 in Storage mode but that is only to be expected and does not detract from the point that Meshify 2 is very impressive.
Closing Thoughts
Reviewing a flawed product is relatively easy as the reviewer can point out problems, suggest fixes and generally get excited about the perceived foolishness of the designers and developers who have been involved.
By contrast a product such as the Fractal Design Meshify 2 is terribly dull to work with as it is based on a very good case – the Define 7 – that has been enhanced to deliver improved air flow. As far as the enthusiasts and gamers are concerned this is a one way bet where we gain a benefit and lose almost nothing.
This leads to a situation where your reviewer flogs along, checking features and confirming the claims made by Fractal Design and we end up with a balance sheet that is very lopsided. On the negative side we have an absence of RGB lighting, a mixed colour scheme and a single screw that is awkward to access. We know full well that a large part of the KitGuru audience has little time for RGB so that is more of an observation than a genuine complaint.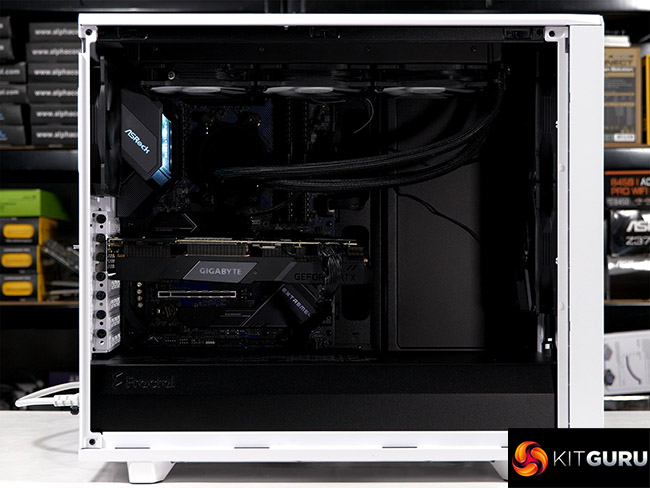 On the positive side we have the option to install a huge number of fans and radiators, an absurd number of storage drives and any graphics card we can imagine. In addition, Fractal Design includes a decent number of drive mounts and three 140mm fans so you are unlikely to have to buy any accessories unless you are building an extreme PC. If you do want to buy accessories they are available, but the price you are being charged includes a very fair level of hardware and accessories.
Fractal Design has simply done a very good job with Meshify 2.

The Meshify 2 is available from Overclockers UK HERE.
Discuss on our Facebook page HERE.
Pros:
Superb air flow.
Excellent tool-free design.
Monumental support for SSDs and hard drives.
You can pack in a huge range of fans and radiators.
Fully filtered.
Good value for money.
Cons:
This white case has a black interior.
Changing the case to Storage Mode is slightly fiddly.
Removing the drive cage in the floor of the case may take some work.
KitGuru says: Fractal Design has improved their design by leaps and bounds. Meshify 2 is superb.
Be sure to check out our sponsors store EKWB here