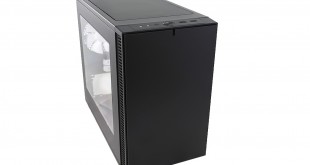 At first glance you may well think the Fractal Design Define Nano S mini tower case supports a Micro-ATX motherboard but in fact it is Mini-ITX. This is a little unexpected, partly because it stands 344mm tall, but also because a quick look inside reveals a massive amount of space.
This is a visual trick as the Fractal Design Define Nano S follows the same approach as the ATX-sized Define S and does not use traditional drive bays or a power supply cover, so there is nothing to break up the interior space. It's a different story once you have installed a graphics card and power supply but the starting point with Fractal Design Define Nano S is that you have a lovely blank canvas for a PC build.
Watch via our VIMEO Channel (Below) or over on Youtube at 1080p60 HERE
Specification:
Motherboard support: Mini-ITX.
Expansion slots: 2.
Included fans: 1x 140mm front intake, 1x 120mm rear exhaust.
Fan mounts: 2x 120/140mm front, 2x 120/140mm roof, 1x 120mm rear, 1x 120mm bottom.
120mm radiator mounts: 120mm/240mm front, 120mm/240mm roof, 120mm rear.
140mm radiator mounts: 140mm/280mm front.
5.25″ drive bays: None.
Internal drive bays: 2x 3.5, 2×2.5″.
Dimensions: 344mm H x 412mm D x 203mm W.
As you will see in our video above, pulling off the side panels and front panel takes a few moments and then you can remove the full length dust filters from the bottom and front and unclip the ModuVent panel at the top to lay the case bare.
The back panel of the case is lined with noise deadening material and if you buy the cheaper version of the case the main panel is plain and also lined with the same material. Our sample came with a windowed panel that shows off the inside of the case very nicely and puts most of the components in the main compartment on show.
As we explain in the video, the specification promises a huge amount in terms of the cooling hardware you can install, however there are a number of provisos to consider.
The big news is that you can install a 280mm radiator at the front and a 240mm radiator in the roof (obviously you remove the ModuVent panel to allow the radiator to breath) and there is also scope for installing a custom loop. Fractal Design supplies a multi-bracket in the floor of the case that has holes for DDC and D5 pumps. Alternatively the mount can be used to install a 2.5-inch/3.5-inch drive in alternate locations.
If you decide to use a custom loop you will end up mounting the pump on the floor of the case and a short reservoir above the graphics card.
Here are the bullet points that tell you about the hardware you can install in Fractal Design Define Nano S:
Power supply up to 160mm in length.
CPU cooler up to 160mm in height.
Graphics card up to 315mm in length with front fan installed.
With a radiator at the front you can install an 11-inch/280mm graphics card but not a 12.5-inch whopper.
Installing a radiator in the roof is limited by the motherboard which needs to have components less than 35mm tall, so forget about tall memory modules or Asus motherboards with a VRM riser.
Top mounted radiator has a maximum thickness of 55mm.
Front radiator is limited to 312mm length and 157mm width.
Rear radiator is limited to 125mm width.
Bottom radiator maximum thickness 85mm and length 160mm.
There are other, less obvious points that you only appreciate when you build your PC. For example the power supply cannot be installed or removed while your double slot graphics card is in situ as the rolled edge at the bottom of the case means you have to lift the power supply slightly, before sliding it out to the side.
Fractal Design supplies a Dynamic Series GP-14 fan at the front of the case and a GP-12 at the rear. In most scenarios that we can imagine you will probably remove the front fan and replace it with your own choice of cooling.
Taking all those points together, as we discuss in the video, the easiest way to build your new PC is using an All In One liquid cooler at the front of the case (we used an NZXT Kraken X61) and simply ignore the mounts in the roof of the case. This gives you good access to the 8-pin EPS power connector and helps cable routing but also means you cannot use a truly enormous graphics card.
Testing
To put this case through its cooling paces we will be using a test system consisting of an Intel Core i7-6700K, GTX 980 and an SSD. This system allows us to produce a substantial amount of heat and effectively test the Fractal Design Define Nano S's cooling capabilities.
For stress testing we use AIDA64 to create the maximum heat output to stress our CPU and GPU.
Test System:
Processor: 4.2GHz Intel Core i7-6700K
Motherboard: Asus Z170I Pro Gaming
CPU cooler: NZXT Kraken X61
Memory: Corsair Vengeance LPX DDR4-3200MHz RAM
Graphics card: GTX 980 4GB
Power supply: Seasonic Platinum Fanless 520W
Storage drives: OCZ Vector 180 SSD
OS: Windows 10 64-bit.
Cooling Performance.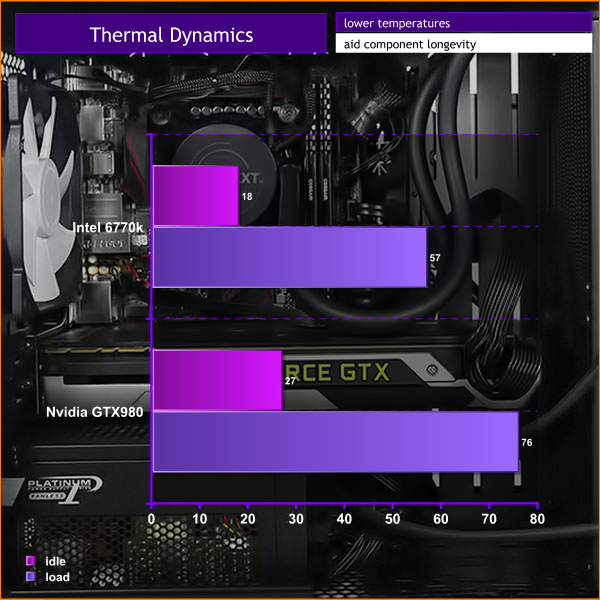 With the Kraken X61 at the front of the case and the stock 120mm fan at the rear we were very happy with the cooling performance of Fractal Design Define Nano S. We chose to run the Kraken cooler in quiet mode as this gave a good balance between noise and cooling with the result that CPU temperature topped out at 57 degrees.
GPU temperature for our GTX 980 was 76 degrees which is exactly what we expect to see.
Acoustics performance.
You will have noted we did not test the Fractal Design Define Nano S with both of the stock fans, however the configuration with a liquid cooler at the front seems the most likely way you will build a PC in this case. We expected that it might be a noisy PC as the windowed panel has no noise deadening material but were pleasantly surprised by the near silence of Fractal Design Define Nano S.
We set the Kraken X61 to run quietly and the noise levels were completely constant as the CPU and GPU worked harder and harder with no increase in noise levels. This is very impressive and is a testament in part to the baffled air intake at the front as well as the efficiency of NZXT Kraken and the stock GTX 980 graphics card. It would be naive to say that all hardware configurations would be as quiet but we were utterly impressed by this case.
Closing Thoughts
The Fractal Design Define Nano S is an impressive mini tower. It looks good, pulls apart easily and offers full dust filtering. You can install a regular ATX power supply and a proper gaming graphics card along with a decent selection of hardware and there is good support for a variety of cooling systems.
You can build a custom loop using Fractal's mounting brackets for the pump and reservoir and still have room to install three storage drives. Alternatively you can slip an All In One in the front of the case and potentially go for four drives, which is a bit mind boggling.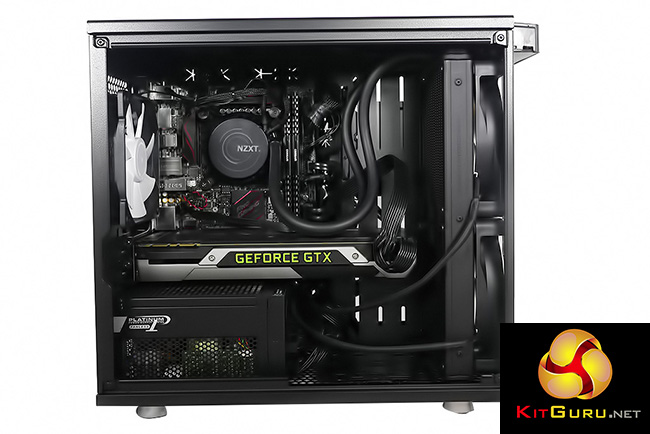 The only real problem with this case is that it is relatively large yet it is restricted to using Mini-ITX motherboard. This is obviously fundamental and is either no problem at all or a major stumbling block.
If you are happy with two memory slots, one PCI Express slot and little option of adding fast storage or a second graphic card then fine. Even so, the case is fairly large which means you had better intend to install a decent cooling system or the whole thing becomes a bit pointless.
We were pleased with our Mini-ITX build but would have been much happier if it was Micro-ATX.
See more on the Fractal Design website over HERE.
Pricing: £54.99 inc VAT with window or £49.99 inc VAT plain.
Discuss on our Facebook page, over HERE.
Pros:
Very quiet.
Decent levels of cooling.
Good quality hardware that is easy to pull apart and assemble.
Slide-in dust filter over power supply,
Magnetic dust front filter behind front panel.
Mounting backets included for pump and reservoir.
Cons:
A relatively large case that is limited to Mini-ITX.
No power supply cover.
Cable management space gets tight if you install two 3.5-inch drives.
No optical drive bay.
KitGuru says: Fractal Design Define Nano S is a showcase for a Mini-ITX system with extensive liquid cooling.