Fractal Design has launched a huge series of cases named Pop and we have already reviewed the Fractal Design Pop Air with a groovy Cyan paint job on the interior. Today it is the turn of the Fractal Design Pop Mini Air where 'Mini' denotes support for the Micro-ATX form factor.
Timestamps
00:00 Start
00:51 Recap / Introduction / Pricing
01:40 Pulling the case apart – close up look
02:20 Radiator Support / accessories / drive support
04:10 Front of the case / fans / optical options
06:23 I/O Panel / USB C / fans
07:40 Test PC build
09:10 RGB
10:13 Noise testing
11:22 Thermal performance
12:53 Closing Thoughts
Main features
Accommodates mATX/Mini-ITX motherboards
Easy-to-mount tempered glass side panel with a clean interior view (TG versions)
Two neatly concealed 5.25" bays with storage drawer and magnetic cover
Comes with two extra-versatile storage trays, each supporting a 3.5″ and a 2.5″ drive simultaneously
Includes two dedicated SSD mounts behind the motherboard tray
Alternative dual SSD mounting position on the PSU shroud (additional bracket available separately)
Supports up to two HDDs and six SSDs without optical drives, or one HDD and five SSDs with a bay in use
Holds radiators up to 240 mm in the front, 240 mm in the top or 120 mm in the rear
Easy cable management with pre-mounted Velcro straps, extra-large pass-through holes, and over a dozen tie-down points
Optional USB-C upgrade kit (available separately) adds a full speed USB Type-C front port
Bridgeless expansion slots keep add-in card ports and vents unobstructed
Specification:
Motherboard support: Micro-ATX, Mini-ITX
Power supply support: ATX
Expansion slots: 4
Included fans: 2x 120mm front intake, 1x 120mm rear exhaust
Fan mounts: 2x 120mm/1x 140mm front, 2x 120mm/1x 140mm roof, 1x 120mm rear
Radiator mounts: 140mm/240mm front, 240mm roof, 120mm rear
5.25-inch optical drive bays: Two
Internal drive bays: 2x 3.5-inch/2.5-inch (included), 4x 2.5-inch (2 included)
Front I/O ports: 2x USB 3.0 type-A, Audio (1x USB 3.1 type-C optional)
Dimensions: 393mm H x 432mm D x 215mm W
Testing
To put this case through its cooling paces we will be using a test system consisting of an AMD Ryzen 5 5600X CPU, Palit RTX 3080 graphics 3080 and an SSD. This system allows us to produce a substantial amount of heat and effectively test the Fractal Design Pop Mini Air's cooling capabilities.
Test System:
Processor: AMD Ryzen 5 5600X (6 cores/12 threads)
Motherboard: MSI MAG B550M Mortar
CPU cooler: Noctua NH-U12A chromax.black
Memory: 32GB Corsair Vengeance LPX DDR4-3600
Graphics card: Palit RTX 3080 Gaming Pro 10GB
Power supply: Seasonic Focus PX-850 Platinum
SSD: Sabrent Rocket 4.0 M.2 NVMe
OS: Windows 11
Cooling Performance
Cooling Performance Overview
The Fractal Design Pop Mini Air does a reasonable job of cooling the hardware however it does a fairly average job. When we increased the speed of the two Noctua fans on the CPU cooler to full speed we noted the temperature of the graphics card increased slightly. Our feeling is that the Noctua fans were able to overpower the Fractal Design Aspect 12 RGB fans and shifted the airflow inside the case upwards and away from the GPU towards the CPU.
Closing Thoughts
The stand-out feature of the Fractal Design Pop Mini Air is the Micro-ATX form factor which is, of course, nothing new.
The significance of the Mini is that it is part of a larger Pop range that stretches all the way from Micro-ATX to ATX and onward to E-ATX so if you like the look, feel and features of Pop and happen to want it in Micro-ATX (or Silent or E-ATX) then Fractal Design has you covered.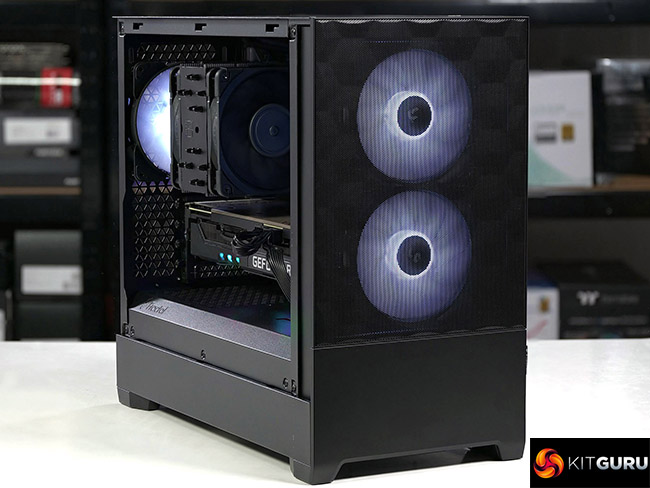 One area that is remarkable about Pop Mini is the support for a huge number of drive bays including two 5.25-inch optical drives. These bays can be used for other devices such as card readers but it is clear from our audience comments that KitGuru enthusiasts continue to use Blu-ray and other optical media.
Features such as the integrated ARGB header in the roof of the case demonstrate that Fractal Design has put an appropriate amount of thought into Pop and the result is a range of budget cases that do a decent job at a fair price.

You can buy the Fractal Design Pop Mini Air with prices starting at £86.99 on Overclockers UK HERE.
Discuss on our Facebook page HERE.
Pros:
Large number of storage options.
Supports two optical drives.
Supplied with three ARGB fans.
Decent price.
Cons:
AIO cooling options are limited.
Aspect 12 fans are voltage controlled rather than PWM.
USB Type-C on the front I/O costs extra.
KitGuru says: Fractal Design is showing welcome support for the mATX form factor with the Pop Mini Air.
Be sure to check out our sponsors store EKWB here