Lian Li PC-O9 is a large dual chamber case that can accommodate an E-ATX motherboard, every part you can see is made of aluminium (there are a few pieces of steel tucked away) and the finishing touches are two slabs of tempered glass that display the interior of the main compartment while keeping the rear chamber firmly out of sight.
The PC-O9WX model is all-black while the WRX has a red stripe down the front.
If your main requirement for a new PC case is a visual showcase then Lian Li PC-O9 has a huge amount to offer. The size gives you plenty of room to install pretty much any hardware you might desire and to cap it off there is a lighting control unit in the rear compartment with external rotary controls for R, G and B channels that allows you to adjust the included LED light strips.

Watch via our VIMEO Channel (Below) or over on YouTube at 1080p HERE.
Specifications:
Model: PC-O9 WRX/WX
Case Type: Mid Tower Chassis
Dimensions: (W) 354mm (H) 482mm (D) 465mm
Colour: Red or Black
Front Panel: Tempered Glass
Side Panel: Tempered Glass
Body Material: Aluminium
Net Weight: 8.6kg
5.25″/3.5″ drive bay (External): None
HDD bay: 3.5″ HDD x6, 2.5″ HDD x2
Expansion Slot: 8
M/B Type: ATX, Micro-ATX, E-ATX (322mmx272mm)
System Fan: 120mm Fan x3, 120mm Fan x2 (HDD Rack)
I/O Ports: USB3.0 x4, HD Audio
Maximum Compatibility: VGA Card length: 290mm, PSU length: 290mm, CPU cooler height:160mm
Radiator: Top 120mm x 360mm, Front 120mm x 360mm
PSU Type: ATX
LED: LED RGB Colour Changing Kit (LED50RGB-2)
Building the PC took quite some time. It would make little sense to use a simple tower air cooler in the PC-O9, and an All-In-One would just look lazy, so a custom loop is pretty much compulsory. The snag is that your options are limited by the design of the case.
There isn't much scope for using the rear chamber to house a pump or reservoir, the fan mounts are 120mm rather than 140mm and the supplied pump mount is located in the front corner of the case where you cannot use a support bracket for the reservoir.
Taking all that together, you are pretty much obliged to use a pump/reservoir unit on the supplied pump mount and will install either a 240mm or 360mm radiator on the dividing wall between the two chambers. You might squeeze a radiator in the roof of the case above your motherboard, provided it is quite thin.
Once the big pieces are in place you have only to plumb it all together which should be quite simple, considering the size of the case. Moving the three Lian Li fans to the roof of the case was easy. Installing the three EKWB Vardar fans and 360mm Alphacool radiator took a while longer as access is tight. Installing the Alphacool VPP-755 pump/reservoir was fiddly and took about half an hour.
Hooking the hardware together took longer than expected as some of the hose fittings clashed with others and required some adjustment to make everything work nicely.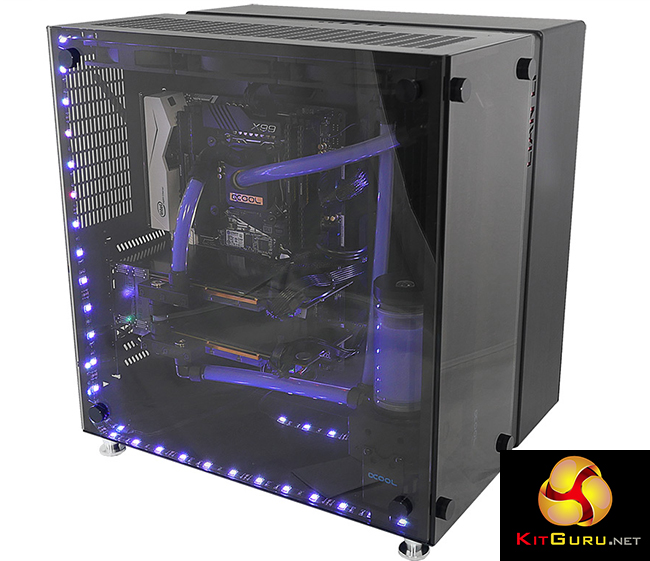 That was half the battle – the other job was routing cables which was no fun at all. Lian Li includes a number of cable routing holes between the two chambers and has then blanked them off with plates that are each secured with two screws. There are no grommets. Furthermore, you don't get any cable tie saddles, although there are two self adhesive mounts in the accessory pack.
The PC-O9 has four USB 3.0 ports on the I/O panel which is on top of the case, pretty much in the centre, and we know how much fun it is to connect one USB 3.0 cable, let alone two of the things. Lian Li has included an adapter so anyone who has a single USB 3.0 header on their motherboard can connect the second cable to USB 2.0.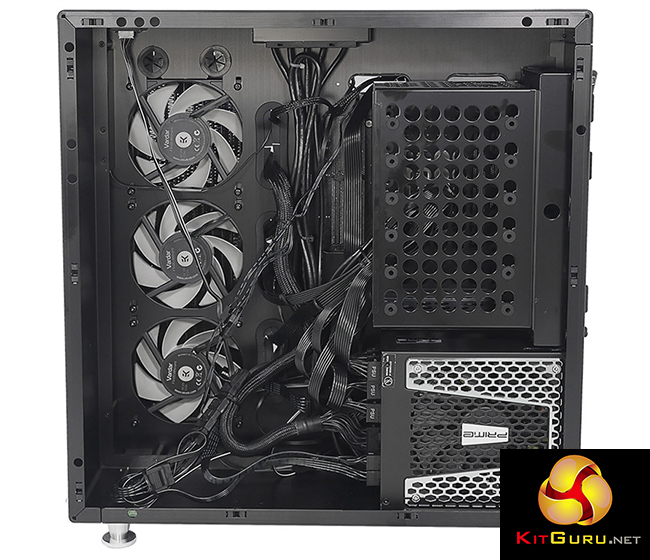 A good deal of the space you might use for cable management is occupied by the drive cage. This is a large unit that can accommodate six 3.5-inch drives but only two 2.5-inch SSDs, which seems like a curious choice.
Testing
To put this case through its cooling paces we will be using a test system consisting of an Intel Core i7-5820K, dual GTX 980 graphics cards and an SSD. This system allows us to produce a substantial amount of heat and effectively test the Lian Li PC-O9's cooling capabilities.
For stress testing, we use a mixture of AIDA64 and FurMark to create the maximum heat output our system is ever likely to see.
Test System:
Processor: 3.3GHz/3.6GHz Intel Core i7-5820K
Motherboard: ASRock X99 Taichi
CPU cooler: Alphacool and EKWB custom loop
EKWB GPU blocks
Alphacool XP3 CPU block
Alphacool VPP755 pump and reservoir
Alphacool 360mm ST30 radiator
EK Vardar fans
Mayhems Pastel purple coolant
Memory: Corsair LPX DDR4-3200MHz
Graphics card: Dual EVGA GTX 980 graphics cards
Power supply: Seasonic Prime Titanium 750W
Storage drives: Kingston M.2 SSD
OS: Windows 10
Cooling Performance

Ambient temperature = 17°C.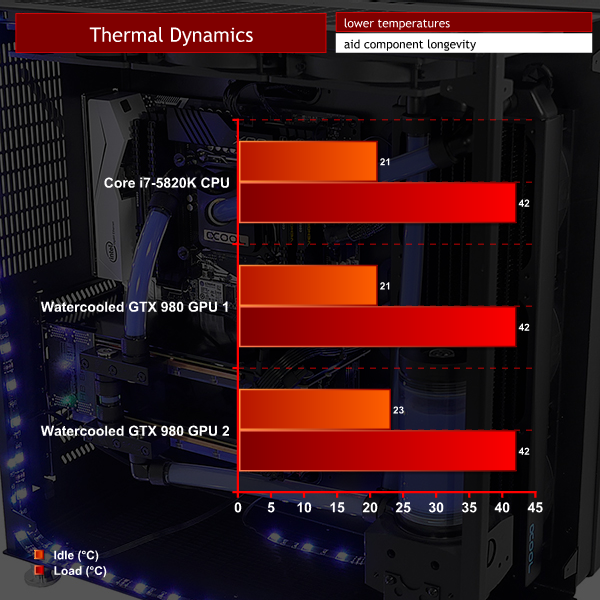 Cooling was very good indeed and far better than we expected. Perhaps this was naive when you consider the size of the PC-O9. While the airflow is effectively unguided the results are excellent.
Acoustics performance

We could hear the six fans working inside the PC-O9 however the sound was not intrusive. That is quite impressive when you consider there is no noise deadening material whatsoever and demonstrates the virtues of running your fans low and slow in a large case.
Closing Thoughts
We love the looks of Lian-Li PC-O9 and were blown away by the quality of the aluminium and glass. The problem for us lies in the design as you are severely restricted in the way you can build your PC. The absence of 140mm fan mounts is a pain and the limitations for mounting a pump/reservoir may well cause a headache.
One obvious answer is to pack the hardware in the rear compartment but here too we hit some snags as the drive cage takes up a good deal of space. You need to leave the area with the three fan mounts free to flow cooling air, and once you take that into account the rear compartment doesn't appear quite as large as it first seems.
Removing the blanking plates from the cable management holes was an unnecessary annoyance but in the great scheme of things it was trivial.
When the system was finished we found the apparently simple matter of installing the glass was more tricky than we expected. The hole pattern in the glass is not symmetrical so you have to position the glass the right way round and there are no male pegs on which to hang the glass. Instead you have to hold the glass in place (note, it's heavy) and then screw the fasteners home. This requires precise alignment to avoid damaging the aluminium female threads. This isn't a major drama but it certainly is hassle and worse than that, it is unnecessary hassle.
Taking these points together, you will either persevere with PC-O9 because you adore its looks and impressive size or you will back away deeming it to be too much trouble. Unfortunately the sting in the tail is the price which is truly epic at a little under £400. We never thought PC-O9 would be cheap but the price in the UK is eye-watering and certainly does not help its cause.

The Lian Li PC-O9 is £389.99 at Overclockers UK.
Discuss on our Facebook page, over HERE.
Pros:
Gorgeous aluminium construction.
Tempered glass panels on the front and side.
Excellent cooling.
RGB lighting is included.
Cons:
Drive cage only supports two 2.5-inch drives.
There are no cable anchor points.
No support for 140mm fans.
Water pump mounting plate offers no support for reservoir.
Installing the glass is tricky.
Cable management holes are covered by plates.
Horrendously expensive.
KitGuru says: PC-O9 looks great but fails to impress.