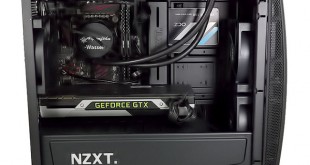 NZXT has launched a Mini-ITX case called Manta that breaks the rules, defies expectations and looks pretty darned cute into the bargain. Take a look at our video and photos and you will see that all the panels on the Manta are curved. This is a novel styling trick that looks good, gives extra space inside the case for cable management and also helps NZXT to conceal the intake and exhaust vents on the top and front of the case.
If we were to judge the NZXT Manta purely on styling it would be an overwhelming triumph and may even score ten out of ten. It really does look that good and while you may not necessarily get that impression from the video it is fair to say the styling of the Manta has grown on us over time.
Watch via our VIMEO Channel (Below) or over on YouTube at 1080p60 HERE
Specification:
Motherboard support: Mini-ITX.
Expansion slots: 2.
Included fans: 2x 120mm front intake, 1x 120mm rear exhaust.
Fan mounts: 2x 120/140mm front, 2x 120/140mm roof, 1x 120mm rear.
120mm radiator mounts: 120mm/240mm front, 120mm/240mm roof, 120mm rear.
140mm radiator mounts: 140mm/280mm front, 140mm/280mm roof.
5.25″ drive bays: None
Internal drive bays: 1x 3.5"/2.5", 1x 3.5, 2x 2.5″.
Dimensions: 426mm H x 450mm D x 245mm W.
When you dive inside the NZXT Manta it isn't immediately apparent the case is Mini-ITX as it appears large enough to support a Micro-ATX motherboard. This impression is due to the layout where NZXT has removed the optical drive bay and relocated the mounts for the various storage drives. You can install two 2.5-inch drives and two 3.5-inch drives but won't find the usual caddies or tower of bays.
We explain this point in some detail in the video.
We found an annoying glitch with the two 2.5-inch drive bays as they hook in behind the cable management plate in a way that precludes you installing the chunky NZXT HUE+ lighting controller. We understand that NZXT is modifying Manta to fix this snag.
No doubt it will annoy some people that 2.5-inch drives mount with their labels upside down.
NZXT has handled cable management well. The fixed power supply cover hides your power supply very effectively along with some of the cabling and the remainder of the cabling is covered by the cable management plate. NZXT has provided a good number of cable tie anchor points yet for some reason there are no grommets in the various cable holes, which seems like a strange oversight.
One feature we were especially pleased to see was the fan hub which has eight connections and a PWM extension cable so you can effectively connect as many fans as you desire. When you consider the NZXT Manta is supplied with a pair of 120mm fans at the front and a 120mm fan at the rear you are already overwhelming many Mini-ITX motherboards on the market so the fan hub is a fine idea.
We took issue with the claim in the specification that you can install a radiator up to 280mm in either the front or top of the case with the radiator outside the frame and the fans inboard. Our 280mm Kraken X61 would probably have fitted with a small amount of force but we instead opted for a 120mm Alpenfohn Wasser in the roof of the case.
Overall we were pleased with the PC we built inside the NZXT Manta however there was a feeling of 'is that it?' when we toggled the lighting button on the rear of the case and watched the white LEDs in the power supply cover and above the I/O panel turn on and off. Some RGB lighting would have gone a long way.
Testing
To put this case through its cooling paces we will be using a test system consisting of an Intel Core i7-6700K, GTX 980 and an SSD. This system allows us to produce a substantial amount of heat and effectively test the NZXT Manta's cooling capabilities.
For stress testing we use AIDA64 to create the maximum heat output to stress our CPU and GPU.
Test System:
Processor: 4.2GHz Intel Core i7-6700K
Motherboard: Asus Maximus VIII Formula
CPU cooler: 120mm Alpenfohn Wasser
Memory: Corsair Vengeance LPX DDR4-3200MHz RAM
Graphics card: GeForce GTX 980 4GB
Power supply: Seasonic Platinum Fanless 520W
Storage drives: OCZ Vector 180 SSD
OS: Windows 10.
Cooling Performance.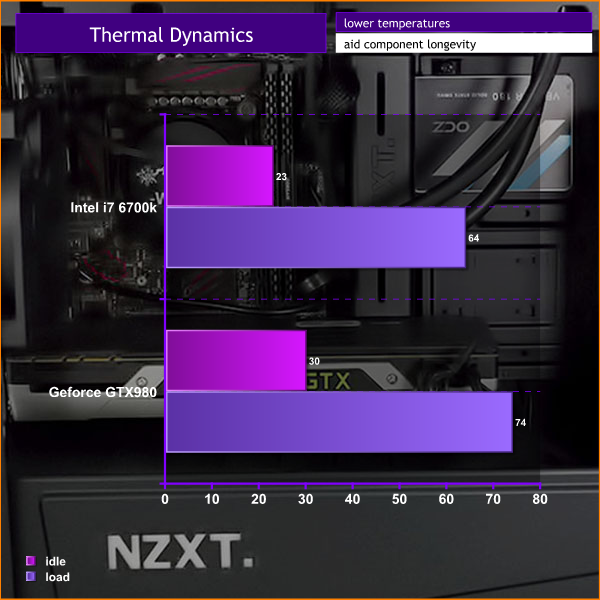 The NZXT Manta does a decent job when it comes to cooling. We had the fan speeds set low in the BIOS to keep noise to a minimum and as a result the CPU temperature was a few degrees warmer than it might have been. Nonetheless it was clear the NZXT Manta had no problem flowing sufficient air and we could have easily cranked up the speeds to get the temperatures even lower.
Acoustics performance.
With the fan speeds set low the NZXT Manta is very, very quiet. The combination of stealth air vents, chunky panels and sensible design in the main compartment work superbly well and we were entirely satisfied with the noise levels.
Closing Thoughts.
From a styling point of view NZXT Manta looks fantastic and is very well built. In particular the windowed side panel looks fantastic. The downside is that Manta is either very large for a Mini-ITX case or misses out on the opportunity to pack in a Micro-ATX motherboard.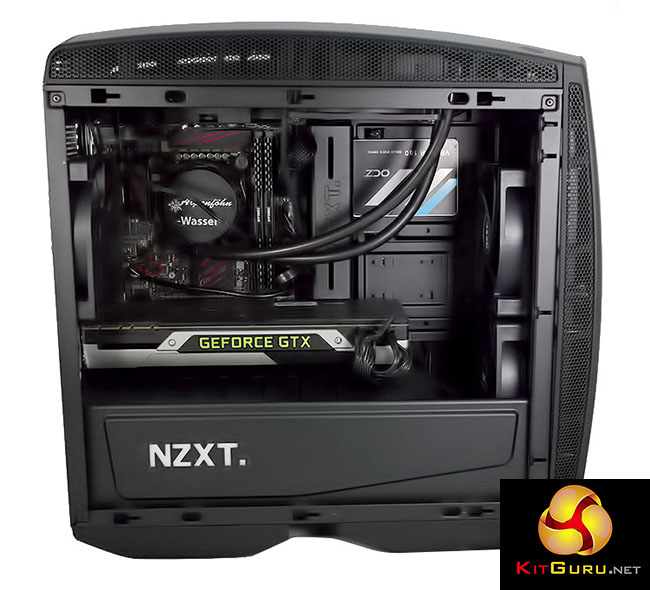 We do not quite understand why the mounts for the cooling system are so tight for space. You'll have no problem installing a 120mm, 140mm or 240mm radiator but a 280mm cooler is very tight indeed. The business with the mounting system for 2.5-inch drives is slightly annoying and highlights the way that small details make a lot of difference to the overall experience when it comes to buying a case.
For that matter we would also like to see some grommets on the cable management holes.
Overall the NZXT Manta is a fine Mini-ITX case that fails on minor details that are not deal breakers. The bigger question is whether or not you are prepared to limit yourself to using a Mini-ITX motherboard inside a case that is medium size rather than truly a small form factor.

Buy from Overclockers UK for £109.99 inc vat HERE. See more on the NZXT website HERE.
Pros:
Superb styling, lovely curved panels.
Windowed main panel looks amazing.
Very quiet.
Good airflow.
Intakes are fully filtered.
Cable management is very good.
Cons:
It is a large case for Mini-ITX.
280mm radiator mounts are very tight for space.
No cable management grommets.
Unimpressive lighting kit.
2.5-inch drives mount upside down.
At present the HUE+ controller cannot be installed in the two main SSD bays.
Price is fairly high.
KitGuru says: NZXT Manta looks superb but needs work on the 2.5-inch drive mounts. And RGB lighting.