One of the big concerns with self-piloting vehicles, is how they will perform in adverse conditions and at night. Indeed, the optical sensors that many autonomous cars rely on don't function as well in those conditions. Fortunately, lidar doesn't have so much of an issue and in a recent test, Ford proved it. During a night-time test without lights whatsoever, its driverless car handled the road perfectly.
While there is a big difference between driving at night and driving in heavy fog or snowstorms, this is still a major achievement and can surely assuage the concerns of some driverless detractors. Ford researcher Wayne Williams, said in a chat with Ars:
"Inside the car, I could feel it moving, but when I looked out the window, I only saw darkness. As I rode in the back seat, I was following the car's progression in real time using computer monitoring. Sure enough, it stayed precisely on track along those winding roads."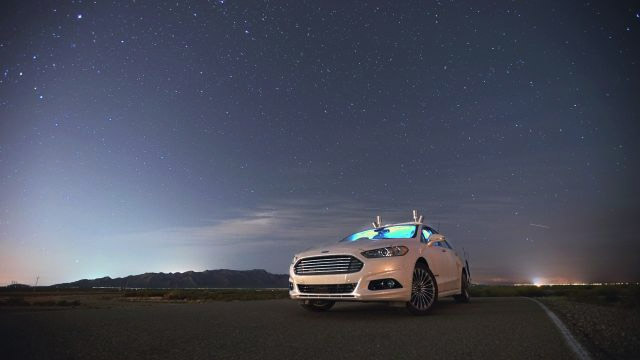 Source: Ford
Of course as is pointed out though, lidar is only the most effective solution when there are very high-resolution maps to cross reference with. Without them, the lidar risks being inaccurate by enough of a measure that it may be a technology that is restricted in use to certain areas, or more commonly used as a second pass along with optical sensors.
Crowd sourced road mapping is in effect at this time, which is helping bring that sort of high-resolution tracking to autonomous vehicles in a wider area, but it will be some time before enough of the roads are mapped out to make that possible.
When fully autonomous cars do arrive, they will likely employ a variety of different technologies to make us all safer.
Discuss on our Facebook page, HERE.
KitGuru Says: As much as I think I'll miss the freedom of driving myself around one day, it's not a big enough love that I wouldn't trade it for being able to read a book on every journey.