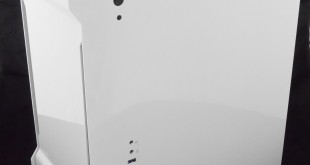 Phanteks Enthoo Evolv is a Micro-ATX design that looks like no other case we have seen before. The most obvious feature is the way the design uses flat aluminium panels that pop on and off without the use of fasteners. When you look a little deeper you see the front panel connectors have been moved to one side panel and the optical drive bay is at the rear of the case.
Inside the case the drive bays have been carefully located to help the path for cooling air to flow from the front 200mm fan to the 140mm fan at the rear.
Say what you like about Phanteks, they certainly kept us on our toes with the Enthoo Evolv!
[yframe url='http://www.youtube.com/watch?v=W2_24ANYNgE']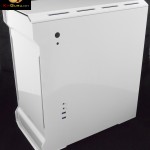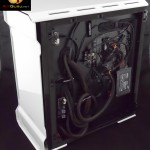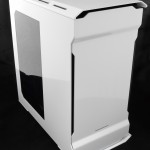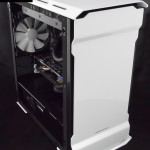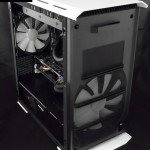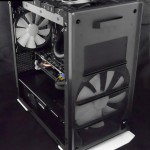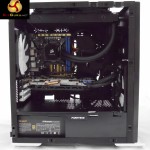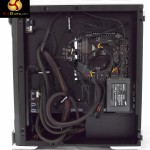 Specification:
Motherboard support: Micro-ATX, Mini-ITX.
Expansion slots: 4.
Included fans: 1x 200mm front intake, 1x 140mm rear exhaust.
Fan mounts: 1x 200mm or 2x 120/140mm front, 2x 120/140mm roof, 1x 120/140mm rear.
120mm radiator mounts: 120mm/240mm front, 120mm/240mm roof, 120mm rear.
140mm radiator mounts: 140mm front, 140mm/280mm roof, 140mm rear.
5.25″ drive bays: 1
Internal drive bays: 3x 3.5, 5×2.5″.
Dimensions: 450mm H x 400mm D x 230mm W.
Testing:
To put this case through its cooling paces we will be using a test system consisting of an Intel Core i7-4770K, Radeon R9 270 and multiple storage drives. This system allows us to produce a substantial amount of heat and effectively test the Phanteks Enthoo Evolv's cooling capabilities.
For stress testing we use a mixture of Prime95 and FurMark to create the maximum heat output. Prime95′s 'Small FFTs' setting allows us to stress our CPU. FurMark's 'GPU Burn-in' mode creates the maximum amount of load our GPU is ever likely to see.
Test System:
• Processor: 3.9GHz Intel Core i7-4770K
• Motherboard: ASRock Z87 Extreme4
• CPU cooler: Corsair H100i
• Memory: Avexir 1600MHz RAM
• Graphics card: Gigabyte Windforce Radeon R9 270 2GB
• Power supply: Akasa Freedom Power 1000W
• Storage drives: Samsung 840 SSD
• OS: Windows 7 Professional 64-bit.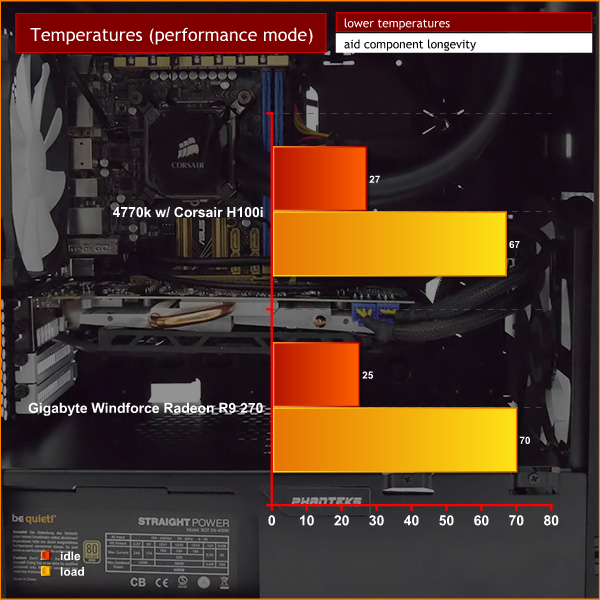 Impressive cooling from the Phanteks Enthoo Evolv with deltas that compare favourably with conventional tower designs.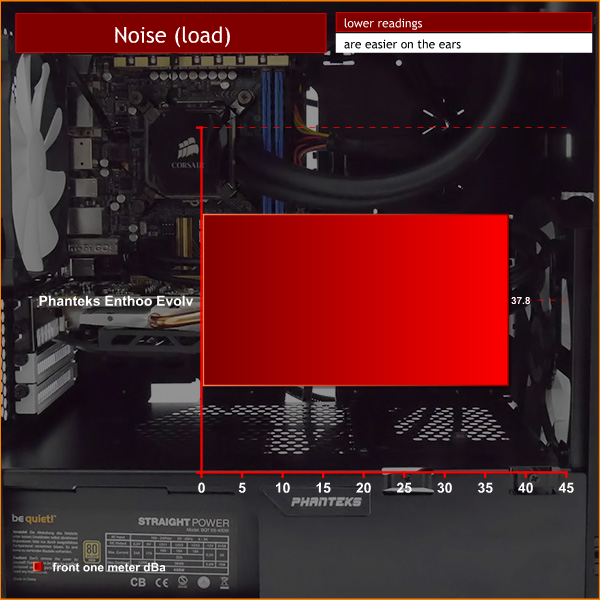 This is not the quietest case we have reviewed, and fan noise is apparent. Overall, we can't help but feel this is a little disappointing when everything is considered.
Closing Thoughts:
This Evolv Micro-ATX design is very good indeed. Cosmetically it is a matter of personal taste and the price may look a little high in the sense that £99.95 is a lot of money however you are only paying a £10 premium over the Phanteks Enthoo Pro. When you consider the level of engineering and design that Phanteks delivers in the Evolv that £10 premium is a drop in the ocean.
You can buy direct from Overclockers UK, over HERE.
Discuss on our Facebook page, over HERE.
Pros:
Superb build quality
Novel construction with tool-free side, top and front panels
Extensive dust filtering at the front and bottom of the case
Funky LED lighting at the front of the case with a choice of interchangeable colours
Impressive cooling for a Micro-ATX chassis that matches a regular tower
Loads of options for adding a closed loop liquid cooler or custom cooling hardware
Cons:
The Micro-ATX form factor limits your build options
Care is required when you move the case as the aluminium panels are likely to pop off
Noise levels are relatively high when the cooling is working hard
The styling is unusual and might take some acclimatisation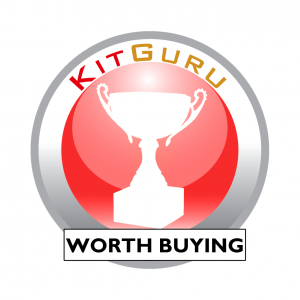 KitGuru says: The Phanteks Enthoo Evolv forces you to evaluate what a case should look like and how it should perform. This is quality engineering.