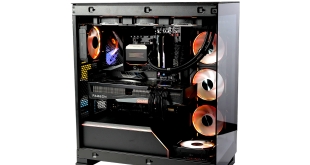 James reviewed the Phanteks NV7 a few months back and now it is time for the junior member of the family, the NV5. This is a mid-sized case with loads of glass and support for as many as eight 120mm fans. When we saw the NV5 at Computex we were told the price would be £115, however a few days before launch it was slashed to £85. Now that's an interesting move!
Time stamps
00:00 Start
01:08 A look inside
04:30 hardware support / storage support
05:27 Cable Management support
05:40 RGB support
05:56 Hardware for build
10:15 Phanteks D30-120 Fans
13:02 Finished Build and Test Results
15:21 Closing Thoughts
Main features
Near-seamless glass panels for a perfect view of all your system components
Increased chassis width to support wider modern GPUs and 12VHPWR cables
Ultra-fine performance mesh design for high airflow with good dust filtration
A total of eight 120 mm fan positions for high end cooling performance
Removable PSU cover for easy access and installation
Integrated Digital-RGB lighting with software free controller
GPU support bracket included
Optional upgrade: NV5 Premium DRGB Kit available with a motherboard cover
and additional DRGB lighting strips all around the case ($70/£60)
Specification:
Motherboard support: E-ATX Max. 280mm wide, ATX, Micro-ATX, Mini-ITX.
Power supply support: ATX, SFX-L, SFX.
Expansion slots: 7.
Included fans: None.
Fan mounts: 3x 120mm side, 3x 120mm roof, 1x 120mm rear, 1x 120mm floor.
Radiator mounts: 360mm side, 360mm roof, 120mm rear.
5.25-inch optical drive bays: None.
Internal drive bays: 3x 3.5-inch, 4x 2.5-inch.
Front I/O ports: 2x USB 3.0 Type-A, 1x USB 3.1 Gen 2 Type-C, audio.
Dimensions: 477mm H x 528mm D x 239mm W.
Testing
To put this case through its cooling paces we will be using a test system consisting of an AMD Ryzen 9 7950X CPU, Radeon RX 6950 XT graphics and an SSD. This system allows us to produce a substantial amount of heat and effectively test the Phanteks NV5's cooling capabilities.
Test System:
Processor: AMD Ryzen 9 7950X
CPU Cooler: Phanteks Glacier One 360D30 AIO
Case Fans: 5x Phanteks D30-120
Motherboard: Gigabyte X670E Aorus Xtreme
Memory: 32GB G.Skill Trident Z5 RGB DDR5-6000
Graphics card: Gigabyte AMD Radeon RX 6950 XT Gaming OC 16GB
Power supply: Phanteks Revolt-X 1000W Platinum
Power supply cables: Phanteks Revolt Cable Kit
SSD: Sabrent Rocket 4.0 M.2 NVMe
OS: Windows 11
Cooling Performance
Cooling Performance Overview
You have to bear in mind that AMD runs its Zen 4 CPUs to the limits of the available power and cooling, so the fact our Ryzen 9 7950X was sitting at 95 or 96 degrees C is a bit of a red herring. Instead look at the Gigabyte Radeon RX 6950 XT graphics card which was operating at a steady 50-52 degrees C, which indicates the Phanteks NV5 flows plenty of cooling air.
Closing Thoughts
The Phanteks NV5 manages to combine large glass windows at the front and side with decent air flow, which is a neat trick.
Part of the explanation is that this is a modern case that ignores optical drive mounts and which moves the front IO panel to the roof, but the most significant design choice is the move to fresh air intake on the right hand side of the case. We have previously seen this approach from Corsair, Lian Li and Phanteks in the NV7 and consider it to be the new normal in enthusiast PC cases.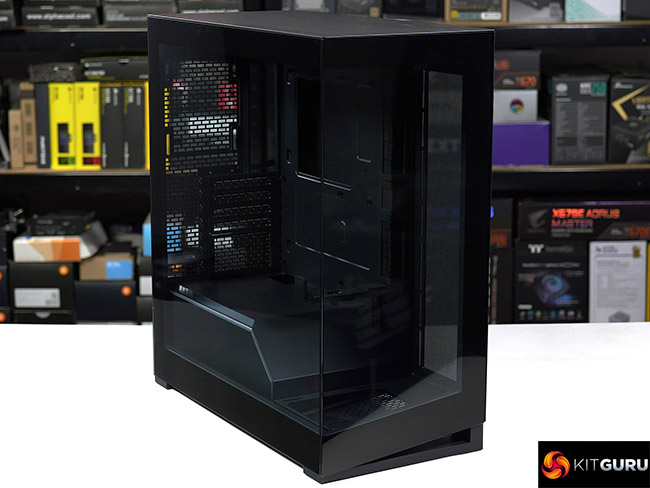 Perhaps the most welcome feature of the Phanteks NV5 is the way you can remove both the side and front glass panels to leave an open structure that is very sturdy and easy to work with. Ordinarily we might complain that a case doesn't have a removable fan rack in the top or side but with the NV5 it simply doesn't matter.
This case is very good to work with, and that is thanks to the clever design.

You can buy the Phanteks NV5 for £84.98 from Overclockers UK HERE.
Discuss on our Facebook page HERE.
Pros:
Open design core chassis helps PC build process.
Decent design and solid construction.
Large glass panels look great.
Low ticket price.
Cons:
Supplied without fans.
NV5 only supports 120mm fan units. You can forget about 140mm.
Installing an E-ATX motherboard means you lose the GPU support bracket.
KitGuru says: Phanteks NV5 is a good choice for enthusiast PC builders who are happy to settle for a 240mm or 360mm cooler.
Be sure to check out our sponsors store EKWB here