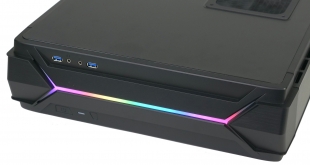 SilverStone RVZ03-ARGB is a compact Mini-ITX case that can pack an impressive punch as it supports a full sized ATX power supply and a graphics card up to 330mm in length. That sounds like the perfect formula for a PC that sits next to your TV or travels as a LAN machine. You also get addressable RGB lighting on the front panel which adds up to a combination of features that looks very interesting.
Watch the video via our VIMEO Channel (Below) or over on YouTube at 2160p HERE
SilverStone describes the RVZ03 as 'A unique case' but if you check out our review of the Fractal Design Node 202 from 2015 you will see there are a number of similarities.

Both of these Mini-ITX chassis can be laid flat under your TV or stood on their side to take up the minimum of space on a small desk. Internally both cases are divided into two chambers to manage air flow. The major difference with the RVZ03 is that it supports a full sized ATX power supply, rather than a diminutive and more expensive SFX unit. Another change is that the graphics card is housed in a caddy that can also accommodate three 2.5-inch SSDs.
The most interesting aspect of RVZ03 is the way SilverStone has arranged the air flow inside the case. There are 120mm fans set to intake on the top and bottom of the case (when it is laid down flat) with exhaust vents on the two sides. As you will see, this means temperatures inside the case are lower when the case is closed and actually increase when you remove the main cover.
Specification:
Motherboard support: Mini-ITX.
Expansion slots: 2.
Included fans: 1x 120mm top, 1x 120mm floor.
Fan mounts: 1x 120mm floor.
120mm radiator mounts: 120mm All In One
140mm radiator mounts: None.
5.25-inch optical drive bays: None.
Internal drive bays: 3x 2.5-inch.
Dimensions: 105mm H x 364mm D x 382mm W.
In our video we show the issues you face when you build a PC inside the RVZ03. For example, it is simple to install the power supply in its mounting bracket but somewhat awkward to install the assembly in the case. SilverStone supports an ATX power supply up to 150mm length (140mm recommended) however we demonstrate the amount of space available for our chosen Seasonic Focus+ Gold was almost non-existent.
Routing the cables from the front panel to the motherboard was challenging as the cables are effectively sandwiched between the intake fan in the floor of the case and the graphics card which installed with the fans facing downwards. We wish to goodness that SilverStone had employed some sort of conduit or guide to route the cables neatly and cleanly. While we're on the subject, the USB 3.0 cable is absurdly long and takes up a fair amount of the limited space.
The biggest limitation during the build is the amount of clearance above the CPU cooler which is limited to 83mm in height. If you choose to use a cooler such as SilverStone NT06-PRO you need to move the top fan to the alternate mount location in the floor. We instead used a Noctua NH-L9x65 SE-AM4 which gave us sufficient clearance to leave the top intake fan in the default location.
Testing
To put this case through its cooling paces we will be using a test system consisting of an AMD Ryzen 5 3600X, RTX 2080 Founders Edition and an M.2 SSD. This system allows us to produce a substantial amount of heat and effectively test the RVZ03-ARGB Raven's cooling capabilities. For stress testing we use AIDA64 to create the maximum amount of load our CPU and GPU are ever likely to see.
Test System:
Processor: AMD Ryzen 5 3600X
Motherboard: Gigabyte X570 I Aorus Pro WiFi
CPU cooler: Noctua NH-L9x65 SE-AM4
Memory: 16GB G.Skill Trident Z DDR4-3200MHz
Graphics card: GeForce RTX 2080 8GB
Power supply: Seasonic Focus+ Gold 1000W
Storage drive: Samsung 960 EVO M.2 SSD
OS: Windows 10
Cooling Performance
We tested the RVZ03 in three configurations, starting with the case laid horizontally on the bench with the main cover removed and just the bottom fan operating. After that we installed the main cover so both fans were running and the case had positive air pressure inside. For our third test we stood the case upright to maximise air flow to both intake fans.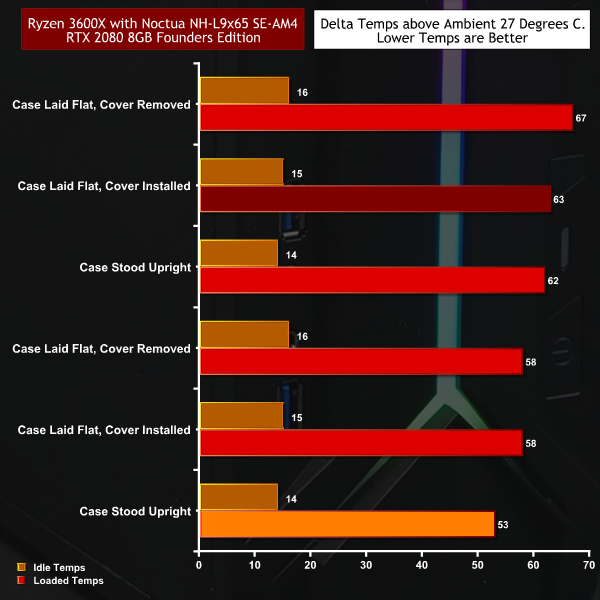 Cooling Performance Overview
In all three tests the SilverStone RVZ03 runs relatively hot. It was noteworthy that our Ryzen 5 3600X was operating at 89-94 degrees C, which is 15-20 degrees hotter than Luke reported when using a 240mm All In One cooler on an open test bench.
The Raven case worked better with the main cover installed than it did with the cover removed and flows more cooling air when it is stood upright.
Acoustics Performance Overview
SilverStone supplies two slimline 120mm fans with the RVZ03 that are rated up to 1,500rpm. Noise levels throughout our testing were low and were perfectly acceptable.
Closing Thoughts
Assembling the RVZ03-ARGB takes a fair amount of time as the process is more fiddly than a PC build in a conventional tower chassis. Once you have figured out the order of assembly and have installed the power supply, motherboard and CPU cooler you simply connect the cables, tidy things up and slide the graphics card into place.
Perhaps we should not have said 'simply' connect the cables as it took a fair amount of trial and error to get things right. SilverStone has marked an area in the user guide to indicate where you should route the cables from the front panel, however the company has made very little effort to assist the customer. The obvious thought is that the RVZ03 could be supplied with the cables secured in place at the side of the chassis, ready to be connected to your chosen Mini-ITX motherboard.
Our other thought is that the RGB hub is a poor choice for this particular case. It has more connection points than you require and it is badly located. We would much rather see a smaller hub that could control both ARGB and also PWM. Once you have made the various connections and tidied up the cables, you need to take care when you install your graphics card to ensure you do not end up with a cable rubbing on one of the cooling fans.
Having said all that, once the PC was built and was running correctly it did a decent job and looked good. The key feature in that respect is the ARGB lighting that differentiates the RVZ03-ARGB from the RVZ03 that comes with regular 12V lighting.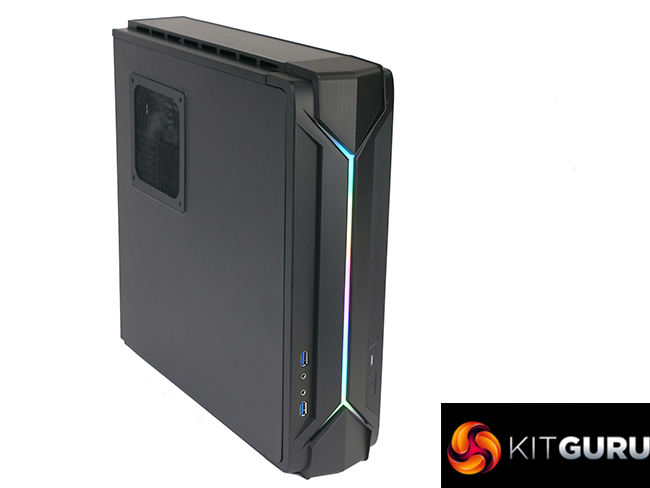 As far as we are concerned any build inside the RVZ03-ARGB needs a graphics card. If you use a motherboard with integrated graphics from either AMD or Intel you are leaving one side of the case unused while the APU will be parked in a corner working hard under a low profile cooler.
Stepping up to a graphics card such as GTX 1660 Ti might make sense and would surely help thermals, however you are still leaving a considerable amount of empty space inside the case. The mainstream answer is to use an RTX 2070, however we went all-out and installed an RTX 2080. Taken together with the Ryzen 5 3600X we had cooling that was marginal but we expected little else from such a small 14 litre chassis. It is worth pointing out we have had some hot weather here in the UK and were testing with a 27 degrees Celsius ambient so this is pretty much the worst case scenario.
The end result of our build was a small and compact PC that could easily play games or edit movies. It is a full-on powerhouse of a machine in a pleasingly small chassis, so if you want to do something similar the SilverStone RVZ03-ARGB is well worth a look.

You can buy the SilverStone RVZ03-ARGB from Overclockers UK for £79.99 HERE. This is a temporary deal, and we expect pricing to go back up to the regular price of £94.99 in the next couple of weeks.
Pros:
Small form factor with a volume of 14 litres.
Support for a full-length 330mm graphics card.
ARGB lighting in the front panel
Uses a regular ATX power supply.
Cons:
RGB hub is too large and poorly located.
CPU cooler is limited to 83mm height.
Thermals are higher than ideal.
KitGuru says: SilverStone RVZ03-ARGB is small but powerful.