Thermaltake Core G3 is a small case that manages to pack in an ATX motherboard yet it can easily hide under your TV. If you instead choose to stand the Core G3 on your desk as a tiny tower case and take a long, close look you will see the components inside the large windowed panel are inverted.
This isn't immediately apparent as the graphics card is connected to the PCI Express slot with a riser cable with the result that you see the face of the graphics card, rather than the edge. It takes a moment to realise what is going on and the biggest clue to the unusual layout is that the window is on the 'wrong' side so the case should ideally stand on your left, rather than the right.
Take a look at our video and you will see the Core G3 uses an SFX power supply to get away from the usual big, bulky ATX design. Added to that the laid down graphics card means the Core G3 is either very slender when it stands upright or is low profile when laid down flat.
Watch via our VIMEO Channel (Below) or over on YouTube at 1080p60 HERE.
Specification
Motherboard support: ATX, Micro-ATX, Mini-ITX.
Expansion slots: 2.
Included fans: 2x 120mm front intakes.
Fan mounts: 1x 120mm roof.
120mm radiator mounts:  120mm/240mm front, 120mm roof.
5.25″ drive bays: None
Internal drive bays: 2x 3.5-inch/2.5-inch.
Dimensions: 454mm H x 371mm D x 140mm W.
In the video we give a price of £57.90 inc VAT for the Core G3 however it seems the launch price is actually plus VAT which ends up as £69.95 at Overclockers UK. Either way Core G3 is a cheap case, and provided it delivers on its promise of packing loads of hardware into a compact space we won't be inclined to quibble about £12.
As you pull the Core G3 apart to start your build you quickly realise it has been built to a low price. When you remove the two side panels you see they are made of plain steel without any sound deadening material and there are no obvious clever features. Instead you have an open chamber with the two drive bays at the bottom, next to the area that accommodates the SFX power supply.
Once you have settled on a motherboard form factor and have decided whether you are using a graphics card or an integrated GPU, the next big decision is CPU cooling. The CPU cooler has a maximum height of 110mm which either requires a stock air cooler, a low profile air cooler or an All In One. We chose to go for a Corsair H60 with a 120mm radiator along with a Sapphire R9 285 Compact ITX graphics card.
We also tried an Asus Radeon R9 390 which fitted inside the case surprisingly well – the limit is a length up to 310mm – however as we discuss in the video the power cable conflicted with one of the supports. These are pieces of plastic you can mount in the case to support the weight of the graphics card which is important with a hefty piece of hardware such as the Asus R9 390.
Installing the Corsair H60 required us to remove both stock 120mm fans from the front of the case. One obviously had to go but the second was so close it conflicted with the hose unions where they joined the radiator so we moved it to the roof of the case above the graphics card.
There are no cable management grommets and there is no space behind the rear panel where you can tuck cables so yes, the test system build doesn't look very tidy and no, we doubt you will have much more success yourself.
Our finished Core i7 PC came out as a perfectly decent gaming machine and would work nicely in any living room connected to the TV. It could be used equally well as a regular PC for office duties and is somewhat over-specified if you simply want to order stuff from Amazon or check the TV listings.
Testing
To put this case through its cooling paces we will be using a test system consisting of an Intel Core i7-5820K, Sapphire Compact ITX R9 285 and an SSD. This system allows us to produce a substantial amount of heat and effectively test the Thermaltake Core G3's cooling capabilities.
For stress testing we use AIDA64 to create the maximum heat output to stress our CPU and GPU.
Test System:
Processor: Intel Core i7-5820K
Motherboard: Gigabyte X99-UD4
CPU cooler: Corsair H60
Memory: 32GB Corsair DDR4-3200MHz
Graphics card: Sapphire ITX Compact R9 285 2GB
Power supply: Corsair 600W SF600
Storage drives: 240GB OCZ Vector 180 SSD
OS: Windows 10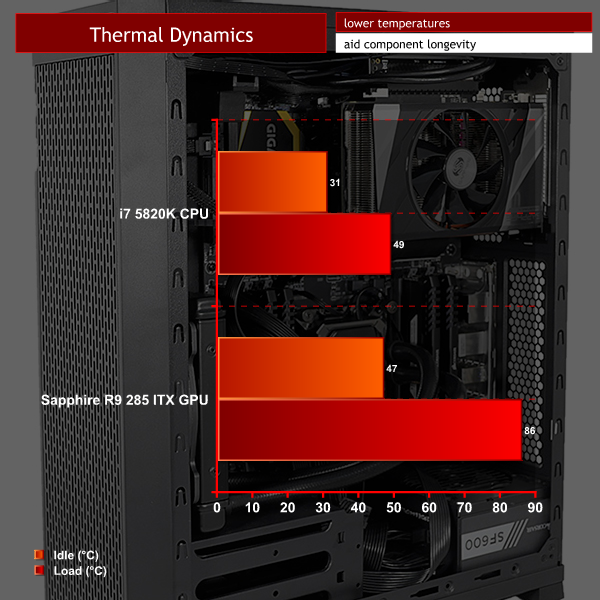 Cooling Performance

Cooling is fairly typical for a small form factor PC. We also need to be aware there is a mess of cabling inside the chassis which clearly won't help. Balanced against that, air can flow through the perforations in most of the surfaces, hence the magnetic filters top and bottom, and the clip-in filter in the front.
The rear of the case is also heavily ventilated so you shouldn't have too much trouble getting sufficient air to flow with an All In One. If you choose a low profile air cooler you will need to take care to ensure the cooler isn't positioned too close to the windowed side panel.
Acoustics performance

This is quite a noisy case. The innards get reasonably hot which means the cooling fans respond and spin faster. Added to that, the heavily perforated panels have no noise deadening material (unless you count the dust filters).
If you build a heavy duty PC inside this chassis and stress it hard you can expect it to repay you with a fair amount of noise. On the other hand if you avoid gaming you are unlikely to have any problems.
Closing Thoughts
Thermaltake Core G3 is a budget case that supports an ATX motherboard and full size graphics card in a chassis that appears to be Micro-ATX or Mini-ITX. The main trick to the hardware is support for an SFX power supply which is considerably smaller than an ATX unit.
The other part of the puzzle is the use of a PCI Express riser cable so the graphics card lays down flat behind the windowed side panel. Balanced against that, the mounts for the graphics card are a bit dubious and are not really suitable for a heavy piece of hardware unless it is correctly supported at the far end.
Cable management is effectively non-existent in the Core G3 as there is no space behind the motherboard tray and there is nowhere obvious to tuck cables in the main compartment. If you only install one hard drive or SSD we recommend you remove the second drive caddy and use the available space as best you can.
Using an air cooler in this case is the simple approach however you may well struggle with airflow and the potential problems of stray cables. Using a small All In One liquid cooler is a better approach, although it will require you to move the stock fans around, or to remove them altogether.
This is not an especially exciting case but it fulfils a function and is a handy option for anyone considering an HTPC build, particularly if they aren't desperately concerned about the cosmetic appearance of the finished system.
The wider point is that many HTPC cases restrict you to a small form factor motherboard but Thermaltake has managed to squeeze in an ATX motherboard and that is a clever move.

The Thermaltake Core G3 is available for £69.95 at Overclockers UK.
Discuss on our Facebook page, over HERE.
Pros:
Support for ATX motherboard.
Uses SFX power supply to reduce the size of the case.
Low price.
Plenty of dust filtration.
Decent sized window.
Rubber feet are included to allow for horizontal positioning under your TV.
Cons:
Cable management is poor.
The window is very easily marked or scratched.
Graphics card requires supports to hold it in position.
KitGuru says: Squeezing an ATX motherboard into a small HTPC chassis is very clever.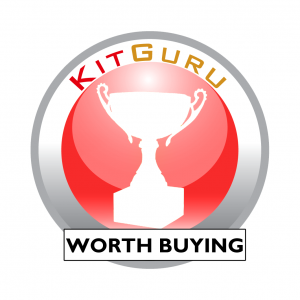 Be sure to check out our sponsors store EKWB here