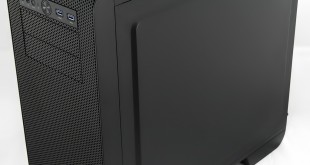 The key feature of the Thermaltake Core V51 is its substantial size. It stands 540mm high and 560mm deep, which means it can support an EATX motherboard with eight expansion slots. You'll get a better idea about the size of Core V51 when you hear it accommodates a graphics card up to 310mm in length without any trouble and if you remove the drive towers you can go all the way to 480mm.
There's another reason for removing the drive towers, apart from the desire to install a monster graphics card, and that's so you can install more cooling. Some people won't be happy with the two 120mm fans at the front and the single 120mm fan at the rear, but that's just the start of things.
You can install eight 120mm fans, seven 140mm fans or three 200mm fans. More to the point the Core V51 will accept a 360mm or 420mm radiator in the roof of the case and the same at the front. If you want to install two giant radiators you'll be limited to a single 420mm radiator and a smaller unit, which doesn't sound like much of a limitation to our way of thinking.
To take full advantage of the cooling capabilities you need to remove the two drive towers and both optical drive bays. Thermaltake hasn't provided any SSD mounts on the rear of the motherboard tray but has instead chosen to provide some unusual mounts that hold two of the drive caddies. On the one hand this means you can install two 3.5-inch drives where many cases limit the stealth bays to 2.5-inch but it also means that what little space there is behind the motherboard tray is rapidly filled up.
Specification:
Motherboard support: EATX, ATX, Micro-ATX, Mini-ITX.
Expansion slots: 8.
Included fans: 2x 120mm front intake, 1x 120mm rear exhaust.
Fan mounts: 1x 200mm, 2x 140mm or 3x 120mm front, 2x 200mm or 3x 120/140mm roof, 1x 120/140mm rear, 2x 120mm floor.
120mm radiator mounts: 360mm/240mm/120mm front, 360mm/240mm/120mm roof, 120mm rear, 240mm/120mm floor.
140mm radiator mounts: 420mm/280mm/140mm front, 420mm/280mm/140mm roof.
5.25″ drive bays: 2
Internal drive bays: 5x 3.5"/2.5″.
Dimensions: 540mm H x 560mm D x 236mm W.
Testing
To put this case through its cooling paces we used a test system consisting of an AMD FX-8370 and Radeon R9 290. This system allows us to produce a substantial amount of heat and effectively test the Thermaltake Core V51's cooling capabilities.
For stress testing we use a mixture of Prime95 and FurMark to create the maximum heat output. Prime95′s 'Small FFTs' setting allows us to stress our CPU. FurMark's 'GPU Burn-in' mode creates the maximum amount of load our GPU is ever likely to see.
Test System:
Processor: 4.0/4.3GHz AMD FX-8370
Motherboard: MSI 970 Gaming
CPU cooler: Corsair H110i GT
Memory: G.Skill Ripjaws 1600MHz RAM
Graphics card: Sapphire Radeon Tri-X R9 290 4GB
Power supply: Seasonic Platinum 1200W
Storage drives: Samsung 840 SSD
OS: 64-bit Windows 8.1.
Thermal Dynamics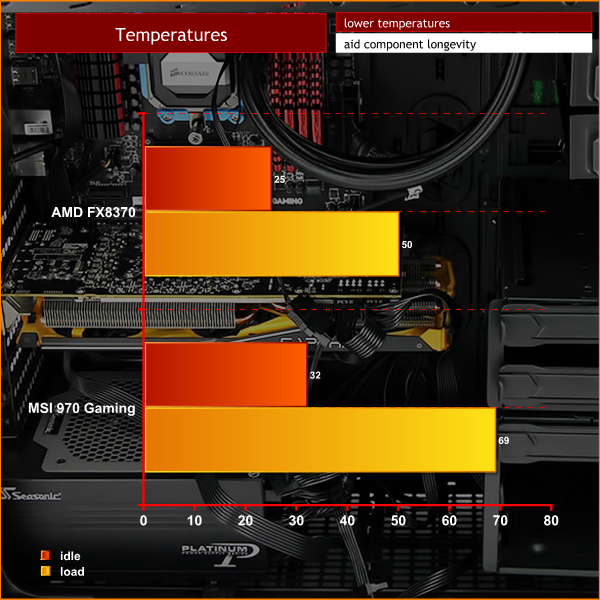 In the default configuration the Core V51 does a fine job of cooling the CPU and GPU but when you start to add extra fans or a liquid cooler it moves from 'OK' to 'epic'. The dust filters on the top, bottom and front ensure your PC is protected and the level of cooling is entirely a matter for your personal choice.
To test the Corsair H110i GT liquid cooler we used an AMD FX-8370 CPU and were impressed by the results as the Core V51 can deliver pretty much any level of airflow that you demand.
Acoustics Performance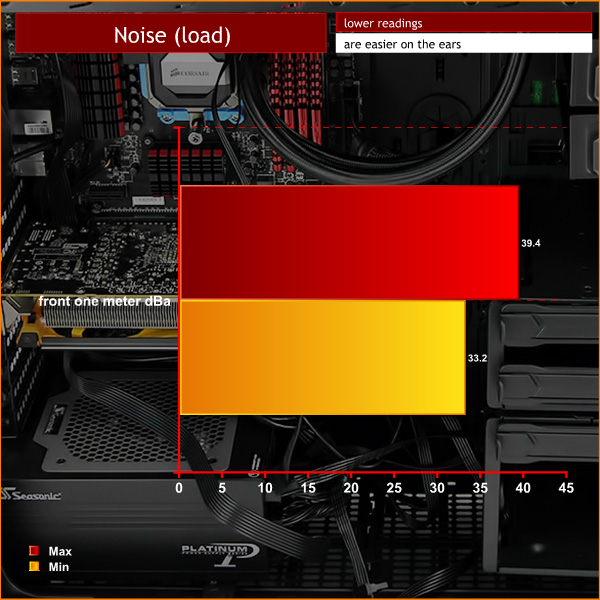 With the Corsair H110i GT set to Silent the Thermaltake was indeed whisper-quiet. As the fan speed increased the noise levels rose and at the upper limits it was fairly loud.
This reflects the nature of the Core V51 which is a very large open case with the bare minimum of baffling and noise deadening. If you want high airflow you pay the price in terms of noise. We were perfectly happy with the Core V51 however it has the potential to get noisy if you push the limits.
Closing Thoughts
We like the Thermaltake Core V51 however it is not perfect. For less than £80 you get an EATX case that can accommodate a massive range of fans and liquid coolers.
On the downside the build quality is fairly basic and the drive towers appear to be something of an afterthought. It is also fair to say this case would benefit from more space behind the motherboard tray to assist cable management.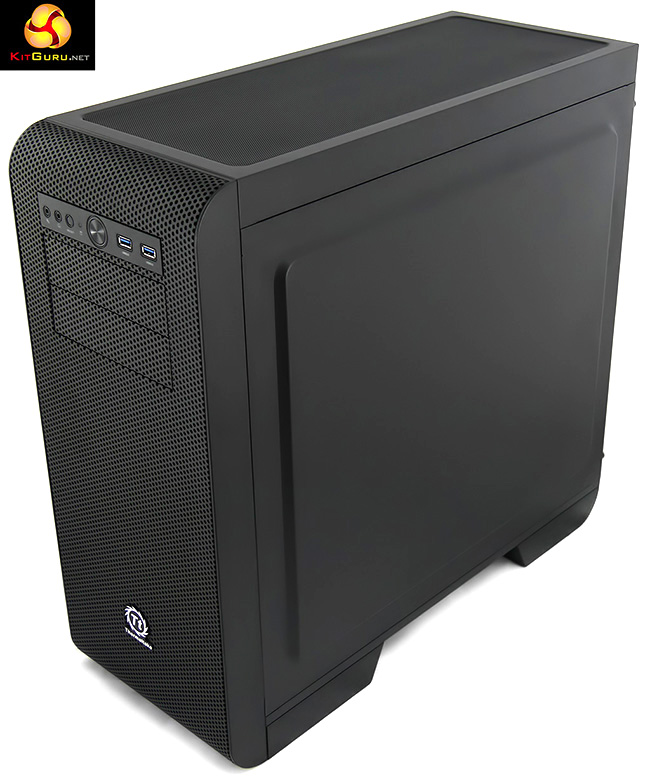 The thinking behind Core V51 centres around the ability to install huge radiators at the top and front. While we applaud this approach, the finished PC requires a degree of commitment from the builder to make it neat and tidy.
Buy from Amazon for £79.49 inc vat.
Discuss on our Facebook page, over HERE.
Pros:
Huge EATX case with eight expansion slots.
Support for 360mm or 420mm radiators
Support for 200mm fans.
Smart styling
Low price
Cons:
Needs a 2.5-inch drive bay behind the motherboard tray.
Not enough space for cable management.
Drive towers can drop when you remove the mounting screws.
PSU installation is a little awkward.
Steel panels are fairly basic.
More cable tie points required.
KitGuru says: Thermaltake has done a decent job with the Core V51 however it would benefit from a little more sophistication.