I'm teaming up with my partner to help build her first PC. With intended uses such as gaming, video editing, and general office tasks, the first step is to choose a fitting chassis. We go through a few different options in Part 1 and see Jasmine's pros and cons for the six different cases.
Watch via our Vimeo Channel (Below) or over on YouTube at 2160p HERE
As we discuss in the opening section, Jasmine has never built her own general usage or gaming PC. I recall building a basic system for Jasmine around 10 years ago. It was powered by an AMD Athlon II X4 640 with an ASUS mATX 760G motherboard, and some DDR3 memory. That system worked well… initially.
We decided that Jasmine needed better RAM and more of it. As such, a kit of Corsair Dominator DDR3 memory was purchased and I gave some (reasonably poor) installation instructions. A blown VRM component, dead motherboard, and broken stick of DDR3 later, and the upgrade was deemed rather unsuccessful.
We sincerely hope that this build process goes far smoother.
First in our selection was the Raijintek Metis Evo. While decent in terms of hardware support and glass panel inclusion, Jasmine was unimpressed by the overall styling and likened the looks to a fish tank (I can see the resemblance). Pretty quickly, it was clear that this case would not be the primary candidate, so we moved on.
Next up was the ol' trusty Silverstone Sugo SG13 that I bought over 5 years ago. While preferable in terms of physical dimensions, the build quality of this budget case was not particularly impressive and the paint quality was undeniably lacking. I should have opted for the black and white version as that would have been more desirable. For now, this beat out the Metis Evo but it certainly was not a convincing victory.
The Fractal Era ITX was next in the list and this one impressed from the start. Jasmine likened it to a giant Xbox 360 (and rightfully so in my opinion) and appreciated the overall styling. The wood panel wasn't deemed an ideal match for the silver case colour – white panels would have preferable here. But the black mesh top did look appealing. Despite lacking a side panel window, the Era ITX quickly became the front runner.
I won't even deny this one; the bright pink Golden Field Q Series (we'll call it the Lucky) was included as a practical joke. I had my reservations about including this an option for fear that Jasmine may actually like the style and I would be forced to build in this finger-slicing monstrosity. Thankfully, Jasmine's taste in cases was clearly good enough to exclude this one from consideration. Phew! Next stop for this Golden Field chassis – review at Leo's place; let us know if we should make that happen!
Moving back onto the serious contenders, we took a look at the Cooler Master NR200P white version. This was another chassis that Jasmine liked for the overall design and footprint. However, the black trim around the side panel glass window was less preferential and was a really good spot that I personally didn't appreciate until highlighted. Solid build quality, a glass side panel, and an appealing white/grey colour scheme knocked Fractal's Era ITX out of top spot and the NR200P into it.
Finally, we finished up selection with the NZXT H1. This is the first time that I have seen this case in person, and both Jasmine and myself were thoroughly impressed by the styling and the overall design. The more vertically aligned form factor was also very appealing, as well as the white and black contrast. This was actually Jasmine's favourite, so I had the misfortune of breaking the bad news that this months old sample has not yet received its fixed PCIe riser to avoid any fire hazard issues. No fix, no usage, unfortunately.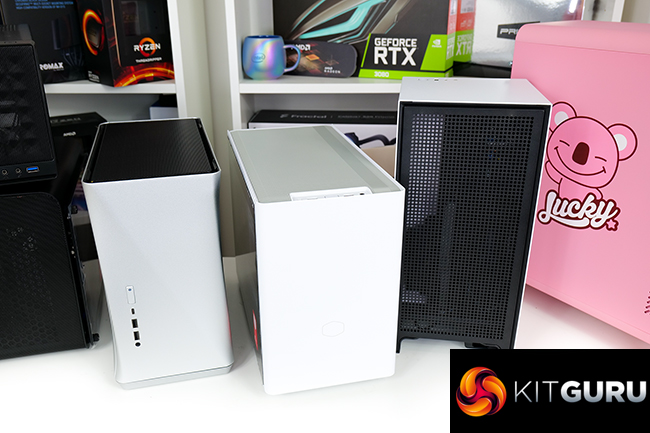 To summarise, we provisionally decided on the Cooler Master NR200P as the preferable choice. The styling and design of the NZXT H1 were incredibly appealing to Jasmine, but the worries of the potentially dangerous PCIe riser card were a major concern. Let us know in the comment section below if you think we should fix the PCIe riser issues and persevere with the attractive H1. Or should we stick with the well-designed Cooler Master NR200P?
It was interesting to look at several different cases from a completely dissimilar perspective. Jasmine's eye for detail catches different points for cases and is a good sense check versus my preference for cooling capacity or hardware support.
Discuss on our Facebook page HERE.
KitGuru says: Let us know what you thought of the case selection process and whether you agree or disagree with some of the points mentioned. And make sure you check back for Part 2 where we will be building the PC for proper usage.