We are continuing our CES 2017 coverage, this time, KitGuru stopped by the DeepCool booth to take a look at what cases we can expect to see throughout this year. We managed to get some time with three of them- the ARK 90 AM4 chassis with integrated liquid cooling, the Earlkace with integrated liquid cooling and the Baronkase Liquid, a more compact case that is designed for moveability.
Click images to enlarge.
First up is the Baronkase Liquid, this case is quite interesting as it is very compact but it actually supports full ATX motherboards in addition to mATX. If you want to build with an ATX board, you can put your power supply at the top of the case in the front. If you would rather use a smaller mATX design, then you can place the PSU at the bottom rear of the case as you would normally.
This case comes with a metal handle on top so that you can lug it around to LAN events. It also comes with an integrated Captain 120EX All-In-One liquid cooler. You can expect to see this case hit the market in April at around the £100 mark.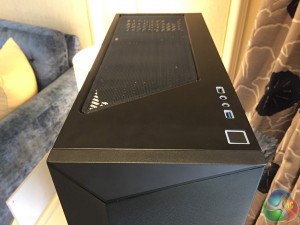 Second is the Earlkase. This is a brand new model for CES 2017 and will be launching with integrated cooling where possible. A basic chassis without any integrated coolers will then be sold later at a cheaper price point. The idea behind this is that when you are looking to spend upwards of £100 on a new case, then chances are you are doing a new build, so supplying a cooler at the same time adds some compelling value to the package.
This particular case will be launching in April at around the £120 price point. The integrated cooler in this case is a Captain 140EX AIO. Our images here show engineering samples, so the final product should end up looking a bit better overall but this gives you a good idea of what to expect in terms of features and overall design.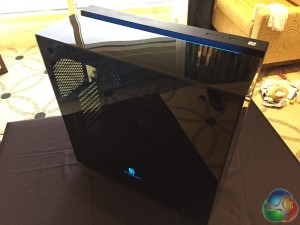 Finally we have the ARK 90. This is Deepcool's AM4 compatible tempered glass chassis with liquid cooling integrated. For this case, the internal mounting bracket for the CPU block has been specifically designed to be compatible with AM4 mounting, so if you are looking to build a Ryzen based system this year, then this could be a good option.
This case won't be hitting the market until around June so there is quite a wait. This particular case also includes a higher end 240mm AIO unit, so the price is a bit higher. We should see the Deepcool ARK 90 hit the UK market at around the £250 mark.
Discuss on our Facebook page, HERE.
KitGuru Says: Deepcool's integrated liquid cooling cases have been generating quite a bit of buzz, we even got to see a few designs back at Computex 2016, which seemed to go over well at the time. What do you guys think of cases with integrated liquid cooling? Would you prefer to save the money and buy your own cooler? Or would you prefer to not need to worry about it?