We have already had the opportunity to take a good look at Cooler Master's new case line with the MasterCase Pro 5 but this week, a new wave of cases are arriving in the form of the MasterCase maker 5t. The 5t puts the unique FreeForm modular system back at centre stage and for those who like to proudly display their rigs, you should end up being quite happy with the large tempered glass windows.
The MasterCase Maker 5t makes some changes with an upgraded I/O, magnetic panelling, sound suppression and tempered glass on both sides. However, the FreeForm modular system still comes with just as much flexibility, giving system builders the chance to configure their rig exactly to their liking.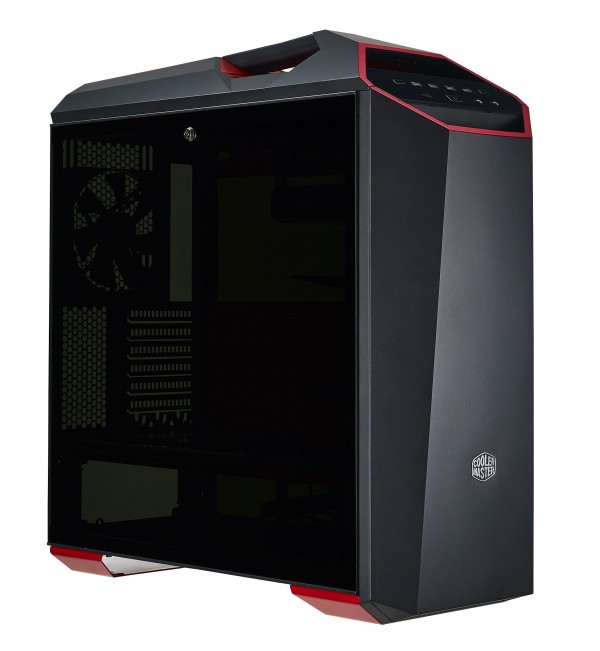 Inside, you will find a dual-tone red and black finish, alongside a 'graphics card holder', which will help eliminate any GPU sag and keep your graphics card straight and sturdy. The upgraded I/O now lets you control fan and lighting LED settings straight from the front of the case. You can connect up to four LED strips (red ones come pre installed) and six fans in total, with options for high (12v) and low (7v) settings. Aside from that, you also get four USB 3.0 ports.
The final addition to the 5t over the original MasterCase Maker 5 is the rubber grip handle on top, which will help you lug around your rig a little easier if you ever need to travel with it or take it to a LAN. The MasterCase Maker 5t will be available here in the UK from mid-December onwards with a suggested retail price of £229.99.
KitGuru Says: It will be interesting to see what LEO thinks of the 5t in comparison to the original MasterCase. Expect a review from him very soon.