We have often been impressed when we see modders build their PC systems into a desk and now, it doesn't require the custom work as Lian Li has its own line of desks with PC enclosures. This week, Lian Li showed off the DK-04, its latest desk with a PC enclosure.
Not only can the DK-04 have a PC built into it but it is also adjustable to allow a user to set it at a height for sitting down or raise it in case you wanted to stand up.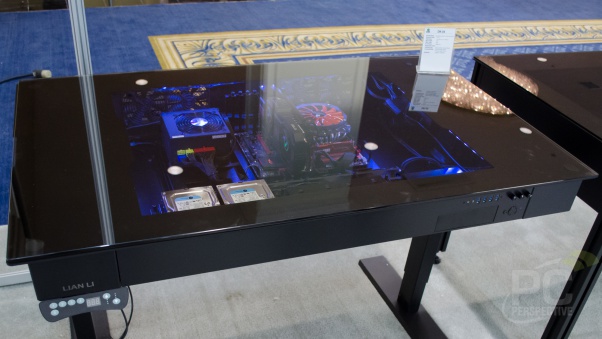 Image Source: PCPer
The desk comes with a tempered glass surface and can raise or lower at the push of a button. The desk can fit in a lot of high-end hardware as well, with room for a custom water cooling setup, though there is only one dual-slot expansion so you would be limited to one GPU, according to PCPer, who got to see the desk at CES.
There is a decent front panel with 4 USB 3.0 ports and room for a 5.25 inch drive. Finally, there is a control panel, which controls the height adjustments and has four presets.
There isn't any information on pricing or availability just yet but this is certainly interesting to see.
KitGuru Says: I've been looking in to getting a sit/standing adjustable desk for a while now but they seem to be hard to come by in the UK. Getting to build a PC into one would be a nice bonus in my book. What do you guys think of desk PCs? Do any of you happen to use a standing desk at all?