Fujitsu Laboratories this week said that it had developed ultra-thin loop heat-pipe technology that could be used inside ultra-mobile electronics, such as smartphones or tablets. Fujitsu expects the new heat-pipes to enable portable devices with higher-performance system-on-chips inside.
Modern application processors for mobile devices have gained tremendous amount of performance and functionality in the recent years. In fact, development of mobile SoCs used in handsets and slates outpaces development of all other types of microprocessors. While developers of APs tend to use leading-edge process technologies to build their new products, in many cases they still feature increased power consumption and heat dissipation compared to predecessors. Moreover, tighter integration means that hot spots are created within devices.
In a bid to spread heat from hot spots to the whole device, manufacturers install sheets of metal or graphite with relatively high thermal conductivity to transfer heat away from heat-generating components. However, modern SoCs can be so hot that traditional materials no longer work in many cases. Unfortunately, modern heat-pipes are either too thick or too inefficient for mobile devices. Fujitsu now claims that it has found a solution: specially designed loop heat-pipe – consisting of an evaporator, liquid line and a thermal diffusion plate – that is five times more efficient than conventional heat-spreading methods for electronics.
Fujitsu's ultra-thin loop heat pipe uses copper sheets that are only 0.1mm thick, with two surface sheets and four inner-layer sheets, for a total of six sheets. At present even the smallest evaporators can be several millimetres thick, but Fujitsu managed to shrink it to just 0.6mm. The heat pipe from Fujitsu features specially designed porous structure, with the numerous holes driving the fluid with capillary action. The company asserts that capillary action enables pipes to stably transfer heat regardless of the device's orientation, which means that the tech can be applied to portable devices.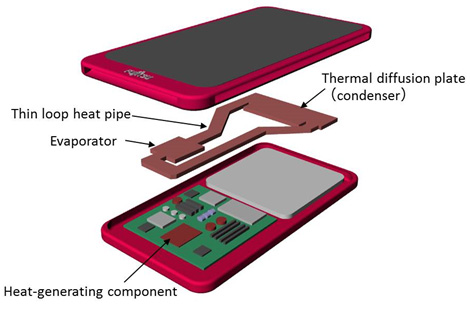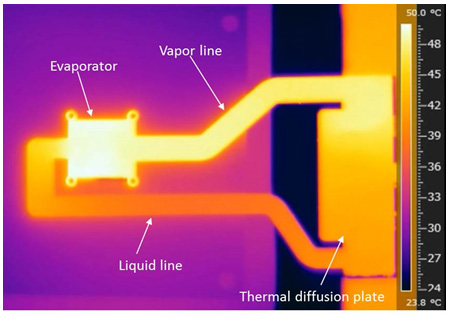 Concept of the cooling system and infrared photo of heat transfer at the steady state operation of a thin loop heat pipe
According to Fujitsu, compared to the previous thin heat pipes and material of highly thermal conductive sheets, its new ultra-thin heat pipe features approximately five times greater heat transfer. The company does not reveal exact capabilities of its cooling device, but it is possible that enlarged ultra-thin loop heat-pipes could be used to cool-down not only system-on-chips for ultra-portable devices, but also ultra-thin notebooks or 2-in-1s.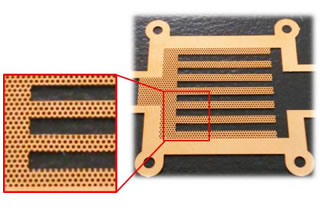 Etched pattern of the evaporator section in an inner layer sheet
(The evaporator consists of a stack of four copper sheets with a slightly staggered position of holes.)
Fujitsu plans to introduce a practical implementation of its ultra-thin heat-pipe technology during fiscal 2017 (which starts on the 1st of April, 2016). The company is investigating potential applications beyond mobile devices, which includes communications infrastructure, medical equipment, and wearable devices.
Discuss on our Facebook page, HERE.
KitGuru Says: Given how thin modern smartphones are, it is doubtful that Fujitsu's heat-pipes will be used inside them. However, it is possible that the technology will eventually be used for tablets, notebooks or hybrid 2-in-1 personal computers. Another concern is that 0.1mm thick sheets of copper are probably rather soft, which means that the whole construction could be either fragile or unreliable. Internal porous structure needs to be preserved in a bid to maintain capillary action, something that is hard to do with a soft structure.