Koolance, a leading maker of advanced custom liquid cooling solutions, has introduced EXC-450, an ultra-compact recirculating liquid chiller, which is designed to enable extreme overclocking. While the cooler is much more efficient than any mainstream solution, it comes at a price that exceeds that of many high-end PCs.
Mainstream liquid cooling is considered to be more efficient than air cooling, but its efficiency greatly depends on numerous factors, including room temperature and other because essentially contemporary liquid coolers rely on air cooling of large radiators. By contrast, there are recirculating liquid chillers, which are large, expensive and rather efficient thanks to the fact that they actually cool-down liquid and therefore enable better overclocking potential.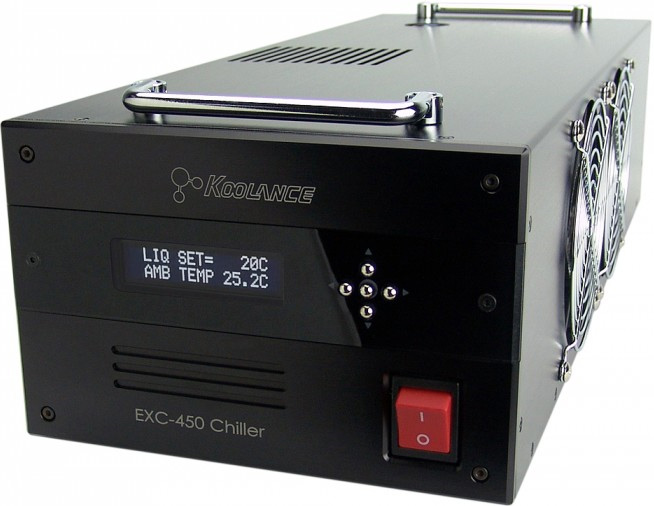 Koolance's EXC-450 is an extremely compact (152mm*203mm*533mm) portable recirculating liquid chiller rated at 450W, or 1535 BTU/hr @25°C liquid & ambient. Chiller can cool-down coolant to levels below room temperature (1°C is the lowest temperature), which is considerably more efficient than any mainstream air or liquid cooling. The device consumes up to 230W and requires its own power supply unit. Koolance requires usage of its own coolant liquid, otherwise the cooler loses warranty.

Chiller control is based on one of four configurable temperature set-points, including the option to lock liquid to ambient for avoiding condensation or to an external K-type thermocouple sensor (not included).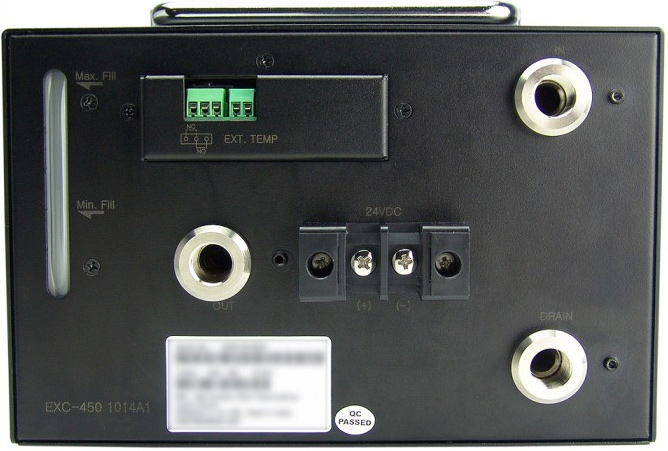 Along with temperature and set-point, EXC-450 can report internal coolant flow rate, pump RPM, and condenser fan RPM on a customizable 2-line OLED display. An adjustable relay trigger output on the rear of the unit is available based on temperature.
The Koolance EXC-450 costs $1499 and is available from the manufacturer.
Discuss on our Facebook page, HERE.
KitGuru Says: The new chiller from Koolance is among the smallest chillers available on the market. In fact, compact sizes are the main selling point of the product. The EXC-450 is less efficient than the EXC-800, which costs the same amount of money. Still, if one wants maximum cooling efficiency for one CPU and one GPU, the Koolance EXC-450 chiller is the best thing money can buy, especially if he/she is not afraid of leaks and other potential problems.