Temperatures
All temperature charts are sorted with lowest load temperatures at the top.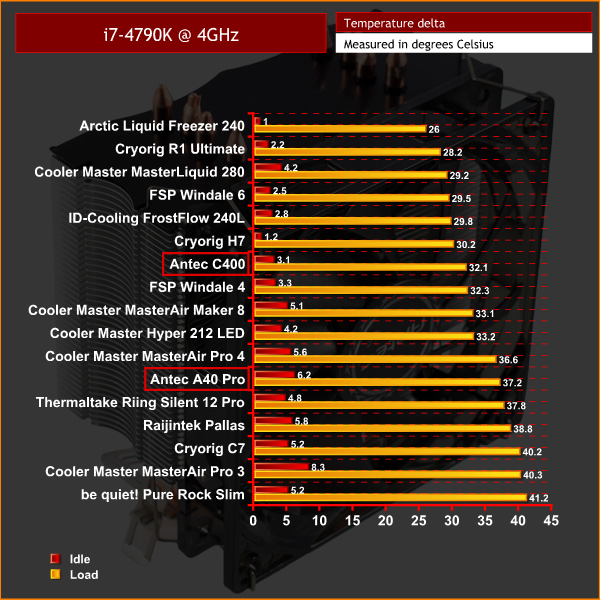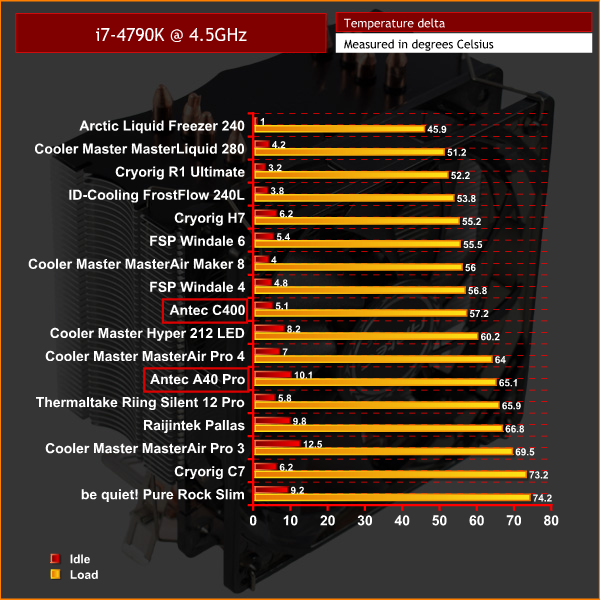 As you can see, both coolers are actually quite competitive in their respective price brackets.
Starting with the A40 Pro, it comfortably beats its competition (namely, the Pure Rock Slim and MasterAir Pro 3) at stock clocks and when the CPU is overclocked to 4.5GHz. This makes it very appealing for those looking for a tiny air cooler that isn't actually a low-profile solution.
The C400 is up against stiffer competition, though, but still does very well. It essentially matches the FSP Windale 4 across both tests but beats out the MasterAir Pro 4 and Hyper 212 LED – both of which are impressive feats. The Cryorig H7 does just nudge ahead of it, though, but the margins are quite small.
Acoustics
Acoustically, neither are mind-boggingly quiet yet both are still very inoffensive. The smaller A40 Pro does get ever so slightly whiny due to its 92mm fan, but that is the nature of smaller fans – they have a different pitch to them as a result of their size. Still, it is far from the worst 92mm fan I have ever heard and overall I was not bothered by it at all.
The C400 is pretty similar to the Windale 4, in that its 120mm fan does become noticeable as it nears its max speed of 1900rpm. However, the noise is more of a low-pitched hum rather than anything annoying, so it is still a perfectly acceptable noise output.