The be quiet! Shadow Rock TF 2 ships in a very dark box – in classic be quiet! style – without a product photo on the front.
Inside, the installation hardware is neatly packaged into separate and labelled bags, so be quiet! is already doing well here.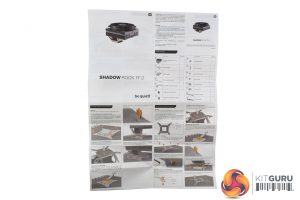 The installation manual is also excellent – it is particularly helpful that each individual part that is being referred to is highlighted in orange so you know exactly which bit you need for each step.
Other than that, there is just the cooler itself. As I mentioned previously, its size is very interesting as it measures 137 x 165 x 112mm (L x W x H) including the fan. Rather than something like the Cryorig C7, which sits directly on-top of the motherboard's socket and CPU area, the TF 2 is designed to over-hang your RAM, so if you have particularly tall DIMMs (over 48.5mm) , that could be an issue.
The fan is also worth touching on as it is actually 135mm in size, and rather than being the usual 25mm in height be quiet! has managed to shave 3mm off that to get it down to 22mm. I suppose every millimetre helps with a cooler like this.
Lastly, be quiet! does not classify the fan as a Silent Wings/Pure Wings fan, but it is clearly similar so we can expect good performance from it here.