Temperatures
All temperature charts are sorted with lowest load temperatures at the top.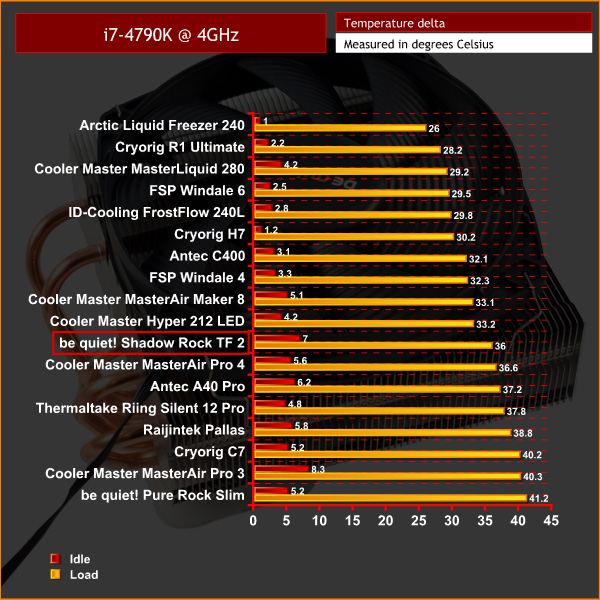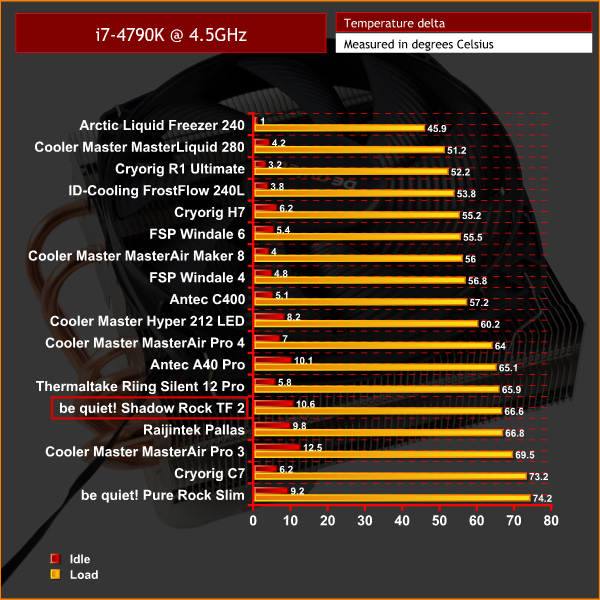 Across both tests, the Shadow Rock TF 2 did pretty well for a cooler of its size. At stock clocks, it comfortably beat the other low-profile coolers we have tested previously (Cryorig C7 and Raijintek Pallas) and even bettered some standard air coolers like the Cooler Master MasterAir Pro 4 and Antec A40 Pro, so it is certainly no slouch.
Once we overclocked the CPU performance did suffer slightly and the TF 2 slipped back a bit. It is still the best performing low-profile cooler on-test, though, which will make it an attractive option to those looking for a cooler of this size.
Acoustics
Acoustics are a strong point for this cooler, as is the case for most be quiet! products. The 135mm fan is barely audible with the CPU at stock clocks, emitting a very gentle whirr. Once overclocked, it does spin up and become noticeable, but its max speed is only 1400 rpm so it is still far from loud. Using a bigger, 135mm fan definitely helps here as some low-profile coolers have 92mm fans which can be a bit whiny – but that is not the case here.