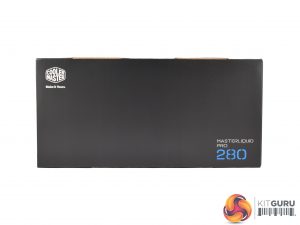 The MasterLiquid Pro 280 ships in a plain black box, with very little on the front.
Inside, all the installation hardware is packaged in a separate box. The screws are even laid-out and labelled in their own plastic case, something I really appreciate as it makes installation so much easier.
The manual is also included in this box – it does a good job of guiding you through the installation process step-by-step. Incidentally, we assess the installation process on the next page of this review.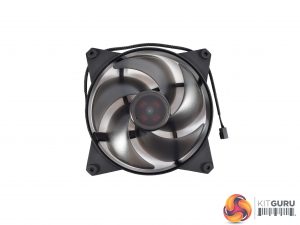 The two MasterFan Air Balance fans are also included in the box. We did a full review of these fans HERE.
Above we get a look at the radiator unit itself. It has a very 'square' look to it, with straight edges and no curves anywhere. I really like this look – it is clean and simple, and actually reminds me a bit of EKWB's radiators.
The pump/waterblock is round and features a blue LED as well. The tubing is also sleeved, which is something I also appreciate as it looks much better than plain rubber tubing. In this case, it is no less flexible either.